Callie Corum Crowned Miss Food City 2017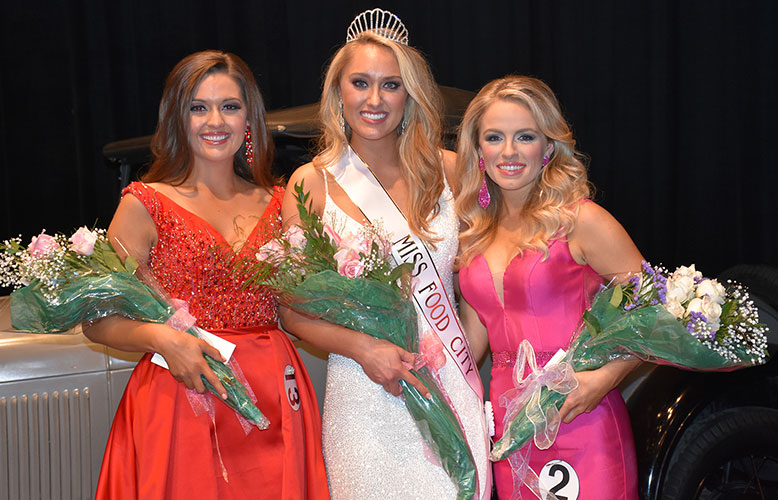 Abingdon, VA Monday, Oct 10, 2016.
The 25th Anniversary Miss Food City Pageant was held on Saturday, October 8th at the historic Paramount Center for the Arts in Bristol, TN. Each year, the pageant showcases talented young women from across the region bidding for the coveted title and the opportunity to represent Food City in the coming year. The contestants are judged on a number of criteria, including private interview, sportswear, swimsuit, formal eveningwear and on-stage questions.

When the triumphant moment arrived, Callie Corum of Luttrell, TN was crowned Miss Food City 2017. "I'm thrilled to be Miss Food City 2017. What an honor to be a part of this sisterhood," says Corum. "I am looking forward to the experiences and opportunities to reach many people through the Food City family in the coming year. I cannot wait to begin this journey!" Callie succeeds Azlinn Hope Alder of Jefferson City, TN, who held the title in 2016.

Callie is an 18 year old student at Carson-Newman University. She is employed at I-40 Motorsports Park and enjoys being outdoors, especially on the lake, volunteering with the American Heart Association, hand lettering & calligraphy and spending time at the racetrack. To date, her three greatest achievements include having had open heart surgery at the age of 2 and overcoming the obstacles associated with a congenital heart defect, graduating from Berean Christian High School, in the top five of her class - with a 4.02 GPA and receiving a full scholarship to attend Carson-Newman University. Callie plans to graduate from Carson-Newman with a degree in Communications and Graphic Design. She aspires to open a clothing boutique and incorporate her love of calligraphy and creating hand-lettered designs, as well as her passion for sharing the Good News of Jesus Christ and opening the doors of fellowship to others.

In the coming year, Callie will represent Food City at a number of company related events and activities, including the 25th Anniversary Sprint Cup Series Food City 500, XFinity Series Food City 300 and 30th Anniversary Food City Race Night.

"We would certainly like to thank the 15 talented young ladies who participated in the pageant. We wish them all the best in their future endeavors," said Steven C. Smith, Food City president and chief executive officer. "We are excited to have Callie represent our company and we look forward to working with her in the coming year."

Megan Grace Stanley of Abingdon, VA was selected as first runner-up, along with second runner-up - Jurnee Carr of Gray, TN. Megan Stanley also received the award of Miss Photogenic.

The annual pageant was directed by the ladies of the Twin City Woman's Club, with event proceeds benefitting their sponsored projects and charities. "We are proud to be celebrating the 25th Anniversary of our pageant and we would like to thank the volunteers who have worked to make the pageant such a tremendous success over the years, including the members of the Twin City Woman's Club, WXBQ and Reggie Neel, the Paramount Center for the Arts, the performers and entertainment, our Food City associates and the many others who have given of their time and talent," says Smith.


Pictured Above (left to right):
Megan Grace Stanley, Callie Corum & Jurnee Carr
About the Miss Food City Pageant
The first pageant was held in the Bristol Mall in 1992. Former winners include Janet Barton - 1992 & 1993, Meredith Blankenship – 1994, Tracy Wilson – 1995, April Elswick – 1996, Lisa Tollett – 1997, Christin Wilson – 1998, Erica Hembree – 1999, Amanda Greene – 2000, Misty Horn – 2001, Ronna Compton – 2002, April Owens – 2003, Kimberly Coen – 2004, Megan Ashe – 2005, Mally Gent – 2006, Britney Hagy – 2007, Jennifer Whittington – 2008, Lindsey Blevins – 2009, Melissa O'Neal – 2010, Elizabeth Robinette – 2011, Ginny Cole – 2012, Alex Honeycutt – 2013, Kayla Neikirk – 2014, Kassie Perkins – 2015, Azlinn Alder - 2016.


Headquartered in Abingdon, Virginia, K-VA-T Food Stores (Food City's parent company) operates 135 retail outlets throughout southeast Kentucky, southwest Virginia, east Tennessee, Chattanooga and north Georgia.