Miss Food City Pageant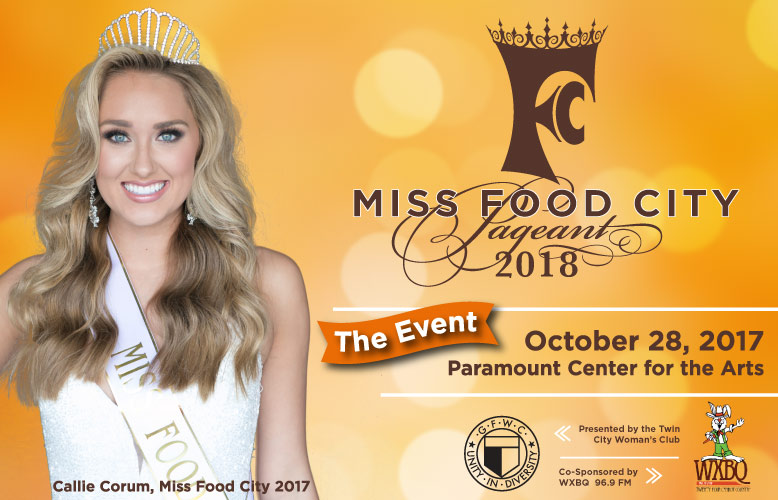 Abingdon, VA Thursday, Oct 19, 2017.
Presented by WXBQ & Twin City Woman's Club
The Miss Food City Pageant is slated for Saturday, October 28th at 7:00 p.m. Downtown Bristol's Paramount Center for the Arts will again serve as the venue for the gala event.

Miss Food City has become one of the most sought-after titles for young ladies throughout the region. The winner of the pageant will represent Food City during various company related events, including the Food City 500/Food City 300 at Bristol Motor Speedway and Food City Family Race Night events.

Miss Food City 2018 will receive $2,000 cash, an additional $1,200 scholarship provided by sponsor Rave Hair Styling Products, Swarovski Crystal necklace and earrings provided by Dream Girls Jewelry, and a Queen for a Day package provided by Mane Street Day Spa & Salon.

Tickets are $8.00 and will be available the night of the event. Children 5 and under are admitted FREE of charge. A number of exciting door prizes will be awarded throughout the evening, including two tickets to the 2018 Food City 500, tickets to Ripley's Attractions, Wonderworks, Dolly Parton's Smoky Mountain Adventure, Food City gift cards and four two night stays at Deer Ridge Mountain Resort in Gatlinburg, Tennessee.

Reggie Neel of WXBQ 96.9 FM 24 Carrot Country will serve as Master of Ceremonies. The pageant will be directed by the ladies of the Twin City Woman's Club, with event proceeds benefiting their sponsored projects and charities.

About the Miss Food City Pageant
The first pageant was held in the Bristol Mall in 1992. Former winners include Janet Barton – 1992 & 1993, Meredith Blankenship – 1994, Tracy Wilson – 1995, April Elswick – 1996, Lisa Tollett – 1997, Christin Wilson – 1998, Erica Hembree – 1999, Amanda Greene – 2000, Misty Horn – 2001, Ronna Compton – 2002, April Owens – 2003, Kimberly Coen – 2004, Megan Ashe – 2005, Mally Gent – 2006, Britney Hagy – 2007, Jennifer Whittington – 2008, Lindsey Blevins – 2009, Melissa O'Neal – 2010, Elizabeth Robinette – 2011, Ginny Cole – 2012, Alex Honeycutt – 2013, Kayla Neikirk – 2014, Kassie Perkins – 2015, Azlinn Alder – 2016, Callie Corum - 2017.

Headquartered in Abingdon, Virginia, K-VA-T Food Stores (Food City's parent company) operates 132 retail outlets throughout southeast Kentucky, southwest Virginia, east Tennessee, Chattanooga and north Georgia.