Food City Race Night Returns to Knoxville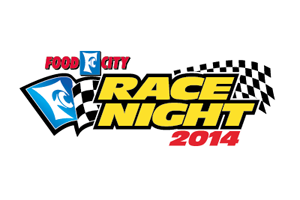 Abingdon, VA Thursday, Mar 6, 2014.
As the area prepares for the onslaught of race fans and RVs, the folks at Food City are gearing up for their annual Food City Race Night, which will return to the Knoxville Expo Center on Thursday, March 13th.
For over 25 years, Food City Race Night has contributed in excess of $500,000 in proceeds to area non-profits. The event paves the way for a weekend of action-packed Nationwide and Sprint Cup racing at one of NASCAR's most popular venues. Fans can expect a great line-up of driver appearances, along with show cars, simulators, souvenir trailers, entertainment and a smorgasbord of free food samples. Festivities will get underway at 4 p.m. and continue until 8 p.m.
Food City has already received confirmations from several drivers and attractions. Among those already confirmed are: Knoxville native Trevor Bayne, John King, Cole Whitt and Parker Kligerman, Truck Series drivers Jamie Dick, Brennan Newberry and Chris Lafferty, NASCAR Legends Travis Tiller, Paul Lewis and Brownie King, ARCA drivers Blake Jones, Chad Finchum and Justin Boston, UARA driver Robbie Henry, Lonesome Pine drivers Billy Duty, Doug Oliver and Harold Crook, Kart drivers Michael Nuchols, Zeke Armes, William Foster, Jr., Jenna Herrmann, Levi Herrmann, Logan Dunsmore and Brandon Morris, SMLRS drivers Alan VanWhy and Kade Sharpe, 411 Speedway drivers Rocky McNabb, David Miley, Ryan King, Brandon Gardner, Rusty Ballenger, Nick Perry and Jeremy Teffetellar, Newport Speedway drivers Ed Surrett and Jeff Myers, Tazewell Speedway drivers Jason Trammell, Keith Chapman, Heath Alvey, Matthew Holt, Jordan Horton, Joel Wolfenbarger and Josh Chesney. Special appearances will be made by Miss Food City, Kayla Neikirk and Miss Wheel Chair 2013, Bliss Welch.
Free food sampling will begin at 4 p.m. and continue while supplies last. Cody Shuler & Pine Mountain Railroad will take the stage from 4:15 until 5:25 p.m. Welcome ceremonies begin at 5:30 p.m., featuring MCs Jerry Punch and Jim Wogan. Rhonda Vincent & The Rage will perform live in concert from 6 until 6:45 p.m., followed by Tony Justice from 6:50 to 7:30 p.m.
Proceeds from the event benefit the East Tennessee Children's Hospital. $5.00 advance tickets are on sale at select Food City locations. Tickets will be $6.00 on the day of the event. Children twelve and under are admitted free of charge. This year's media sponsors are Knoxville News Sentinel, WIVK and WATE TV Channel 6.
For a complete listing of Food City Race Night attractions, visit Food City's website at www.foodcity.com, where updates will be posted. Follow us on Twitter @FoodCity#FoodCity500 #FCRaceNight. Please note that scheduling and driver appearances are subject to change and autographs are limited to time availability. Food City Race Night at Bristol Motor Speedway is scheduled for Friday, March 14th from 4 p.m. until 9 p.m.