Food City Race Night Returns to Bristol Motor Speedway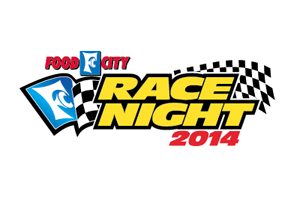 Abingdon, VA Wednesday, Mar 5, 2014.
As the area prepares for the onslaught of race fans and RVs, the folks at Food City are gearing up for their annual Food City Race Night, which will return to Bristol Motor Speedway on Friday, March 14th.
The event paves the way for a weekend of action-packed Nationwide and Sprint Cup racing at one of NASCAR's most popular venues. Fans can expect a great line-up of driver interactive sessions, along with show cars, simulators, souvenir trailers, entertainment and a smorgasbord of free food samples. Festivities will get underway at 4 p.m. and continue until 9 p.m. Admission is free of charge.
Food City has already received confirmations from several drivers and attractions. Among those already confirmed are: Greg Biffle (200 wristbands will be given out at the beginning of his line at 4 p.m.), David Ragan, Morgan Shepherd, A.J. Allmendinger, Michael McDowell, Cole Whitt, Parker Kligerman, John King II, Eric McClure, Caleb Holman, Chris Lafferty, Brennan Newberry, NASCAR Legends Brownie King, Paul Lewis, Larry Utsman, Gary Potter and Travis Tiller, ARCA driver Blake Jones, Lonesome Pine drivers Billy Duty, Harold Crook, Doug Oliver, Kevin Wolfe, Toby Jones, Bobby Helton, Kingsport Speedway drivers Jon Pittman and Tim Abelseth, as well as a number of NASCAR Next Series drivers. Special appearances will also be made by Harlem Globetrotter Dizzy Grant and Miss Food City, Kayla Neikirk.
Free food sampling will begin at 4 p.m. and continue while supplies last. Cody Shuler & Pine Mountain Railroad will take the stage from 4:15 until 5:00 p.m., followed by Tony Justice from 5:10 until 5:40 p.m. Welcome ceremonies will begin at 5:50 p.m., featuring MC Larry McReynolds. Elliott Sadler (defending champion), Ryan Reed, Dylan Kwasniewski, Brendan Gauhan, Justin Allgaier and Clint Bowyer will face off in the Wii Boxing Tournament from 6:30 until 7:30 p.m., followed by a NASCAR Q&A session. Benton Blount will perform live in concert from 8 to 9 p.m. The event will close with a special 9:00 p.m. fireworks show (weather permitting). This year's media sponsors are Bristol Herald Courier and News Channel 11 in your corner.
For a complete listing of Food City Race Night attractions, visit Food City's website at www.foodcity.com, where updates will be posted. Please note that scheduling and driver appearances are subject to change and autographs are limited to time availability. Food City Race Night in Knoxville, TN is scheduled for Thursday, March 13th at the Knoxville Expo Center from 4 p.m. until 8 p.m.
Food City is Bristol Motor Speedway's longest running sponsor and the second longest in NASCAR motorsports. Headquartered in Abingdon, Virginia, K-VA-T Food Stores (Food City's parent company) operates 105 retail food outlets throughout the tri-state regions of Southeast Kentucky, Southwest Virginia and Northeast Tennessee.