Food City Recognizes Divisional Winners for Outstanding Community Service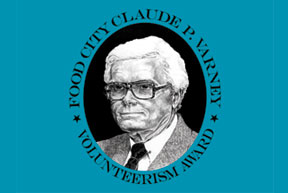 Abingdon, VA Monday, Feb 24, 2014.
Food City's retail supermarket chain annually recognizes outstanding volunteerism among their associates via the Claude P. Varney Volunteer Recognition Program. The creation of the program came in response to President Bush's call to boost volunteer efforts through corporate support. During a June 2002 White House meeting, President Bush met with corporate leaders from organizations across the nation and key White House staff members to discuss objectives for his Businesses Strengthening America volunteerism campaign. Steve Smith, Food City president and chief executive officer was among the select group.
"As a company, we strive to maintain a high level of dedication to service, quality, value and community involvement, while providing a work environment that enables our associates to grow both personally and professionally as successful members of the team," says Smith. "Many of our associates volunteer their time and talents to numerous organizations in support of their communities and we felt it needful to formally recognize their selfless contributions."
The program was entitled in memory of Food City's beloved former president and board vice-chairman of 47 years, Claude P. Varney. Varney was well-known for his tremendous compassion and humanitarian services. Each year, committees review associate volunteer activities and select individual award recipients based on outstanding achievement in the areas of health, education, environment, cultural arts, recreational, heritage/history and public service. One winner is selected from each Food City location. The field is then narrowed to ten district winners, followed by two divisional winners.
Dakota Church of the S. Williamson, KY Food City and Manfred Fassler of the Jefferson City, TN Food City received this year's coveted divisional awards.
Church has been employed with the company for three years and currently serves as Produce Helper for the S. Williamson, KY location. He is a long-time volunteer with the Belfry Fire Department, assisting with house and vehicle fires, accident scenes, natural disasters and numerous community outreach programs. He is skilled in the use and education of all departmental equipment (including the Jaws of Life rescue), HAZMAT, traffic direction, injury support, and training of new firefighters; and is experienced in flood response through the "Swift Water" Mountain Rescue. Church also serves the Senior Citizens of Pike County, organizing senior games and activities, delivering meals/groceries and visiting with shut-ins.
"I am honored to receive the Claude P. Varney award, not only for what it represents, but for the great man its name honors," says Church. "It's a pleasure to work for Food City, a company who recognizes its associates and is so supportive of our communities."
Fassler, who has been employed with the company for five years, currently serves as Produce Helper for the Jefferson City, TN location. He devotes a great deal of time to his local church, Victory Baptist Church, where he drives the church bus, transporting elderly and sick members to appointments or run errands and during Vacation Bible School. He also assists his fellow church members in the creation of Scripture Books, organizing the creation, printing and distribution of the books, which are printed in different languages and distributed throughout the globe.
"I am truly blessed. Whatever I do in the community I can only do because of the support from my employer, my wife, my fellow co-workers and friends and family" says Fassler. "I appreciate Food City for this opportunity and I love what I do, both at Food City and in the community."
A corporate luncheon was recently held to publicly recognize these winners for their outstanding service achievements. They were presented with an honorary plaque and Food City will make a $500 contribution (in addition to the district level contribution) on their behalf to the charity of their choice.
"We're extremely proud of the difference our associates make by devoting their time and talents to the service of others. Our company is committed to providing our associates the support they need to become the best corporate citizens possible," summarized Smith.
Headquartered in Abingdon, Virginia, K-VA-T operates 105 retail food outlets throughout the tri-state regions of Southeast Kentucky, Southwest Virginia and Northeast Tennessee.