Food City Annual "Race Against Hunger"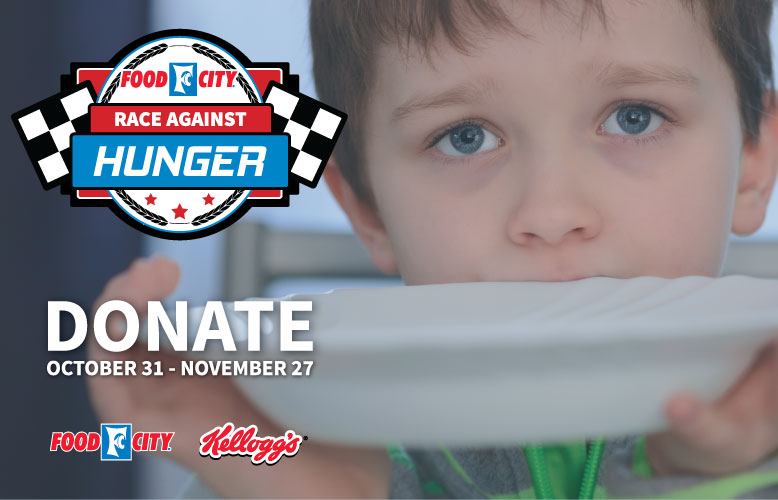 Abingdon, VA Monday, Oct 29, 2018.
Since 1992, Food City - in partnership with their customers has conducted their annual Race Against Hunger campaign to raise funds for local non-profit hunger relief organizations. The holiday promotion is co-sponsored by Kellogg's.

"Hunger is a serious problem throughout our region. Food City and Kellogg's are proud to be a part of the Race Against Hunger," says Steven C. Smith, Food City's president and chief executive officer.

Beginning October 31st and continuing through November 27th, $1, $3, and $5 scanable cards will be available at each Food City checkout. Customers wishing to make a donation simply select the desired dollar amount and it is conveniently added to their order total. 100% of the proceeds benefit hunger relief and charitable organizations throughout the region. Approximately 6 meals are provided for every dollar donated.

With every dollar contribution made, customers using their ValuCard are electronically entered for a chance to win their choice of a spectacular season of racing at Bristol Motor Speedway or a $2,500 contribution to the charity of their choice.

"Million of Americans need food assistance each year. The Food City Race Against Hunger is one way we can help those in need right here in our own area," adds Kevin Stafford, vice president of marketing for Food City.

"Last year's program was another huge success, raising over $446,000. With the support of our loyal customers and associates, this year, we hope to raise even more to benefit our friends and neighbors in need," said Smith.

Headquartered in Abingdon, Virginia, K-VA-T Food Stores (Food City's parent company) operates 130 retail outlets throughout southeast Kentucky, southwest Virginia, east Tennessee, Chattanooga and north Georgia.