Megan Grace Stanley Crowned Miss Food City 2019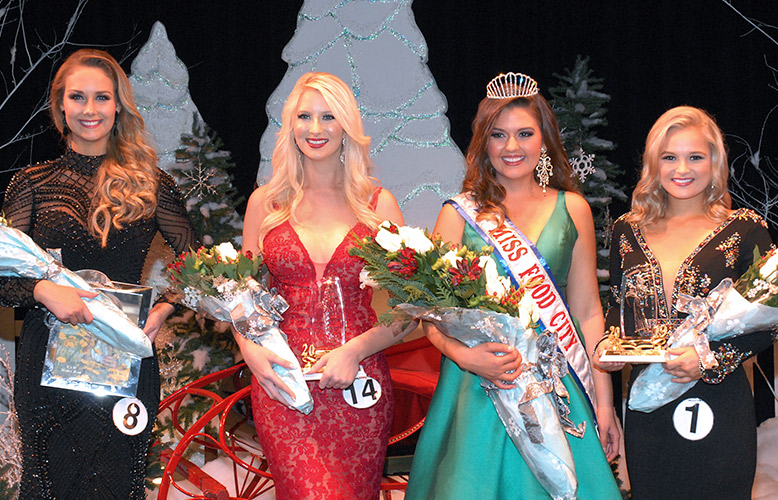 Abingdon, VA Monday, Oct 29, 2018.
The annual Miss Food City Pageant was held on Saturday, October 27th at the historic Paramount Center for the Arts in Bristol, TN. Each year, the pageant showcases talented young women from across the region bidding for the coveted title and the opportunity to represent Food City in the coming year. The contestants are judged on a number of criteria, including private interview, sportswear, formal eveningwear and on-stage questions.

When the triumphant moment arrived, Megan Grace Stanley of Abingdon, VA was crowned Miss Food City 2019. "Becoming Miss Food City 2019 is a six year dream come true. In the time that I have worked toward this title, I have learned what an incredible corporation K-VA-T is. I am truly honored and humbled to have the opportunity to represent such a community focused, family oriented organization. I'm beyond excited for this year of service filled with once in a lifetime experiences!" says Stanley. She succeeds Hannah Everhart of Jonesborough, TN, who held the title in 2018.

Megan is a 24 year old student at East Tennessee State University. She is employed by Universal Companies as an Account Manager. Megan enjoys working out, spending time with family and friends and volunteering with the Endometriosis Foundation of American and their educational program ENPOWR (Endometriosis: Promoting Outreach and Wide Recognition). It is her goal to spread awareness of endometriosis to young women and men, educating them on the warning signs of the disease. Megan's three greatest accomplishments include being accepted into the competitive Master's Program of Digital Marketing at ETSU, being selected by the Endometriosis Foundation of America to be an advocate for the ENPOWR educational program and being a semifinalist at the 2016 Miss Tennessee USA Pageant. She plans to graduate from ETSU in 2020 with a Master of Science Degree. Megan aspires to obtain a career in the digital marketing field. She also hopes to continue to work closely with the Endometriosis Foundation of American.

In the coming year, Stanley will represent Food City at a number of company related events and activities, including the Food City 500, Food City 300 and Food City Family Race Night events. "We would certainly like to thank the 14 talented young ladies who participated in this year's pageant. We wish them all the best in their future endeavors," said Steven C. Smith, Food City president and chief executive officer. "We are excited to have Megan represent our company and we look forward to working with her in the coming year."

Bethany Welch of Fries, VA was selected as first runner-up, along with second runner-up – Courtney Grap of Kingsport, TN. Alexis Ramsey of Oakwood, VA received the Miss Photogenic award.

The annual pageant was directed by the ladies of the Twin City Woman's Club, with event proceeds benefitting their sponsored projects and charities. "We would like to extend a special thanks to our volunteers who work so hard each year to make the pageant such a tremendous success, including the members of the Twin City Woman's Club, WXBQ and Reggie Neel, the Paramount Center for the Arts, the performers and entertainment, our Food City associates and the many others who have given of their time and talent in support of this outstanding event," says Smith.
Pictured above (left to right):
Alexis Ramsey of Oakwood, VA
Bethany Welch of Fries, VA
Megan Stanley of Abingdon, VA
Courtney Grap of Kingsport, TN

About the Miss Food City Pageant
The first pageant was held in the Bristol Mall in 1992. Former winners include Janet Barton - 1992 & 1993, Meredith Blankenship – 1994, Tracy Wilson – 1995, April Elswick – 1996, Lisa Tollett – 1997, Christin Wilson – 1998, Erica Hembree – 1999, Amanda Greene – 2000, Misty Horn – 2001, Ronna Compton – 2002, April Owens – 2003, Kimberly Coen – 2004, Megan Ashe – 2005, Mally Gent – 2006, Britney Hagy – 2007, Jennifer Whittington – 2008, Lindsey Blevins – 2009, Melissa O'Neal – 2010, Elizabeth Robinette – 2011, Ginny Cole – 2012, Alex Honeycutt – 2013, Kayla Neikirk – 2014, Kassie Perkins – 2015, Azlinn Alder – 2016, Callie Corum – 2017, Hannah Everhart – 2018.

Headquartered in Abingdon, Virginia, K-VA-T Food Stores (Food City's parent company) operates 130 retail outlets throughout southeast Kentucky, southwest Virginia, east Tennessee, Chattanooga and north Georgia.