Food City to Host Annual Johnia Berry Toy Drive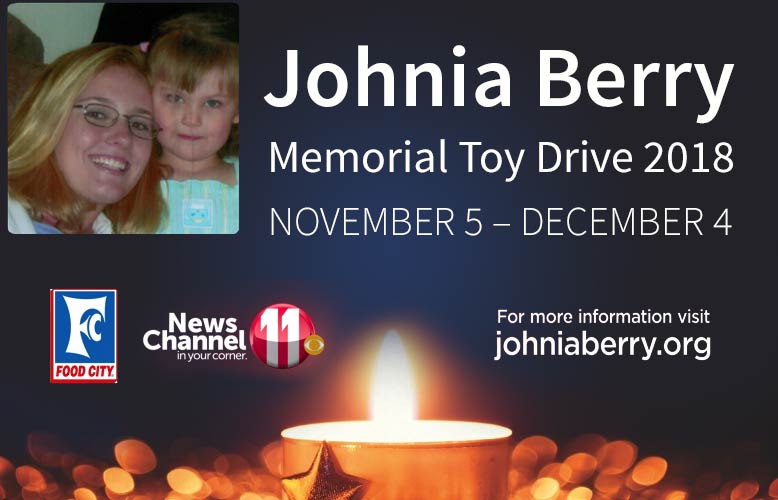 Abingdon, VA Wednesday, Oct 31, 2018.
Food City will once again host the annual Johnia Berry Toy Drive. This marks the 12th year the retailer has hosted the memorial drive, which began in 2007.

"Johnia was extremely passionate about helping children and Food City is proud to be part of the annual Johnia Berry Toy Drive, which donates thousands of toys to needy children in our area each year," said Steven C. Smith, Food City president and chief executive officer.

The drive will kick-off on November 5th and continue through December 3rd. Specially marked collection containers will be located at area Food City locations throughout the Tri-Cities. The toys are scheduled to be distributed on December 6th, the anniversary of Johnia's death.

The Berry Family have selected a number of local agencies to receive the toys, including Haven of Mercy, Tri-State Children's Home, Safe Passage Women's Shelter, Community Help Center of Northeast TN, Cumberland Mountain Community Services of Cedar Bluff, VA, ETSU's Little Bucs, HOPE Center of Greeneville, TN, local schools in Virginia and Tennessee and many others.

"We would like to thank our loyal customers and associates for their tremendous generosity and support of the toy drive, as well as our media partner, News Channel 11, WJHL-TV," adds Smith.


Headquartered in Abingdon, Virginia, K-VA-T Food Stores (Food City's parent company) operates 130 retail outlets throughout southeast Kentucky, southwest Virginia, east Tennessee, Chattanooga and north Georgia.