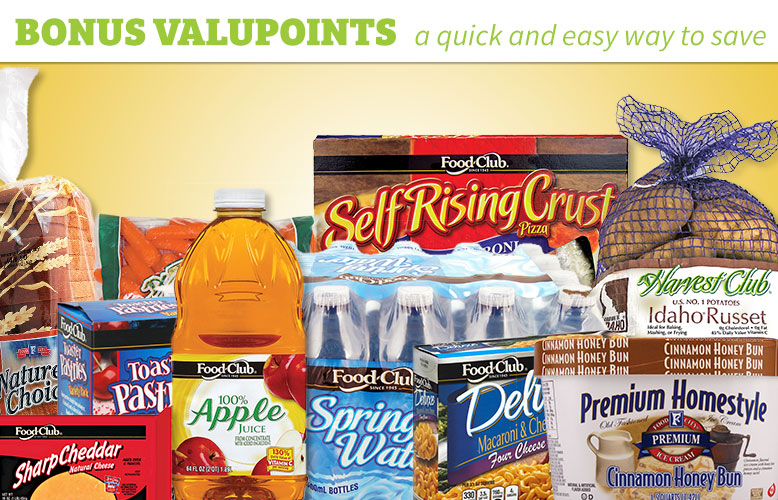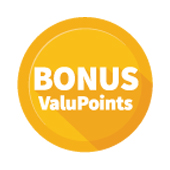 Bonus ValuPoints
Bonus ValuPoints are a quick and easy way to save. Earn discounts on fuel and groceries even faster with the purchase of select items at Food City. Look for the Bonus ValuPoints tag on participating items in-store and in our weekly ad.
---
Earn even more rewards this July every time you shop with GoCart
Let us do the shopping for you this July and you'll earn 300 ValuPoints every time you shop with GoCart.* Use ValuPoints to save on fuel or 5% on groceries every day.
Learn More about ValuCard Rewards.
*Valid through July 31, 2017 at select Food City locations. Orders of $100 or more.
Start Earning Bonus ValuPoints Today!
look out for these bonus items
At Ease Breakfast Items – Selected Varieties, 9 oz/2 pk (buy 2)
At Ease Frozen Blends – Selected Varieties, 10-12 Oz (buy 2)
At Ease Frozen Vegetables In Sauce – Selected Varieties, 12 Oz (buy 2)
At Ease Lasagna – Selected Varieties, 90 oz
At Ease Pizza Bites – Selected Varieties, 45 oz
At Ease Stuffed Sandwiches – Selected Varieties, 9 oz (buy 2)
Buckley Farms Chicken Breasts Boneless Skinless, 2.5 lb
Buckley Farms Chicken Tenders Boneless Skinless, 2.5 lb
Buckley Farms Chicken Wing Sections, 40 Oz
Buckley Farms Fully Cooked Bacon, 2.52 Oz
Culinary Tours Paletas Fruit Bar – Selected Varieties, 6ct/3 oz
Food City Premium Package Meats – Selected Varieties, 8 Oz
Food Club Banana Pops, 12 ct (buy 2)
Food Club Fabric Softener Sheets – Selected Varieties, 80 Ct (buy 2)
Food Club Family Pack Toaster Pastry – Selected Varieties, 22 oz
Food Club Frozen Biscuits – Selected Varieties, 25-26.4 oz (buy 2)
Food Club Frozen Pasta – Selected Varieties, 25 oz
Food Club Fruit/Grain Cereal Bars – Selected Varieties, 10.4 oz (buy 2)
Food Club Ice Cream Novelties – Selected Varieties, 9-12 pk (buy 2)
Food Club Ice Cream Sandwiches – Selected Varieties, 24 ct
Food Club Ice Cream Sandwiches – Selected Varieties, 12 ct (buy 2)
Food Club Iced Pops, 12 ct (buy 2)
Food Club No Sugar Ice Cream Sandwiches – Selected Varieties, 12 ct (buy 2)
Food Club Novelty Variety Pack, 30 Ct
Food Club Peanut Butter Filled Pretzel Nuggets, 24 oz
Food Club Pizzeria Style Pizza – Selected Varieties, 17.95 Oz
Food Club Popcorn – Selected Varieties, 6Pk (buy 2)
Food Club Pretzels – Selected Varieties, 16 oz (buy 2)
Food Club Rising Crust Pizza – Selected Varieties, 13–32.75 Oz
Food Club Sparkling Ice – Selected Varieties, 17 oz (buy 2)
Food Club Sundae Cups – Selected Varieties, 12 ct
Food Club Trail Mix – Selected Varieties, 9.75-10 oz
Food Club Ultra Thin Pizzas – Selected Varieties, 13.95–16.95 Oz
Full Circle Organic Baked Beans – Selected Varieties, 15 oz (buy 2)
Full Circle Organic Peaches And Pear – Selected Varieties, 4 oz/4 ct (buy 2)
Full Circle Organic Shells And Cheese – Selected Varieties, 12 Oz
Kay's Classic Ice Cream – Selected Varieties, 48 oz (buy 2)
Kay's Classic Sherbet – Selected Varieties, 48 oz (buy 2)
Kerns Creme Pies – Selected Varieties, 25 oz
Lay Touchdown Beef Franks, 16 Oz
Misty Mountain Spring Water 8 pk/8 oz
Premium Rotisserie Chicken – Selected Varieties
Rosario's 16" Pizzeria Pizza – Selected Varieties
Rosario's Brick Oven 16" Pizza – Selected Varieties
Simply Done Bath Tissue Double Roll – Selected Varieties, 4 roll (buy 2)
Simply Done Fabric Softener Sheets – Selected Varieties, 80 Ct (buy 2)
Simply Done He Laundry Detergent – Selected Varieties, 50 oz (buy 2)
Simply Done Liquid Laundry Detergent – Selected Varieties, 100 oz
Simply Done Ultra Fabric Softener – Selected Varieties, 51 oz (buy 2)
Terry's Caramel Or Triplemix Popcorn, 6-7 Oz (buy 2)
Terry's Cheese Puffs Or Curls – Selected Varieties, 8-8.5 Oz (buy 2)
Terry's Corn Chips – Selected Varieties, 9.25 Oz (buy 2)
Terry's Popcorn – Selected Varieties, 6-7 Oz (buy 2)
Terry's Tortilla Chips – Selected Varieties, 8 Oz (buy 2)
Top Care Acetaminophen 500 mg Caplet, 100 ct
Top Care Aftersun Care Aloe Gel, 16 oz
Top Care Allergy Relief Loratadine 10 Mg – Selected Varieties, 30 ct
Top Care Antacid Mildroxal Mint, 12 oz
Top Care Children's Loratadine Syrup – Selected Varieties, 4 oz
Top Care Ibuprofen – Selected Varieties, 100 ct
Top Care Naproxyn – Selected Varieties, 100 ct
Top Care Whitening Pre-Brush Rinse, 16 oz
valid 07/12–08/15 2017