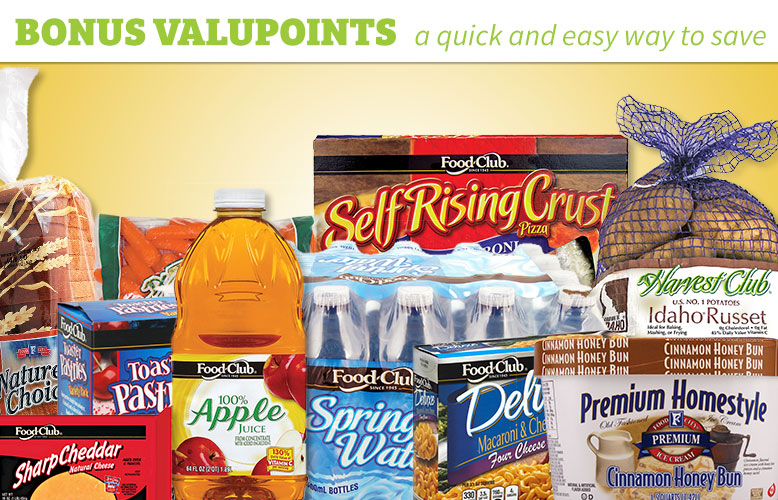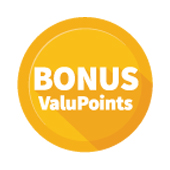 Bonus ValuPoints
Bonus ValuPoints are a quick and easy way to save. Earn discounts on fuel and groceries even faster with the purchase of select items at Food City. Look for the Bonus ValuPoints tag on participating items in-store and in our weekly ad.
---
Gobble up some extra points this season
Fuel your Holiday celebrations and earn extra ValuPoints this season.Earn 10x ValuPoints when you purchase any Butterball Turkey. LIMIT 2 PER CARD. Offer ends November 28, 2017
Earn even more rewards this November every time you shop with GoCart
Earn 300 ValuPoints every time you shop using GoCart this November. Offer valid on orders of $100 or more.
Start Earning Bonus ValuPoints Today!
look out for these bonus items
At Ease Asian Appetizers – Selected Varieties, 12.20 oz (buy 2)
At Ease Breakfast Bowl – Selected Varieties, 7 oz (buy 2)
At Ease Breakfast Items – Selected Varieties, 9 oz 2 PK (buy 2)
At Ease Chicken Enchiladas, 30 oz
At Ease Frozen Appetizers – Selected Varieties, 8-11 oz (buy 2)
At Ease Frozen Blends – Selected Varieties, 12 oz SU B (buy 2)
At Ease Frozen Vegetables In Sauce – Selected Varieties, 12 oz (buy 2)
At Ease Lasagna – Selected Varieties, 90 oz BOX
At Ease Meal Starters – Selected Varieties, 18 oz
At Ease Oatmeal Breakfast Bowl – Selected Varieties, 8 oz (buy 2)
Buckley Farms Chicken Breasts Boneless Skinless, 2.5 lb
Buckley Farms Chicken Tenders Boneless Skinless, 2.5 lb
Buckley Farms Chicken Wing Sections, 40 oz
Buckley Farms Fully Cooked Bacon, 2.52 oz
Cow Belle Ice Cream Bar, 6 ct
Cow Belle Ice Cream Cone Variety, 8 ct
Cow Belle Ice Cream Sandwich – Selected Varieties, 12 ct
Cow Belle Ice Cream Bar Sea Salt Cara, 6 ct
Culinary Tours Cooking Sauce – Selected Varieties, 11.8 oz
Food City Premium Package Meats – Selected Varieties, 8 oz
Food City Premium Ice Cream – Selected Varieties, 48 oz (buy 2)
Food Club Apple Sauce – Selected Varieties, 50 oz. Jar (buy 2)
Food Club Baked Beans – Selected Varieties, 28 oz. (buy 2)
Food Club Battered Fish – Selected Varieties, 21.2-24 oz
Food Club Beer Batter Fish Fillets, 18.20 oz
Food Club Big Chip Cookies – Selected Varieties, 11.3-14.5 oz (buy 2)
Food Club Breaded Crunchy Fish Sticks, 12 oz
Food Club Cashew Halves & Pieces – Selected Varieties, 9.0 oz
Food Club Cheezy-Does-It Loaf – Selected Varieties, 32 oz
Food Club Cottage Cheese – Selected Varieties, 16 oz (buy 2)
Food Club Cranberry Juice – Selected Varieties, 64 oz (buy 2)
Food Club Crunchy Fish Fillets, 19 oz
Food Club Cut Yams, 40 oz
Food Club Decaf Tea Bags, 48 ct (buy 2)
Food Club Deluxe Mixed Nuts, 11.0 oz
Food Club Dunksters Sandwich Cookie – Selected Varieties, 14.3-15.5 oz (buy 2)
Food Club Fried Apples – Selected Varieties, 14.5 oz (buy 2)
Food Club Frozen Biscuits – Selected Varieties, 25-26.4 oz (buy 2)
Food Club Graham Crackers – Selected Varieties, 14.4 oz (buy 2)
Food Club Grahams/Shortbread – Selected Varieties, 12.5-13 oz (buy 2)
Food Club Ketchup, 64 oz
Food Club Mango Chunks, 32 oz
Food Club Mixed Fruit, 40 oz
Food Club Mixed Nuts with Peanuts – Selected Varieties, 11.5 oz
Food Club Pasta – Selected Varieties, 32 oz
Food Club Peanut Butter – Selected Varieties, 40 oz
Food Club Popcorn – Selected Varieties, 6 pk (buy 2)
Food Club Popcorn Shrimp, 12 oz (buy 2)
Food Club Pouch Cookie Mix – Selected Varieties, 17.5 oz (buy 2)
Food Club Premium Orange Juice – Selected Varieties, 59 oz
Food Club Pretzels – Selected Varieties, 16 oz (buy 2)
Food Club Rising Crust Pizza – Selected Varieties, 13-32.75 oz
Food Club Rolls – Selected Varieties, 14-15.8 oz (buy 2)
Food Club Seedless Raisins, 20 oz
Food Club Shredded Cheese – Selected Varieties, 16 oz
Food Club Shrimp Poppers, 6 oz (buy 2)
Food Club Snack Crackers – Selected Varieties, 9-11 oz (buy 2)
Food Club Snack Mix – Selected Varieties, 8.75oz (buy 2)
Food Club Sucralose Sugar Substitute, 200 ct
Food Club Tea Bags, Family Size 48 ct (buy 2)
Food Club Thin & Crispy Pizza – Selected Varieties, 22-24.8 oz
Food Club Tomatoes – Selected Varieties, 28 oz (buy 2)
Food Club Trail Mix – Selected Varieties, 9.75-10 oz
Food Club Ultra Thin Pizzas – Selected Varieties, 13.95-21.3 oz
Food Club Vanilla Wafer Cookie, 12 oz (buy 2)
Food Club Whipped Topping – Selected Varieties, 8 oz (buy 2)
Food Club Whole Cashews, 9.5 oz
Food Club Whole Strawberries, 40 oz
Food Club Yeast Rolls, 30 ct
Kern's Thaw & Serve Pies – Selected Varieties, 22-25 oz
Kerns Creme Pies – Selected Varieties, 25-26 oz
Kerns Pecan Pies – Selected Varieties, 22 oz
Lay Touchdown Beef Franks, 16 oz
Nostimo Greek Yogurt – Selected Varieties, 32 oz
Premium Rotisserie Chicken – Selected Varieties
Rosario's 16" Pizzeria Pizza – Selected Varieties
Rosario's Brick Oven 16" Pizza – Selected Varieties
Simply Done Bath Tissue Double Roll – Selected Varieties 4 Roll (buy 2)
Simply Done Fabric Softener Sheets – Selected Varieties 80 ct (buy 2)
Simply Done Foam Compartment Tray, 20 ct (buy 2)
Simply Done He Laundry Detergent – Selected Varieties, 50 oz
Simply Done Liquid Laundy Detergent – Selected Varieties, 100 oz
Simply Done Superflex Bag – Selected Varieties, 25-38 ct (buy 2)
Simply Done Ultra Fabric Softener – Selected Varieties, 51 oz (buy 2)
Terry's Beef Jerky – Selected Varieties, 2.85 oz
Terry's Caramel Or Triplemix Popcorn – Selected Varieties, 7.0 oz (buy 2)
Terry's Cheese Puffs Or Curls – Selected Varieties, 8-8.5 oz (buy 2)
Terry's Corn Chips – Selected Varieties, 9.25 oz (buy 2)
Terry's Popcorn – Selected Varieties, 6-7 oz (buy 2)
Terry's Tortilla Chips – Selected Varieties, 8-13 oz (buy 2)
Wide Awake Coffee Creamer – Selected Varieties, 64 oz


valid 10/22–11/28 2017