Hometown Heroes Spotlight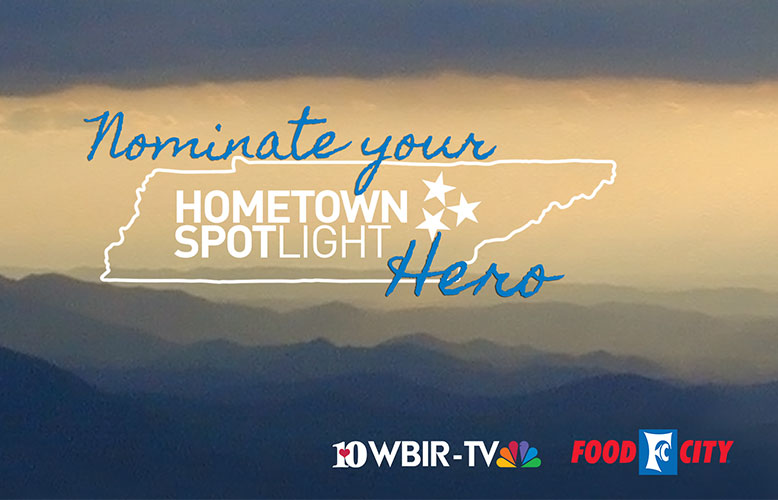 Honor a Hometown Hero from your Hometown
WBIR and Food City's Hometown Spotlight celebrates the peoples and places that make towns across East Tennessee and Southwest Virginia special. Now's your chance to nominate your Hometown Spotlight hero. WBIR and Food City want to hear from you! So tell us about someone that makes your hometown a better place to live and who makes a difference in the community. It can be a fireman, nursing home worker, school teacher or a just someone who volunteers in the community without asking anything in return.
How it works
1. Log on to foodcity.com/heroTV
2. Nominate your Hometown Hero on the form and hit "Enter". Please complete all fields on the form.
3. One Hometown Spotlight hero for each community we visit (see list below) will be selected.
4. If your nominee is selected they will be invited to attend the live Hometown Spotlight broadcast on WBIR and will receive a $100 Food City gift card.
Nominate your Hometown Hero Today! See Official Rules

Hometown Spotlight Event and "Hero" Nomination Dates
May 15—Norris Lake, TN
Nomination Dates: April 24-May 7
June 12—Powell, TN
Nomination Dates: May 22-June 4
July 17—Kingston, TN
Nomination Dates: June 26-July 9
August 18—Sweetwater, TN
Nomination Dates: August 4-11
September 18—Abingdon, VA
Nomination Dates: August 28-September 10
October 16—Rogersville, TN
Nomination Dates: September 25-October 8
November 27—Gatlinburg, TN
Nomination Dates: November 6-19
December 11—Knoxville, TN
Nomination Dates: November 20-December 3