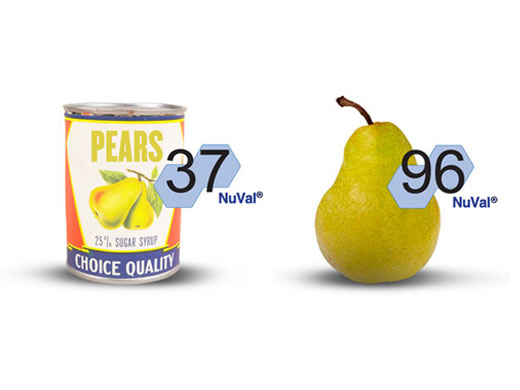 More Information, Less Work
The NuVal® nutritional scoring system is a food scoring system that helps you see at a glance the nutritional value of the foods you buy. The NuVal system rates foods and beverages on a scale of 1 to 100. The higher the NuVal score, the better the overall nutrition. Scores are displayed directly on shelf tags (and in the nutritional information listed with products on foodcity.com) so you can make quick and easy nutritional comparisons between foods. Look for the score in the blue hexagon!
Shop with NuVal®
With NuVal scores, comparison shopping takes on a whole new meaning. The system's 1-100 scoring range makes it easier than ever to shop for good nutrition. All you have to do is:
Look
It's easy to incorporate NuVal scores into your regular shopping routine. Just look for the NuVal System's double-hexagon emblem and 1-100 food score on shelf tags next to the price.
---
Compare
The NuVal score's convenient location on the shelf tag lets you compare overall nutrition the same way you compare price. No more scouring nutrition labels; with NuVal scores, you can see and compare food's nutritional value in a single number at a single glance.
---
Decide
NuVal scores make it easy to find more nutritious alternatives - even in the salty snack aisle. So when you want to buy more nutritious foods, simply look for those with higher NuVal scores. And even if you don't buy the product with the highest score, you have the nutrition information you need to make your decision quickly and easily.
---