2017 Food City & Sequoyah Council Boy Scouts of America Scouting for Food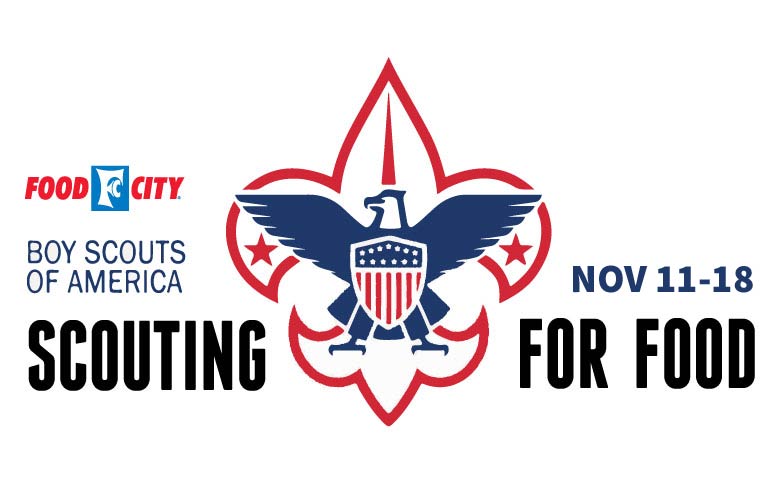 Food City Saturday, November 11, 2017, 6:00 am - Saturday, November 18, 2017, 12:00 am
Join Food City and the Sequoyah Council Boy Scouts of America 2017 "Scouting for Food" Good Turn project. The food drive, one of the largest in the region, helps stock the shelves of more than 50 local area food banks.
On Saturday, November 11th, Boy Scouts from the Sequoyah Council will be distributing over 150,000 plastic bags, provided by Food City, door to door to homes throughout the area. To participate, simply fill your bag with non-perishable food items and place the bag outside your door no later than 8 a.m. on the following Saturday, November 18th for the scouts to pick up. Collection bins will also be set up in participating Food City stores for customers to drop off their contributions, if they choose. Food City shoppers may also contribute by purchasing a pre-packaged bag of items for $10.00 to place in the collection bin. All donations collected by Food City and the Sequoyah Council Boy Scouts of America go to help feed hungry families in our region.

Participating Food City location

2120 South Roan Street, Johnson City, TN
731 Highway 11-W, Church Hill, TN
1205 N. Eastman Road, Kingsport, TN
905 Snapps Ferry Rd, Greeneville, TN
509 Asheville Hwy, Greeneville, TN
1287 East Main Street, Rogersville, TN
1430 Volunteer Parkway, Bristol, TN
920 North State of Franklin Rd, Johnson City, TN
920 Broad Street, Elizabethton, TN
500 Forest Drive, Jonesborough, TN
4307 North Roan Street, Johnson City, TN
300 Clinchfield St., Kingsport, TN
2755 E. Andrew Johnson Highway, Greeneville, TN
1911 Moreland Drive, Kingsport, TN
1921 Highway 394, Blountville, TN
125 Judge Gresham Road, Gray, TN
6681 Bristol Highway, Piney Flats, TN
100 Bonham Road, Bristol, VA
3004 US Highway 23 North, Weber City, VA
1320 Euclid Avenue, Bristol, VA
396 Towne Centre Drive, Abingdon, VA
18765 Riverside Drive, Vansant, VA
736 North Beaver Dam Avenue, Damascus, VA
159 Pittston Road, Lebanon, VA
603 Wood Ave. East, Big Stone Gap, VA
410 Chase St., Clintwood, VA
517 Front Street West, Coeburn, VA
205 River Bend Dr. Suite 102, Pennington Gap, VA
16410 Wise St., St. Paul, VA
207 Woodland Dr. SW, Wise, VA
Visit www.scbsa.org for more information.