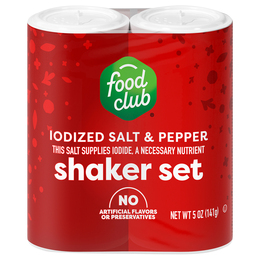 Food Club
Iodized Salt & Black Pepper Shaker Set
Select a store to see pricing.

Package

1.00 ea&nbsp
Salt: 3.75 oz (106 g). Pepper: 1.25 oz (35 g). This salt supplies iodine, a necessary nutrient. Since 1945. Black pepper contains an insignificant amount of nutrients. Quality Guarantee: Our commitment to quality is 100% satisfaction.

Salt: Salt, Potassium Iodide. Pepper: Ground Black Pepper.
There is no nutrition information available on this product.
There are no allergy alerts for this product.