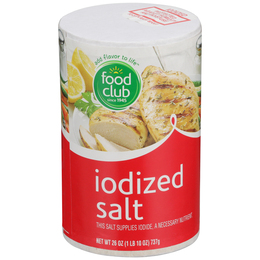 Food Club
Iodized Salt
Select a store to see pricing.

Package

26.00 oz&nbsp
This salt supplies iodide, a necessary nutrient. Since 1945. Recyclable. This entire container is recyclable. Quality Guarantee: Our commitment to quality is 100% satisfaction. Made in USA.

Salt, Potassium Iodide, Dextrose, Sodium Bicarbonate and Yellow Prussiate of Soda.
There is no nutrition information available on this product.
There are no allergy alerts for this product.