Food City Race Night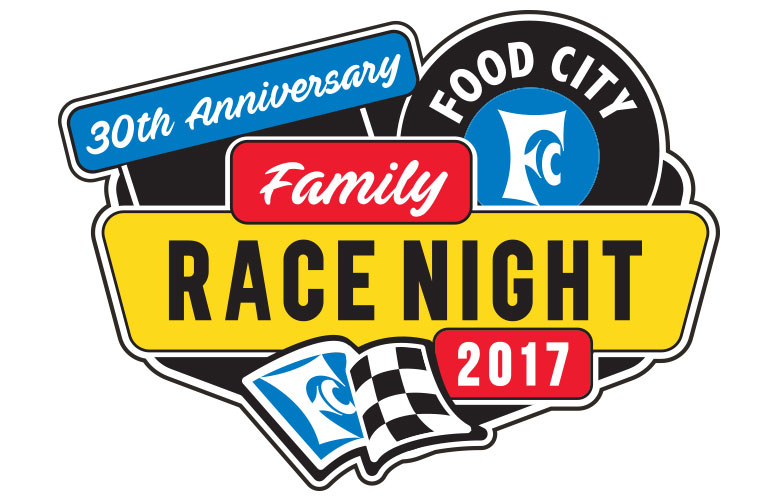 Downtown Bristol, TN/VA Thursday, August 17, 2017, 1:00 pm - 9:00 pm
Food City Race Night features entertainment, free food sampling, show cars, racing simulators and special appearances by numerous NASCAR celebrities. Admission are $5 in advance and $6 day of the events. Children 12 and under admitted FREE. All proceeds benefit Bristol Ballet and Theatre Bristol. Sponsored by Food City, City of Bristol, WJHL and Bristol Herald Courier.
EVENT SCHEDULE
Appearances and Autographs
*Driver's schedules are subject to change.
Elliott Sadler (6pm-7pm) #1 Armour
Aric Almirola (Time TBD) #43 Fresh from Florida
Joe Nemechek (5pm-6pm) NASCAR Legend and owner of NEMCO Motorsports
John Hunter Nemechek (5pm-6pm) #8 NEMCO Motorsports Truck
Justin Allgaier (Time TBD) #7
Brennan Poole (6pm-8pm)
Morgan Shepherd (7pm-8pm) #89 Victory in Jesus
David Ragan (5pm-6pm) #38 Camping World
Ben Rhodes (5pm-7pm) #27 Safelight Auto Glass
Chris Buescher (7pm-8pm) #37 Bush Beans
Erik Jones (6pm-8pm) #15 5-Hour Energy
William Byron (6pm-7pm) #9 Liberty University {150 Wristbands will be given out at his line at 4pm}
Joey Gase (6pm-7pm) #52 Donate Life
Grant Enfinger (2:30-3:30 and 6:30-7:30) #98 Champion and RIDE TV
Chad Finchum (5pm-7pm) Xfinity driver
Ryan Truex (5pm-7pm) Driver of #16 Bar Harbor Truck
Todd Gilliland (5:30pm-6:30pm) #46/51 Kyle Busch Motorsports
David Gilliland (5:30pm-6:30pm) #35 Front Row Motorsports
Michael McDowell (6pm-7pm) #95 Leavine Family Racing
Dillon Hodge — #3 Lucas Oil Legend
Hermie Sadler (6pm) with VA Lottery & SPEED
Jeffrey Earnhardt (3-4:30 PM & 6:30-8 PM) #33 Hulu
Joey McColm — drives for Pinty's
Lexi Gay — #77 NASCAR Whelen
Jenna Wagner — #75 NASCAR Whelen
Dennis Deese — #24 NASCAR Whelen
Chase Dixon — #07 Inex Series
Matt DiBennedetto (6pm-7pm) #32 Monster Energy Series
Larry Bowens — #18
Jerry Miller — #01
Kayla Powell — #10 FWD/Compact
Donny Holland — #10 FWD/Compact
James Powell — #27 FWD/Compact
Adam Gray — #37 Shields
John Earnhardt (1pm-9pm) Race to Victory
ETSU Coach Carl Torbush and ETSU Football Players
Gray London — Team Earhardt CEO
Rayne Holland — #10 Winston Mini
Hannah Seal — #55 Mini Cup
Bobby Helton — #03 Super Street
Carter Davidson — #57 Mod 4
Blake Roark — Mod 4
Toby Jones — #66 Mod 4
Todd Duff — #74 Mod Street
Brian Voiles — #3 Super Modified
Zach Mathena — #16 Modified
Morgan Widener — #15 Modified
Brandon Morris — #43 Kart
Bobby Talbert — #76 Pure Street
Kevin Wolfe — #17 Food City Late Model
Eric Roberts — #4 Late Model
Stacey Terry — Late Model
Keith Stiltner — #22 Late Model
Kres VanDyke — #15 Late Model Kingsport Speedway
Ronnie McCarty — Kingsport Speedway
Dustin Smith — Kingsport Speedway
Josh Collins — Kingsport Speedway
Austin Peters — Kingsport Speedway
Jay Swecker — Kingsport Speedway
Wayne Hale — Kingsport Speedway
Karen Tunnell — Kingsport/Lonesome Pine Pace Car
William Jones — #8 Vintage
Calvin Crabtree — #16 Vintage
Jackson Austin — #11 Vintage
Aaron Guinn — #97 Tazewell Speedway
Brownie King (5pm-7pm) NASCAR Legend
Larry Utsman (5pm- 7pm) NASCAR Legend
Travis Tiller (5pm-7pm) NASCAR Legend
Paul Lewis (5pm-7pm) NASCAR Legend
Terry Anderson (5pm-7pm) NASCAR Legend
John A. Utsman (5pm- 7pm) NASCAR Legend
Gene Hobby (5pm-7pm) NASCAR Legend
Paul Lewis (5pm-7pm) NASCAR Legend
Callie Corum — Miss Food City 2017
Sam Bass (5pm-8pm) First Offical NASCAR Artist/Sam Bass Gallery
David McGee (5pm-7:30pm) Local Author
Joe Tennis (2pm-7:30pm) Local Author
Chuck Thompson — Local Author
Danny Casteel (5pm-7pm) 1934 Ford Vintage
Mike Blevins (5pm-7pm) 1992 Lumina
Harold Crook — 1957 Chevrolet
Gary and Linda Potter (5pm-7pm) 1958 Chevrolet Vintage
Bob Brinkerhoff — Earnhardt Look-A-Like
Neal James "the Banjo Man" (1pm-9pm) from Call of the Wildman
Twin Peak Girls
Entertainment

Pepsi Stage
2:00-2:45pm Wanted Stranger
2:50-3:00pm Special Appearance by Jack Links Sasquatch
3:15-4:00pm Jess Zimmerman Band
4:00-4:15pm Honoring Veterans
4:30-5:30pm Jason Lovins Band
6:00-6:30pm Welcome Ceremonies
Patriotic Song – Jason Lovins Band
Vice Chairman of NASCAR — Mike Helton, MC — Larry McReynolds
Honoree — Nemechek Family — Joe Nemechek and John Hunter Nemechek
PVA Check Presentations from Food City and RTIC Coolers with Richard Petty
6:45-7:30pm Racing Review hosted by Larry McReynolds with Joe Nemechek, John Hunter Nemechek, David Gilliland, Todd Gilliland, Ward and Jeb Burton
7:00-8:30pm Kaitlyn Baker


Downtown Center Stage
3:00-5:00pm Thomas Taylor
5:00-7:00pm Wyldeheart
7:00-9:00pm Shooter





Food Sampling

Free Food Sampling from 4pm-9pm while supplies last
Blue Bell Ice Cream, Breyers Ice Cream, Brooks Beans, CAB Thick & Juicey Burgers served on Flowers Buns, Calbee Whole Cuts, Cape Cod Chips & Snyder's Pretzels, Cheez-it Products, Cousin Willies Popcorn, Dietz & Watson Wraps, Food City Fresh Wings , Frito Lay Roaming Samplers, Gordos Chees Dips & Salsa, Gripp Energy Drinks, Gwaltney Hotdogs served on Sara Lee Buns, Hype Energy Drinks, Jack Links Beef Jerky, Johnsonville Brats, Kellogg's Poptarts, M&M's, Mayfield Ice Cream Mini Sandwiches, McCormick Seasoning Packets, Milos Tea & Lemonade, Misty Mountain Water, Mrs. Grissoms Salads, Oreo Sampling, Pepsi Products, Snack Factory Pretzel Chips, Snyders of Berlin Chips, Texas Pete, Vienna Sausage, Vietti Chili and Hotdog Sauce, WANU Water, Willies Fresh Salsa

Booths and Displays

Auto Racing Outreach, Belks Race Ticket Raffle, Beltone, Black Wolf Harley Davidson, BMS Program Sales, Bristol Herald Courier, Bristol VA Police Department, Bristol VA Professional Firefighters, Chamber Convention & Visitors Bureau, Champion, Cici's Pizza, Dixie Stampede and Smoky Mountain Adventures, ESGR (Employes Support for Guard/Reserve), ETSU, Flex Tape/Flex Seal, Fresh From Florida, Friendship Motorsports, H&R Block, Holly Help, Hulu, Lost/Found/First Aid , Madaris — Child Finger Printing, MADD — Mothers Against Drunk Driving, Muscle Car Ministries, National Guard, Northeast State, Police Command Center Mobile Unit, Raceway Ministries, Ripley's Aquarium of the Smokies, RiverStone Resort, Sam Bass Gallery, SBK Animal Center, Sound Revue, Southwest VA Cultural Heritage Foundation, Speedway Children's Charities, Tennessee Donor Services/Donate Life, TN Valley Mustang Club, Twin Peaks, VA Lottery Booth, Victory Junction, Wellmont Cancer Institute, WJHL
Show Vehicles & Other Attractions

#03 Super Street — Bobby Helton, #10 FWD/Compact — Donny Holland, #10 FWD/Compact — Kayla Powell, #10 Winston Mini — Rayna Holland, #07 Inex Series — Chase Dixon, #15 Late Model (Kingsport Speedway) & Super Truck Kres Vandyke, #15 Modified — Morgan Widener, #16 Modified — Zach Mathena, #17 Late Model Food City — Kevin Wolfe, #24 NASCAR Whelen— Dennis Deese, #27 FWD/Compact — James Powell, #3 Super Modified — Brian Voiles, #37 Shields, #43 Fresh From Florida, #5 Lucas Oil Legend — Dillon Hodge, #55 Mini Cup — Hannah Seal, #57 Mod 4 — Carter Davidson, #66 Auto Racing Outreach Truck, #66 Mod 4 — Toby Jones, #43 Kart — Brandon Morris, #33 Hulu — Jeffrey Earnhardt, #75 NASCAR Whelen — Jenna Wagner, #77 NASCAR Whelen — Lexi Gay, #01 Kingsport Speedway — Jerry Miller, #97 Tazewell Speedway — Aaron Guinn, #? Kingsport Speedway Car — Dustin Smith, #? Kingsport Speedway Car — Jay Swecker, #? Kingsport Speedway Car — Josh Collins, #19 Late Model — Wayne Hale, #5 Late Model — Ronnie McCarty, #66 Late Model — Austin Peters, Kingsport/Lonesome Pine Pace Car — Karen Tunnell, Mod 4 — Blake Roark, #11 Vintage — Jackson Austin, #16 Vintage — Calvin Crabtree, #18 Kingsport Speedway — Larry Bowens, #22 Late Model — Keith Stiltner, #4 Kingsport Speedway Car — Eric Roberts, #5 Pure Street — Dustin Smith, #67 Pure Street — Bobby Talbert, #74 Mod Street — Todd Duff, #77 Pure 4— Josh Collins, #77 Pure Street — Jay Swecker, #8 Vintage — William Jones, (1) 50's Micro Midget Race Car & Trike — John Earnhardt, (12) Mustangs with TN Valley Mustang Club, (15) Forge Muscle Car Classics, (15) Old Glade Antique Tractors, (2) National Guard Humvee, (2) Supercross Bikes & Super Truck, (3) Antique Tractors — Heather & Jordan Watson, (30) Tri State Antique Tractors, 1934 Ford Vintage — Danny Casteel, 1957 Chevrolet — Harold Crook, 1958 Chevrolet — Gary and Linda Potter, 1986 Thunderbird owned by Marion Cox, 1992 Lumina — Mike Blevins, Big Dog Chopper & Harley Davidson Fat Boy, Black Wolf Harley Davidson Display, BMS Souvenir Trailers, BVPD Crime Prevention Camaro, Dixie Stampede, Food City Big Cart, Food City Cold Air Balloon, Hellmann's Pit Box Simulator, Hype Energy Van, Johnsonville Big Taste Grill , Oscar Mayer Weinermobile, Ripley's Aquarium Display, Safelight Display, Sound Revue, Unilever Display — Unilever Simulator Showcar, Hellmann's Pit Box Simulator & Breyers Ice Cream, VA Lottery Display, VA State Police — H.E.A.T. Program, AAA Service/Utility Truck — Battery Boost, Spare Tire Installation, lock out, Ultimate Air Dogs – Demo times 1:30,3:00,4:30,6:00,7:30, Armour Display featuring Camaro Show Car, Tire Change Simulator, Corn Hole Toss & Inflatable Can, M&M Mars Display — #18 Carmel Show Car, Sim POD/Trophy/Souvenir Trailer, RIDE TV Display — #98 Champion and RIDE TV Truck



Commercial Characters

BMS Bump & Run, Dixie Stampede Southern Belle, Ernie Elf, Flexie, Northeast State Bear JP, Pink Panther, T.J. Clown, Sharky, Sasquatch
AAA East TN Official Auto Club of Food City Race Night
Food City Race Night Shuttle Bus Schedule 11:00am-10:00pm

Locations for Pick-up & Drop off
Bruton Smith Building/Front Entrance
BMS Tower C/Speedway Blvd.
HWY 11E & Whitetop Rd
HWY 394 & Whitetop Rd
HWY 394 & Copperhead Rd
Bristol Mall – Exit 1 off Interstate 81