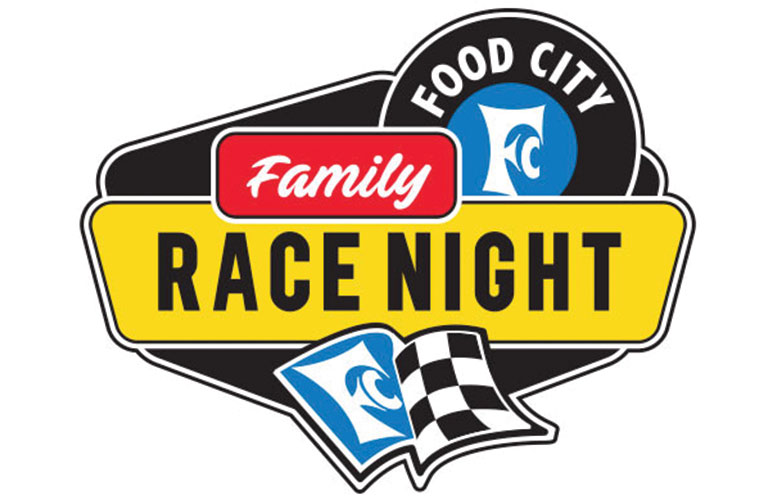 Food City Race Night
Downtown Bristol, TN/VA. - Wednesday, August 14, 2019, 1:00 pm - 9:00 pm
Food City Race Night features entertainment, free food sampling, show cars, racing simulators and special appearances by numerous NASCAR celebrities. Admission if FREE!. Sponsored by Food City, City of Bristol, WJHL and Bristol Herald Courier.
EVENT SCHEDULE
Appearances and Autographs
*Driver's schedules are subject to change.
7pm Gray Gaulding — #08 (XFINITY SERIES)
5PM Kaz Grala — #21 HotScream (XFINITY SERIES)
6-6:30pm Joey Gase — #35 Donate Life (XFINITY SERIES)
4:30-6pm Chad Finchum — #42 (XFINITY SERIES)
7pm Brandon Brown — #86 (XFINITY SERIES)
5-6pm Garrett Smithley — #0 Flex Tape (XFINITY SERIES)
5-6pm Stephen Leicht — #1 Flex Glue (XFINITY SERIES)
5-6pm BJ McLeod — #15 Flex Shot (XFINITY SERIES)
6-8pm David Starr — #52 Extreme Kleaner (XFINITY SERIES)
1-9pm Tommy Vigh — #10 Extreme Kleaner (ARCA SERIES)
7-8pm Tyler Ankrum — #17 (TRUCK SERIES)
1-9pm Gray London — Team Earnhardt CEO
7pm Max McLaughlin — K&N Series
5-6pm Sam Mayer — K&N Series
5-6pm Ben Rhodes — Truck Series
6-8pm Chase Cabre — K&N Series
6-8pm Reuben Garcia — K&N Series
5-7pm Jennifer Jo Cobb — Truck Series
7-8pm Matt Crafton — Truck Series
5-6pm Sheldon Creed — Truck Series
5-7pm Brownie King — NASCAR Legend
5-7pm Paul Lewis — NASCAR Legend
5-7pm Terry Anderson — NASCAR Legend
5-7pm Haskell McKee — NASCAR Legend
5-7pm John A. Utsman — NASCAR Legend
5-7pm Larry Utsman — NASCAR Legend
5-7pm Travis Tiller — NASCAR Legend
6:30pm Megan Stanley — Miss Food City
7:15-8pm Dr. Jerry Punch
7-8pm Austin Hill — #16 Toyota Tundra
7-8pm Brett Moffitt — #24 Chevrolet Silverado
7-8pm Johnny Sauter — #13 Ford F-150
7-8pm Ross Chastain — #45 Chevrolet
7-8pm Grant Enfinger — #98 Ford F-150
1-9pm Josh Trinkle — #68 Pure 4
1-9pm Kevin Darnell — #4 Pure Street
1-9pm Tony Dockery — #05 Pure Street
1-9pm Chris Tunnell — #6 Mod Street
1-9pm Emma Stiltner — #22 Mod Street
1-9pm Kres Vandyke — #15 Food City Late Model
1-9pm Kevin Wolfe — #17 Late Model
1-9pm Jay Swecker — #77 Late Model
1-9pm Ronnie McCarty — #5 Late Model
1-9pm Alice Burnette — #57 Late Model
6-8pm Matthew Eades — #9 Limited Late Model
6-8pm Colin Eades — #15 Super Street
1-9pm Bobby Helton — #3 Super Street
1-9pm Ernie Atwell — #01 Super Street
1-9pm Jessica Spangler — #07 Pure Street
1-9pm Blake Roark — #43 Mod 4
1-9pm William Alsip — #29 Mini Cup
1-9pm Kyle Stallard — #2 Dirt
1-9pm Emily Cook — #28 Mini Cup
1-9pm Danny Helton — #29 Dirt
1-9pm Rex Coffee — #3 Dirt
1-9pm Austin Adkins — #24 Dirt
1-9pm Tim Byrd — #24 Dirt
1-9pm Chris Coffee — #97 Dirt
1-9pm Karen Tunnell — Kingsport Speedway Pace Car
4pm Brayden Monteith — Outlaw Kart & Quarter RGB Midget
1-9pm Danny Casteel — #41 Vintage 1966
1-9pm Harold Crook — 1957 Chevrolet
1-9pm John Earnhardt — 14' Trike and Micro Midget
2-7pm David McGee — Local Author
3-7pm Joe Tennis — Local Author
6-8pm Taylor Parsons — Miss TN Outstanding Teen
6-8pm Taylor Hubbard — Miss Kingsport
6-8pm Caitlyn Ison — Miss Sullivan County
1-9pm Bob Brinkerhoff — Dale Earnhardt Sr. Look Alike
Entertainment

Coke Stage
2:00-2:45pm Wanted Stranger
3:00-3:45pm T-Minus Glory
4:00-4:45pm Tony Justice
5:00-5:45pm Kaitlyn Baker
6:00-6:30pm Welcome Ceremonies
National Anthem - Craig VanHuss
Mike Helton — Vice Chairman, NASCAR
MC — Dr. Jerry Punch
Honoree — TBD
PVA Check Presentation from Food City with Richard Petty
Special Tribute to the Family of Sam Bass
6:30-7:15pm The Pace Lap (Jessie Punch) International Show/Fans Choice
7:45-9:00pm Dugger Band
9:05pm Fireworks Display
Birthplace of Country Music Stage
1:30--2:30pm Bopping Bailey George & Jukebox Jessica Stiles
3:30-4:30pm Sammy Guns
5:30-6:30pm Fiddling Leona
7:30-8:30pm The Steele Cookin Band



Food Sampling

Free Food Sampling from 4pm-9pm while supplies last
Vietti Foods Company, Blue Bell Ice Cream, Gripp Energy Drink, Kellogg's Poptarts and Keebler Chez-its, Milos Tea, Certified Angus Beef Burgers, McCormick Seasoning Packets, Jack Links Beef Jerky, Airborne, Mariani Dried Fruit, Success Rice Boxes, BODYARMOR, Johnsonville Brats, Gwaltney Hotdogs served on Sara Lee Buns, Mrs. Grissom's Salads, Gordo's Cheese, Misty Mountain Water, Calbee Snapea Crisps, Vienna Sausage, Edwards Pies, Thomas Coffee, Cape Cod Chip & Snyder's Pretzels, Frito Lay Product, Texas Pete Hot Sauce

Booths and Displays

Sound Revue, William King Museum, Ballad Health Coach, Discover Bristol, JDRF East Tennessee, Raceway Ministeries, Victory Junction Gang, Tennessee Donor Services/Donate Life, Teleperformance, Tony Gordon Model Cars, Bristol Virginia Police Department, BODYARMOR, Muscle Car Ministries, Bubbafest, H&R Block, Ripley's Aquarium of the Smokies, ESGR (Employes Support for Guard/Reserve), WJHL, Bristol Herald Courier, Speedway Children's Charities, 1st Foundation , Keep Bristol Beautiful, Auto Racing Outreach, Verizon Wireless, Holly Help Spay & Neuter, SBK, Bristol Tennessee City, Black Wolf Harley Davidson, Beltone, Permatex
Show Vehicles & Other Attractions

#12 BODYARMOR Show Car, (10) Muscle Cars, Johnsonville Big Taste Grill, Ripley's Aquarium Van, (25) Antique Tractors from Tri-State & Old Glade, Food City Big Cart & Racing Tractor, Food City Balloon & Big Cart Balloon, Blue Bell Truck , 14' Trike and Micro Midget, Gordo's Food Truck, Armour Simulator & Inflatable, Fan Experience Showcar, XCR iK9 Merchandise, Ultimate Air Dogs, Big Dog Chopper and Harley Davidson Fat Boy, Auto Racing Outreach Show Truck, Extreme Energy Solution Simulator, #37 Shields Electronics, #05 Truckernation.org Open Wheel Modified, Bristol Motor Speedway Pace Car, (6) Dirt Cars representing Volunteer Speedway, #94 Show Car, (25) Mustangs, (2) BMS Souvenir Trailer 48' , (3) Harley Davidson Motorcycles, 1978 Thunderbird Bobby Allison Tribute Car, #3 Super Street, #17 Late Model, #01 Super Street, #07 Pure Street, #07 Late Model, #77 Late Model, Kingsport Speedway Pace Car, Outlaw Kart & Quarter RGB Midget, #41 Vintage 1966, #15 Food City Late Model, #15 Super Street, #9 Limited Late Model, #52 Extreme Kleaner (XFINITY SERIES), #43 Mod 4, #68 Pure 4 , #29 Mini Cup, #28 Mini Cup, !957 Chevrolet, #10 Smithfield , #29 Dirt, #3 Dirt, #24 Dirt, #24 Dirt, #97 Dirt, #2 Dirt, #6 Mod Street, #05 Pure Street, #22 Mod Street, #57 Late Model, #4 Pure Street
Commercial Characters

Tony Tiger, Ripley's Aquarium Sharky, Bump & Run, Kingsport Speedway Tiger, WXBQ Rabbit
AAA East TN Official Auto Club of Food City Race Night
Food City Race Night Shuttle Bus Schedule 11:00am-10:00pm

Locations for Pick-up & Drop off
Bruton Smith Building/Front Entrance
BMS Tower C/Speedway Blvd.
HWY 11E & Whitetop Rd
HWY 394 & Whitetop Rd
HWY 394 & Copperhead Rd