Prepared Foods at the Food City Cafe
Stop by your Food City Cafe today and find an enticing selection of prepared foods: ready to eat in or to take home for a quick meal solution. Just as good as home cooking but without all the work. You will always find fresh prepared foods ranging from our grab-and-go sandwiches and salads to our hot bar, fresh made soups, pizzas, chicken and more. All prepared foods are created by our talented Deli staff under the training and guidance of our experienced chefs. Come and grab a quick lunch with us today or pick up a few things to take home for tonight. We know you will enjoy every bite!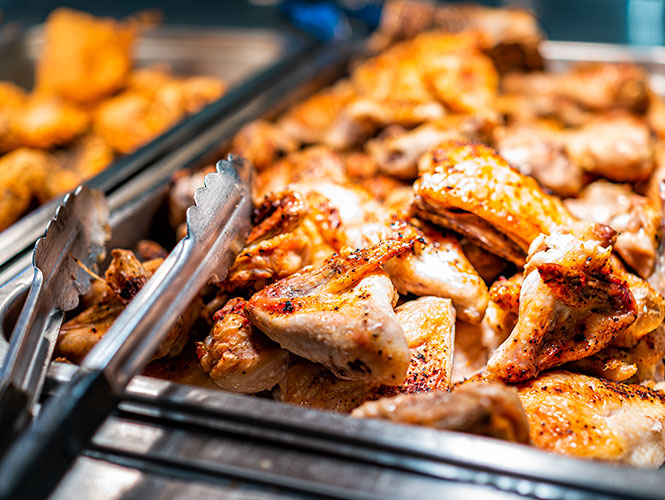 Hot Bar hot, fresh meals ready when you are
Quick, flavorful meals start right here in the Food City deli. Our hot bar menu options include comforting homestyle bites as well as globally inspired cuisine. Wether you are looking a quick bite to eat in our Cafe or something to take home, there are endless options on our hot bar for breakfast, lunch and dinner.
We change our menu daily, so come by and exerience a diferent taste every day! Open daily for breakfast, lunch and dinner.
Our Hot bars are open*
6:30 am to 10:30 am for breakfast
10:30 am to 8:00 pm for lunch and dinner

A World of Flavor at your local Food City
Our daily Hot Bar lunch and dinner menu inlcudes Fried Chicken, Chicken Tenders, Meatloaf, Mashed Potatoes, Green Beans, Potato Wedges and more.
Join us Monday through Friday for a different themed menu every night!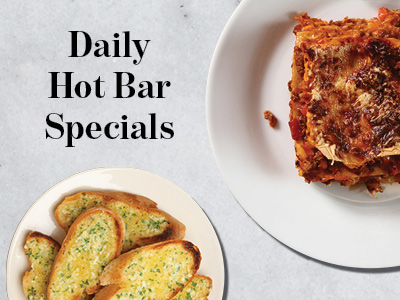 Monday — Italian
Featuring Lasagna every Monday and other selections such as Chicken Parmesan, Baked Spaghetti, Creamy Chicken Lasagna and Meatball Marinara.
Tuesday — Tex-Mex
Featuring Tacos, Nachos and Mexican Rice every Tuesday and other selections such as Chicken Quesadillas, Mexican Taco Bake, Chicken Chimichangas and Chicken Enchiladas.
Wednesday — Asian
Featuring a rotating menu of General Tso's Chicken, Beef & Broccoli, Sesame Orange Chicken, and Sweet 'N Sour Chicken every Wednesday.
Thursday — Home Cookin'
Features Meatloaf, Chicken and Dumplings and Pot Roast every Thursday and other selections including Chicken & Biscuits, Stuffed Peppers, Sausage & Peppers and more.
Friday — Fish Fry
Every Friday is our traditional Fish Fry featuring Fried Tilapia, Fried Catfish and Hushpuppies.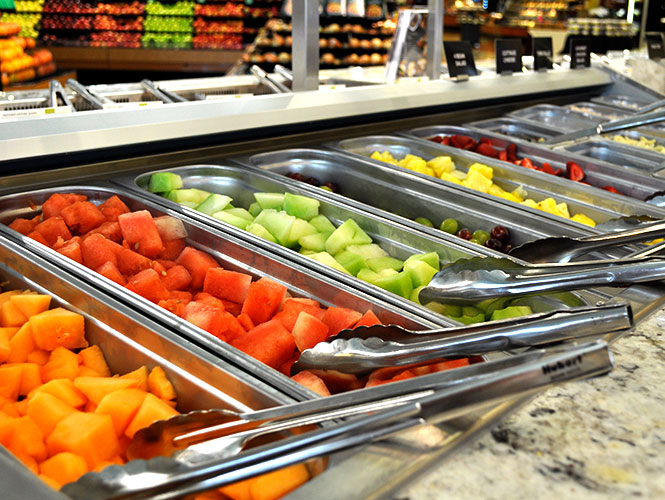 Fresh Bar so fresh, so delicious and so much more than salad
Our Fresh Bar is unlike any other around. The Food City Fresh Bar features everything you need for a grab-and-go healthy lunch, an easy side or appetizer for later tonight. Yes, we have the freshest meat and produce for salads but our fresh bars also feature our Olive & Antipasto bar, fresh made Soups and even Chicken Wings and Taco Bars*
The Food City Fresh Bar is open from 8:00 am to 7:00 pm everyday.*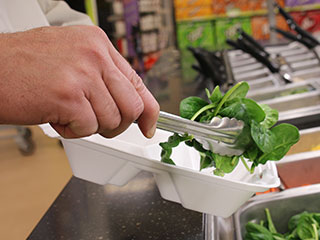 Salad Bar
The salad bar has all the fixin's for the perfect salad. From crisp greens to raw vegetables, crunchy toppings and our scratch-made dressings there's something for everyone. Healthy custom meals and sides have never been so easy.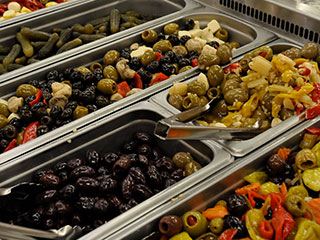 Olive & Antipasto Bar
Our Olive & Antipasto Bar featuring a wide selection of specialty olives, marinated vegetables, cheeses, peppers and more. Mix and match your favorites in any quantity. An effortless way to explore a world of flavor and discover a little of something new or a lot of something you love. Our olive & antipasto bar is a simple solution for a great picnic, a quick snack, an elegant compliment to a cheese plate or even as a super supper starter. These ingredients are perfect for creating quick pasta, salads, pizzas and more.*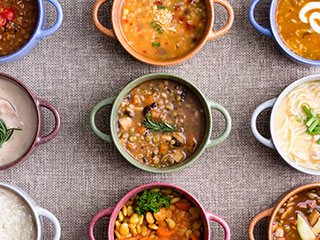 Soups
What goes together with salad better soup? Hot, fresh and delicious! From Fire-Roasted Tomato to our home-style chicken noodle, we feature a rotating selection of three soups daily. You never know what flavors you will discover. Come taste them all.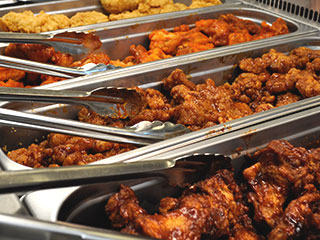 Wings and Taco Bar
Looking for lunch or need to an easy appetizer solution? Our self-service wing and taco bar features an assortment of chicken wings and taco favorites. Our taco bar has everything you need for a perfect taco or salad: seasoned ground beef or chicken, cheese, lettuce, sour cream, a variety of fresh made salsas and your choice of tortilla chip or taco shells (corn or flour). Our bone-in and boneless wing selection features everything from spicy to something with a little zing to just plain (mild).*
Money Saving Tip:
make the most of the Fresh Bar
Sometimes you don't need a lot of an ingredient to make a recipe. Maybe a couple peppers or a few olives will do. The Food City Fresh Bar is a great source for culinary inspiration and a good way to save a few bucks. Just grab what you need off the Fresh Bar instead of buying a whole package of something you may never use all of. No waste and easier on your budget.
*Fresh Bar available at select locations only. Menu selections, availability and times vary by location. Check with your local Food City grocery for more information.