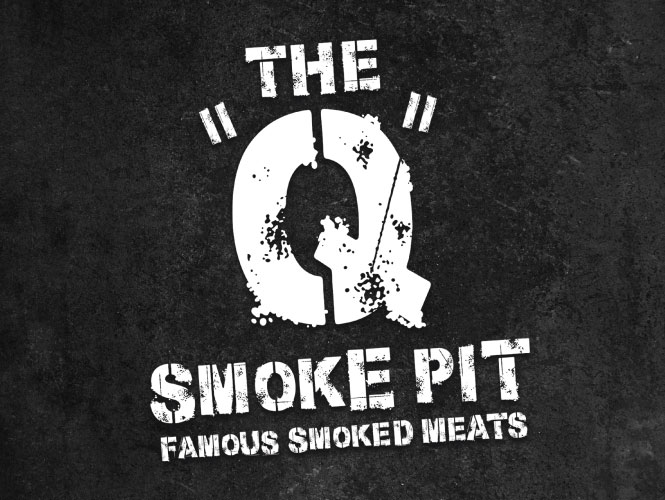 The "Q" Smoke Pit Famous Smoked Meats
We take the art of smoking and seasoning the finest barbeque very seriously – and very slowly. We only use the finest cuts of meat to ensure the highest quality product. Our Boston Butts, Ribs and Chicken are all perfectly seasoned with our secret blend of herbs and spices, then slow-smoked to perfection. And the best part is that you get to enjoy the hours of serious flavor without the wait!
In-store Q Smoker Menu
What is on the menu today?
At our Q Smoke Pit in-store locations we offer a wide selection smoked meats and hand made side including: Ribs, Whole Pork Butt, Pulled Smoked Pork BBQ, Smoked Chicken Wings, Smoked Chicken Leg Quarters, Whole Smoked Rotisserie Chicken, our famous Hawg Back Taters and more. We even smoke whole Turkeys for the Holidays as well as Ribeye Loins, Brisket and Salmon by request.
Come by and grab a quick lunch or dinner with our Pulled Pork Plate featuring our slow smoked pulled pork piled high with savory BBQ sauce on Texas toast. Served with your choice of two small sides. Need a family meal? We have you covered! Try the Q Family Special, a ready to eat feast for four. Our Family Special comes with 2 lb. Pulled Pork BBQ or 1 Full Rack of Ribs, 12 ct family size Potato Wedges, 4 Corn Cobbettes, 1 lb. Baked Beans, Potato Salad or Cole Slaw and 6 Dinner Rolls or 6 Corn Muffins.
Look out for Special Deals every week.
03/31 to 04/06 – Buy 1 rack of Baby Back Ribs and get one HALF OFF!
04/07 to 04/13 – Buy any Six Smoked Chicken Wings and SAVE $1
04/14 to 04/20 – $1.00 off 1 lb or more of Smoked Pulled Pork
04/21 to 04/27 – $1 off any whole Smoked Rotisserie Chicken
04/28 to 05/04 – Buy 1 rack of Baby Back Ribs and get one HALF OFF!
Pick Up Some of Our Famous Smoked Meats and Sides Today at one of these In-Store Locations:
2120 South Roan St, Johnson City, TN
920 North State of Franklin Rd, Johnson City, TN
1105 E. Morris Blvd, Morristown, TN
2310 Sandstone Drive, Morristown, TN
741 Dolly Parton Parkway, Sevierville, TN
11503 Chapman Highway, Seymour, TN
125 Judge Gresham Road, Gray, TN
1715 West Broadway Maryville, TN
207 Woodland Dr SW, Wise, VA
151 Cook Street, Abingdon, VA
429 University Drive, Prestonsburg, KY

If you can't make it to one of our in-store locations, don't worry we will bring it to you!
Look for the "Q" Mobile Smoker at your local Food City.
All events are from 10:00am until 9:00pm unless otherwise noted. Menu varies by location.
Every Friday & Saturday (weather permitting, while supplies last)
300 Clinchfield St, Kingsport, TN
Every Friday through Monday 11am– 8pm (weather permitting, while supplies last)
1219 East Parkway, Gatlinburg, TN
04/02-04/03
150 Highway 41 Ringgold, GA
112 Crimson Drive Trenton, GA
416 Eastern Plaza Shopping Center Newport, TN
2946 Winfield Dunn Parkway Kodak, TN
1287 East Main Street Rogersville, TN
2120 Highway 411 Vonore, TN
2755 East Andrew Johnson Highway Greeneville, TN
1199 Oak Ridge Turnpike Oak Ridge, TN
1400 Bob White Boulevard Pulaski, VA

04/09-04/10
1308 West Walnut Avenue Dalton, GA
531 Battlefield Parkway Fort Oglethorpe, GA
731 Highway 11-W Church Hill, TN
1507 O'Dell Avenue Jefferson City, TN
121 North Hall Road Alcoa, TN
920 Broad Street Elizabethton, TN
1130 South Roan Street Harriman, TN
7608 Mountain Grove Drive Knoxville, TN
1000 Leatherwood Lane Bluefield, VA

04/15-04/17
3625 Parkway Pigeon Forge, TN

04/16-04/17
225 Lovers Lane Calhoun, GA
181 Western Plaza Way Newport, TN
1317 Virginia Avenue Bristol, TN
508 East Tri County Boulevard Oliver Springs, TN
284 Morrell Road Knoxville, TN
3715 Ringgold Road East Ridge, TN
145 West Lee Highway Chilhowie, VA
205 River Bend Drive Pennington Gap, VA

04/23-04/24
110 North 11th Street Middlesboro, KY
180 Rutledge Pike Blaine, TN
1000 Ladd Landing Boulevard Kingston, TN
9565 Middlebrook Pike Knoxville, TN
10161 Old Dayton Pike Soddy Daisy, TN
841 US 411 North Etowah, TN
100 Bonham Road Bristol, VA

04/30
955-A East Stuart Drive Galax, VA

04/30-05/01
2478 South US Highway 421 Harlan, KY
1715 West Broadway Maryville, TN
125 Judge Gresham Road Gray, TN
105 South Hill Street Athens, TN
7202 Maynardville Highway Knoxville, TN
420 Market Street Dayton, TN
3901 Dayton Boulevard Red Bank, TN
16410 Wise Street St. Paul, VA
Q Mobile Smoker schedule is subject to change without notice.
Please contact your local Food City grocery store for more information.