Flu Shots and Immunizations
Shop for what you need and protect yourself and your family's health — all in one convenient location. Visit your Food City Pharmacy for you flu shots and immunizations, available everyday* and at affordable prices.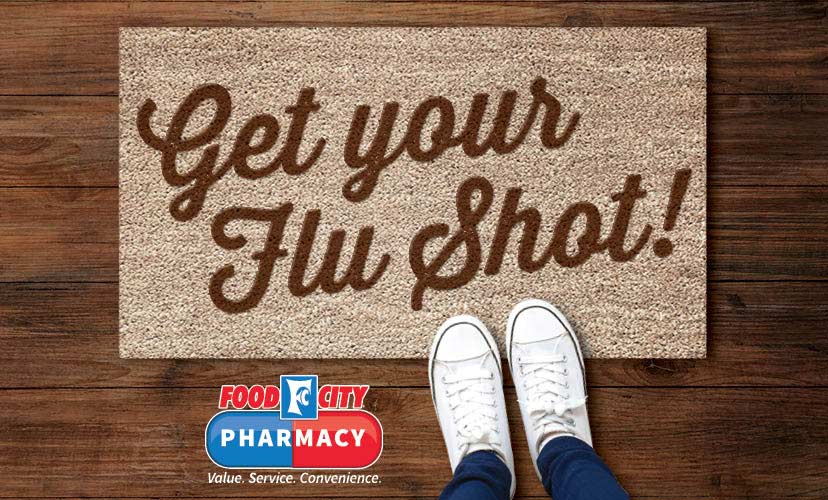 Flu Shots now available Shop, Save and Protect
Leave your worries at the door and greet the season with your best defense against the flu. Get your flu shot at your Food City Pharmacy today.
+ Walk-ins welcome, no appointment needed*

+ Affordable & zero copay (with most insurance)

+ 300 bonus Fuel Bucks**
Flu vaccine only for ages 14 and up. *Subject to immunizer availability. **Excludes federally funded vaccines.
Other immunizations available at your Food City Pharmacy
+ Hepatitis A
+ Hepatitis B
+ MMR (Measles, Mumps, and Rubella)
+ Meningococcal (A, C, Y, and W-135)
+ Serogroup B Meningococcal
+ Td (Tetanus and Diphtheria)
+ Tdap (Tetanus, Diphtheria, and Pertussis)
+ Varicella (Chickenpox)
+ Influenza (Inactivated or Recombinant)
+ Influenza (Live, attenuated)
+ Pneumococcal Conjugate (PCV13)
+ Pneumococcal Polysaccharide (PPSV23)
+ Zoster/Shingles (Live)
+ Zoster/Shingles (Recombinant)
+ HPV (Human Papillomavirus)
Tennessee, Kentucky, and Virginia:
The above are vaccinations available at Food City Pharmacy without a prescription for Patients 18 years of age and older.
Influenza vaccine is available for Patients 14 to 17 years of age with Parent or Guardian consent without a prescription.
Any age appropriate vaccine may be administered at a Food City Pharmacy with a prescription to individuals 12 years of age and older.
No is appointment necessary.
Georgia:
Georgia classifies approved vaccines by disease.
Influenza, Pneumococcal Disease, Shingles, and Meningitis all can be given without a prescription based on the same age requirements as noted above.
The other vaccines above are also available in Food City Georgia Pharmacies but must have a prescription.
***Some Restrictions may apply, see your Food City Pharmacist for details.