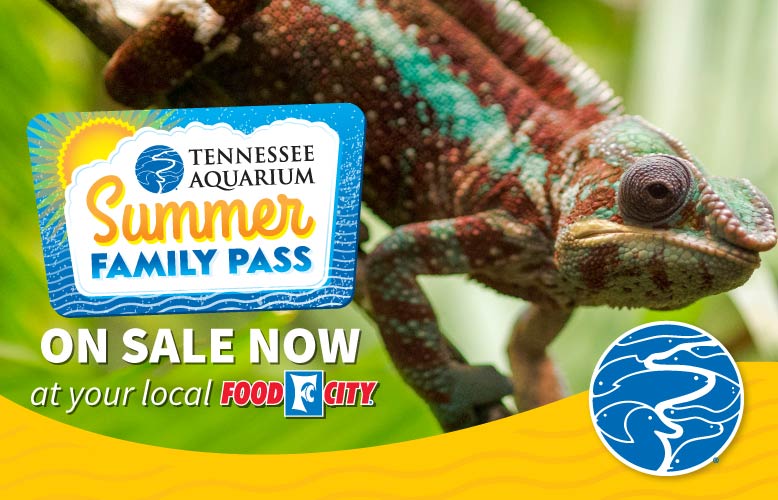 Tennessee Aquarium Family Fun Pass Sale
Select Food City Locations. - Wednesday, May 1, 2019, 6:00 am - Friday, May 31, 2019, 11:00 pm
Tickets on sale now at your local Food City grocery store!
Get UNLIMITED visits to the Tennessee Aquarium all summer long for less than the cost of one family admission. The new $99 summer family pass includes daily admission now through Labor Day for two adults and up to five of your children or grandchildren ages 18 or under. *

Enjoy these additional benefits…
• Discounts on IMAX® films and guest tickets
• Special savings at gift shops and concessions

Purchase your pass at these Food City locations now through May 31st.
319 Chickamauga Avenue, Rossville, GA
820 Mission Ridge Rd, Rossville, GA
502 G.I. Maddox Parkway, Chatsworth, GA
112 Crimson Dr, Trenton, GA
1287 Cleveland Highway, Dalton, GA
531 Battlefield Parkway, Fort Oglethorpe, GA
311 North Main St, LaFayette, GA
7804 East Brainerd Road, Chattanooga, TN
5604 Hixson Pike, Hixson, TN
1600 East 23rd St, Chattanooga, TN
4510 Highway 58, Chattanooga, TN
3715 Ringgold Road, East Ridge, TN
255 Ocoee Crossing NW, Cleveland, TN
8530 Hixson Pike, Hixson, TN
105 South Hill Street, Athen, TN
703 Signal Mountain Road, Chattanooga, TN
3801 Tennessee Ave, Chattanooga, TN
8634 Highway 58, Harrison, TN
3600 Hixson Pike, Chattanooga, TN
3901 Dayton Blvd, Red Bank, TN
6951 Lee Highway, Chattanooga, TN
10161 Old Dayton Pike, Soddy Daisy, TN
2310 McGrady Dr, Cleveland, TN
4011 Brainerd Road, Chattanooga, TN
1667 Ooltewah-Ringgold Road, Chattanooga, TN
6043 Relocation Way, Ooltewah, TN

*Please present your ValuCard at time of purchase. Price includes tax.
For questions, please call 423-267-FISH (3474).