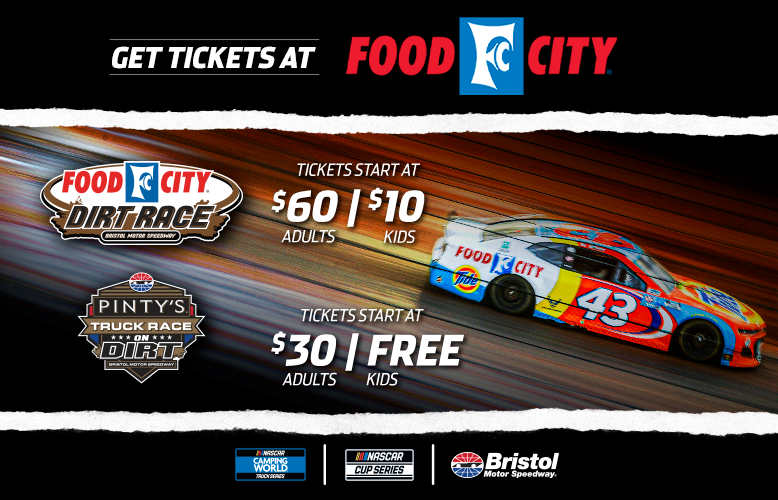 Bristol Motor Speedway Ticket Sales
Food City. - Wednesday, December 8, 2021, 6:00 am - Friday, April 8, 2022, 11:00 pm
Your local Food City grocery store will be offering specially-priced grandstand tickets for the Food City Dirt Race and Pinty's Truck Race on Dirt. The Food City Dirt Race NASCAR Cup Series event, which will be held under the lights at Bristol Motor Speedway on Easter Sunday, April 17, will once again put the sport's marquee series on Bristol's clay-covered high banks in their only dirt race of the season. It will be the first time in history that the Cup Series will race on dirt at night.
By purchasing now, fans can get their Food City Dirt Race tickets for only $60 for adults and $10 for kids 12 and under. Pinty's Truck Race on Dirt tickets for the NASCAR Camping World Truck Series race on Saturday, April 16, are also available at Food City stores starting at $30 for adults and free for kids 12 and under.
All tickets will feature blind-reserved seats selected by knowledgeable members of the BMS ticket office. Tickets will be sold at the customer service area of your local Food City grocery store. The tickets will then be emailed within seven days of purchase. Get your tickets at these fantastic limit time prices today!*
Please visit Food City Store Front offices to take advantage of these amazing savings!
*Valid email and ValuCard required at time of purchase for ticket sales.