Food City Race Night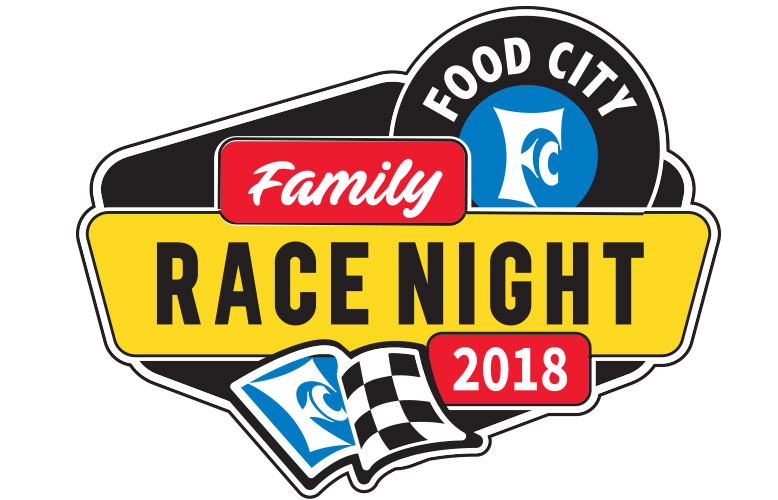 Knoxville Expo Center, Knoxville, TN Thursday, April 12, 2018, 4:00 pm - 8:00 pm
Food City Race Night features entertainment, free food sampling, show cars, racing simulators and special appearances by numerous NASCAR celebrities. Tickets are $5.00 at Food City or $6.00 at the door on the day of event. Children 12 and under are admitted FREE. All proceeds from Food City Race Night will benefit local organizations. This year's charity is the East Tennessee Children's Hospital. Sponsored by WATE, Knoxville News Sentinel, and WIVK.


EVENT SCHEDULE


Appearances and Autographs
*Driver's schedules are subject to change.
Trevor Bayne – #6 Advocare
Aric Almirola – #10 Smithfield
Chad Finchum – #66 Concrete North
Ryan Truex – #11 Bar Harbor
Tommy Joe Martins – #8 Gilreath Farms
Kerry Earnhardt
Kayla Earnhardt
WWE Superstar Kane, Glenn Jacobs
Dr. Jerry Punch – ESPN
Josh Turner – Actor/TKO (Walking Dead – Tattoed Savior, Under the Dome, Nashville, Banshee, Leverage, Antman)
Kaylie Turner – Actress (Walking Dead, Stranger Things, Term Life, Red Road, 2016 Kids NASCAR Spokes Model)
Thomas Doutt – Actor (Walking Dead, The Originals, MacGyver, Homicide Hunter)
Hannah Everhart – 2018 Miss Food City
Brownie King – NASCAR Legend
Travis Tiller – NASCAR Legend
Terry Anderson – NASCAR Legend
Lexi Gay – #77 NASCAR Whelen
Bill Goss – #99
Alan VanWhy, Jr. – #12A
Helton Racing – #3 Super Street
Brian Voiles – #3 Super Modified
Erik Ainge – VFL
Brad Voiles – #12 Kart
James Jones – #2 Kart
Frank Cook – #69 Kart
Wayne Hillard – #8 Kart
Brayden Voiles – #3 Kart
Wendell "Wolfman" Williams – #71 Kart
Joseph Parrott – #58 Kart
Jenna Herrmann – #7 Kart
Levi Herrmann – #3 Kart
Drey Maddox – #25 Kart
J.T. Gibson – #7K Kart
David Smith – #15 Kart
Tyler Price – #7 Kart
Tom King – #81 & #82 Karts
Adam Engel - Kart
William Foster - #08 Kart
Haley Baer – #2 Model Street
Chase Dixon – #7 Limited Late Model
Kevin Wolfe – #17 Late Model
Kres VanDyke – #15 Late Model
Brett Baer – #24 Late Model
James Kelso – #49 Dirt Late Model
Ashton Higgons – #9 Late Model and Truck
David "Kid Smooth" Kerr – #14 Dirt
Cecil "Money Maker" – Dirt Mini Stock
Logan Hillard – #24 Kart
Bryce Hatfield – #43 Kart
Toby Brock – Dirt Mini Stock
Walter "Bay Bay" Walsh – Dirt Mini Stock
Justin Meredith – Dirt Mini Stock
William Alsip – #29 Mini Cup
Emily Cook – #28 Mini Cup
Dustin Harville – Tazewell Speedway
Clyde Overholt – Tazewell Speedway
Dakotah Knuckles – Tazewell Speedway
Donnie Petty – Tazewell Speedway
Jesse Hickman – Tazewell Speedway
Johnathan Miracle – Tazewell Speedway
John Stevens – Tazewell Speedway
Mitchell Burke – Tazewell Speedway
Jason Webshan – Volunteer Speedway
Austin Atkins – Volunteer Speedway
Zach Sise – Volunteer Speedway
Brandon Crawford – Volunteer Speedway
Michael Woods – Volunteer Speedway
Chase King – 411 Motor Speedway
Chris Worsham – 411 Motor Speedway
David Clark – 411 Motor Speedway
Tim Byrd – Volunteer Speedway
Greg Martin – 411 Motor Speedway
Heath Alvey – 411 Motor Speedway
Wayne Clifton – 411 Motor Speedway
Jason Welshan – Volunteer Speedway
Rex Coffey – 411 Motor Speedway
Tyler Mitchell – #16 Dirt Bike
Zack Nunley – #729 Dirt Bike
Harold Crook – 1957 Chevrolet
Tim Lopata – Stangstamped Muscles Cars
George Lopata – Stangstampede
Jim Fritz – Stangstampede
Larry and Austin Payne – Stangstampede
Lester Sexton – #1 1937 Chevy
Lawson Bates – Bringing Up Bates/Singer/Songwriter
Tony Gordon – 1/25 Scale Model Car
I - 75 Raceway Drivers and Cars
Tazewell Speedway Drivers and Cars
Colton Profitt
Darren Goins
Jason Manley
Kyle Courtney
Mike Green

Entertainment
4:30–5:30pm Ready for Rain
5:30–6:00pm Welcome Ceremonies and Driver Introductions;
MC– ESPN Dr. Jerry Punch and Marshall Hughes, On Your Side Sports Director
Honoree: TBA
6:30–7:30pm Brian Snead and the Steal Hearts


Food Sampling
Airborne, Armour Vienna Sausages & Armour Chili, Blue Bell Ice Cream, CAB Burgers served on Flowers Buns, Calbee/Snapea Crisps, Cheez-it Product, Coke, Cousin Willie's Popcorn, Dietz & Watson Hot Dogs, Frito Lay Cheetos, Goody's Powders, Gordos Cheese Dip, Gripp Energy Drink, Gwaltney Hotdogs served on Sara Lee Buns, Hype Energy Drink, Jack Links Beef Jerky, Kellogg's PopTarts, Lance Cape Cod Chips, Snyders Pretzels, Mayfield Ice Cream Novelties, McCormick Grill Mate Seasoning Packets, Milo's Tea, Misty Mountain Spring Water, Mrs. Grissoms Salads, Old Milaukee N/A, Planters Peanuts, Snack Factory Pretzel Chips, Snyder of Berlin Chips, Sparkling Ice N/A, Vietti Chili & Hotdog Sauce


Booths and Displays
Auto Racing Outreach, Army National Guard, Boy Scouts, CiCi's Pizza, Dolly Parton Stampede & Smoky Mountain Adventures, ESGR (Employer Support of Guards & Reserve), Heart of Appalachia, Juvenile Diabetes Research Foundation, Knoxville News Sentinel, Model Cars 1/25 Scale (40-Asphalt & Dirt), Pinnacle Home Improvements & Child Finger Printing, Project Help, RAM, Ripley's Aquarium of the Smokies, Spearhead Trails, Susan G. Komen, Victory Junction, WATE & Van, WIVK, American Red Cross, Knoxville Ice Bears, Optimal Healthcare, POPS! for patients, Stangstampede, Brian Sneed and the Steal Hearts, Buddy's Bar-B-Q, Food City Exclusive Brands, Ready for Rain, ACS Relay For Life


Show Vehicles & Other Attractions
#13 GEICO Show Car, #16 Lilly Diabetes Display, #17 Sunny D, #8 Gilreath Farms and 2018 ZLIILE Camero, #3 Auto Racing Outreach, Pinty's Trailer & Show Car, 10 Muscle Car Ministries, 50 Antique Tractors, 8 Mustangs, Forge Muscle Cars, Armour display, Army National Guard, Blue Bell Ice Cream Truck, Extreme Motocross Show, Dolly Parton Stampede Van, Food City Big Cart w/ Chromed Out Racing Tractor , Food City Cold Air Balloon , Harley Davidson of Knoxville Display, Planters NUTmobile, Ripley's Aquarium Van, Sound Revue, Tall Man Collectibles, KidClout Car, The Sparks Show Vehicle and Tent, The Outlaw Oval - 1:10 Scale Radio Control Race Cars


Commercial Characters
Bob the Builder, Dolly Parton's Stampede Show Characters, Keebler Ernie Elf, Knoxville Ice Bears Chilly, Mr. Peanut, Ripley's Aquarium Sharky , TJ Clown , TN Valley Fair Jasper, WIVK Frog, Buddy's Bar-B-Q Pig, Knoxville Zoo Mascots
AAA East TN Official Auto Club of Food City Race Night