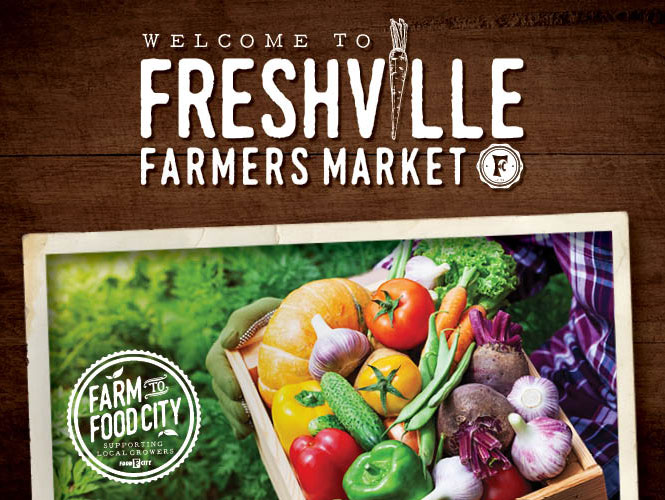 Freshville Farmers Market
At Food City we strive to bring the highest quality products to our customers. That is why Food City has partnered with local farmers to provide the freshest produce possible. These locally grown fruits and vegetables are picked at the height of quality and delivered directly to our stores, in many instances the day they were picked. Our Freshville events are much like Farmer's Markets, giving the community an opportunity to sample the finest, freshest locally grown produce at great prices! In Freshville you will find a wide array of locally grown produce such as corn, half runner beans, Grainger County tomatoes and squash.
Freshville Farmers Market is coming to a store near you! Make plans to visit us this Friday & Saturday at your neighborhood Food City.

Our Local Farmers grow more than produce.
For decades, our commitment to the community has meant more than simply buying local produce, it's meant building lasting relationships with local farmers. And, by working closely with more than 30 farms we're able to offer the freshest produce in town while contributing to the stability of our local economy.
Apple Tree Farms
Harlan, KY
Terry Creech of Apple Tree Farms in Harlan, KY has been farming for over 21 years and takes pride in the delicious Honey Crisp Apples he produces for Food City...and so do we. Hand-picked and delivered fresh to your Food City Produce Department.
Berrier Farms
Cana, VA
Ralph Berrier's family has been growing outstanding produce for six generations in Cana, Virgina. Ralph, Ricky and Kerry, along with their daughters Lindsey, Megan and Paxton, specialize in Red/Gold Delicious, Ginger Golds, Gala, Pink Lady and Granny Smith Apples. Hand-picked and delivered fresh to your Food City Produce Department.
Cameron Farms
Rutledge, TN
Mike Cameron is a third generation farmer that specializes in Homegrown Grainger County Tomatoes. On their 71-acre farm in Rutledge, Tennessee, they also grow squash, zucchini, bell peppers, and pickling cucumbers. Mike's grandchildren, Chesney, Tilley, Maggie, & Jacob help whenever they can.
Coning Farms
Maryville, TN
Don't get Albert started talking about produce unless you have time to sit for a while. It's been his life since childhood and he really knows his stuff. People drive for miles to get fresh produce at his roadside stand. All you have to do is drive to Food City. He grows tomatoes, pumpkins, cantaloupes, corn, watermelon and squash. Hand-picked and delivered fresh to your Food City Produce Department.
Grow Farms
Rutledge, TN
At Grow Farms, we value and support Turley Farms, in Rutledge, Tennessee. Randy started working on the farm at only 9 years old. Now a third generation grower, he has taken over what his grandfather started years ago as a pioneer of Grainger County Tomatoes in the late 1950s. The quality and superiority have been carried on for 60 years, and are still shown with Randy & Sherry Turley's tomatoes today!
Mann Farms
Fort Blackmore, VA
David Mann of Mann Farms in Ft. Blackmore, Virginia, has hit on the right combination of soil, climate, water, experience and skill to grow outstanding quality produce for Food City. Among his top crops are peppers, cucumbers, squash, tomatoes and strawberries. Hand-picked and delivered fresh to your Food City Produce Department.
Marshall's Farm
Carroll County, VA
Travis and Tonya Marshall grow pumpkins, Fall squash, corn and gourds on their Carroll County farm. Along with their children Amber, Hailee, Leah and Moriah, hand-picking and delivering fresh harvests to your Food City Produce Department really is a family affair!
Snake Creek Farms
Carroll County, VA
Leonard Bank's family has been farming in southwest Virginia for three generations. They grow some of the very best cabbage in the area. Snake Creek Farms is also known for outstanding crops of pumpkins, mini-pumpkins, kale, collards, turnip greens, cucumbers and gourds. Hand-picked and delivered fresh to your Food City Produce Department.
Strange Honey Farms
Newport, TN
One of the favorite Honey-related products providers in our entire area. They have been popular in our area for over 20 years,and they have bees throughout the Smokies! Strange Honey Farm started with the original hives in Newport, Tennessee, and now have well over one-thousand hives in the Smokies, including Western NC.
Stratton Farms
Grainger County, TN
Grainger County, Tennessee's Stratton Farms consists of third, fourth and fifth-generation farmers: Father Lillard, son Luke, and grandsons Logan and Reggie. They specialize in several different varieties of tomatoes, along with cucumbers, squash, peppers, and beans that are delivered from field to store within a day, so you always get that fresh off-the-vine taste.