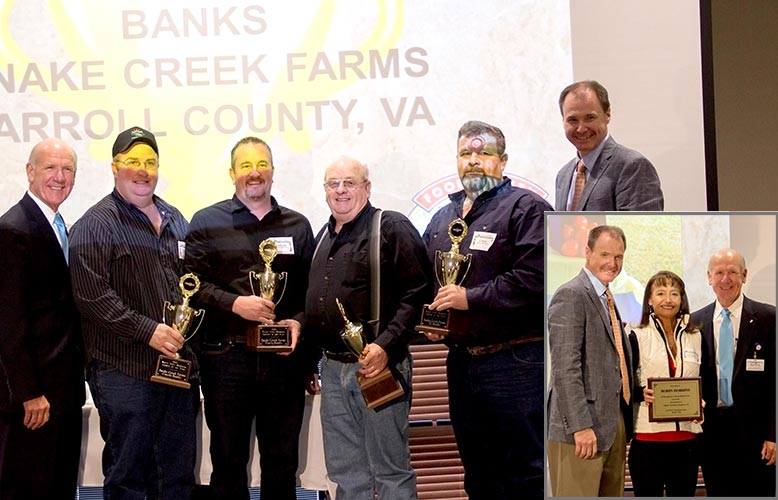 Snake Creek Farms of Carroll County, VA Receives Wayne Scott Memorial Grower of the Year Award
Abingdon, VA. - Thursday, Mar 3, 2016.
Food City is well-known for their locally grown produce initiative. Through a partnership with local farmers, the supermarket chain is able to bring their customers fresh-from-the-field fruits and vegetables during local growing seasons. Many items are delivered directly from the farm to the store the same day they are picked. What began over ten years ago, with a small number of items supplied by a handful of area farmers has now grown into a multi-million dollar operation. Today, Food City purchases an average of $6,000,000 in fresh produce from local growers annually.

"We pride ourselves in selecting the best possible products for our customers," says Steven C. Smith, Food City president and chief executive officer. "Our local farms are known for producing some of the finest products in the country. Buying locally is the logical choice. It provides our customers with the freshest produce possible, while lending additional support to our local economies. In many instances, our locally grown produce arrives at the store the same day it was picked. It simply doesn't get any fresher than that".

In 2007, Food City created the Wayne Scott Memorial Grower of the Year Award. The award is named in honor of Unicoi County farmer Wayne Scott, one of the first to partner with the retail supermarket chain. Wayne Scott's leadership, passion for the business and dedication to delivering the "best produce possible" are just a few of the reasons for his tremendous success. The award recognizes one outstanding grower each year.

"Scott Farms was among the first to partner with our company and Scott's Strawberries continue to be one of our most sought after products," says Smith. "Wayne Scott was one of the finest, most honorable men I have ever had the privilege of doing business with. We thought it befitting to honor his memory and dedication to the agricultural industry with this annual award".

Snake Creek Farms of Carroll County, VA was selected as this year's award winner. Founded in 2002, the farm is owned and operated by brothers JC and Leonard Banks and sons Travis and Curtis Banks. The local business has quickly grown into a reputable operation, producing cabbage, pumpkins, sweet corn and several varieties of greens.

Leonard Banks spent numerous hours as a boy working on his parent's dairy and produce farms, growing cabbage, beans and other vegetables. During high school, he maintained his farm duties, while playing football. Since graduation, he has solely dedicated himself to farming and producing the best quality produce possible.

Leonard's brother, JC also worked the family farm as a small boy. He too played sports, but worked in the fields during summer breaks and as needed. After high school, JC received an Associate's Degree in Machine Technology.

Leonard's oldest son, Curtis joined the family business as a young child, working on the dairy farm. As a teenager, he began working the fields while playing baseball and basketball - but he always knew he would follow in his father's footsteps.

Leonard's youngest son, Travis also grew up working the dairy and produce farms. During high school, he played football, basketball and baseball, but was always available to shoulder his share of the workload. After high school, he too obtained an Associate's Degree in Machine Technology.

The family eventually sold their dairy farm, opting to concentrate on their beef cattle and produce operations and increasing their cabbage production. As the four family members joined forces, the family business quickly grew from their original crop of cabbage to include sweet corn, beets, pumpkins, kale and collard greens.

The Banks family has worked hard to maintain the high standards set by their parents in order to honor their legacy. Their great-tasting cabbage and eye catching pumpkins have become well-known in our region and are greatly sought after each growing season. In recent years, they have also expanded their facility to allow them to cool their produce before it is shipped to better maintain product integrity.

Food City is proud to have partnered with Snake Creek Farms for 14 years. Company officials honored the Banks family earlier today during their local growers appreciation luncheon. A special appreciation award was also presented to Robin Robbins of Appalachian Harvest. Robbins was recognized for her extraordinary efforts to encourage and strengthen the growth and development of organic farming within our region.

In 2003 Robbins began farming organically with her husband and three daughters, producing certified organic produce, including peppers and tomatoes. In 2005, she accepted a position as Marketing Manager for Appalachian Harvest. Determined to farm full-time in order to expand her family's farm, she also obtained her Independent Organic Certification in 2005 and began diversifying the family farm from field crops to incorporate greenhouse production. She expanded the business to include the production of certified organic culinary herbs.

Robbins taught her three daughters the value of hard work, as well as the importance of maintaining high standards. She turned the family business into a viable working farm, creating employment and educational opportunities for her children and area students seeking summer employment. She is a leader in organic production and good agricultural practices. Through her position at Appalachian Harvest, she has assisted hundreds of farmers with certifications and marketing for both conventional and organic produce. Robbins credits her success to her family and farming heritage, the support of Appalachian Harvest and Virginia Cooperative extension and the loyal Food City shoppers who embrace the many family farmers throughout our region.

Food City purchases produce from a number of local farms, including those in Grainger, Blount, Hawkins, Unicoi, Jefferson and Sullivan counties in Tennessee; Scott and Carroll counties and through Appalachian Harvest co-op for locally grown organics from the growers in Scott County, Virginia.

"We enjoy a great partnership with a variety of local farms," comments Mike Tipton, director of produce operations for Food City. "And we are proud to be the exclusive retail outlet for a number of them and of course our customers love the added convenience," says Tipton.

Food City purchases a wide variety of items from local growers, including tomatoes, corn, cucumbers, cabbage, half runner beans, okra, peppers, squash, gourds, pumpkins, cantaloupes, watermelons, blackberries, strawberries, pears, raspberries, select organic produce and more.
Pictured above(left to right): Steve Smith – Food City President/CEO, Curtis Banks, Travis Banks, Leonard Banks, JC Banks of Snake Creek Farms & Mike Tipton - Food City Director of Produce Operations
Inset Pictured (left to right): Mike Tipton – Food City Director of Produce Operations, Robin Robbins – Appalachian Harvest & Steve Smith – Food City President/CEO

Headquartered in Abingdon, Virginia, K-VA-T Food Stores (Food City's parent company) operates 135 retail outlets throughout southeast Kentucky, southwest Virginia, east Tennessee, Chattanooga and north Georgia.