Special In-Store Ticket Offer Celebrates 25th Anniversary Of Food City 500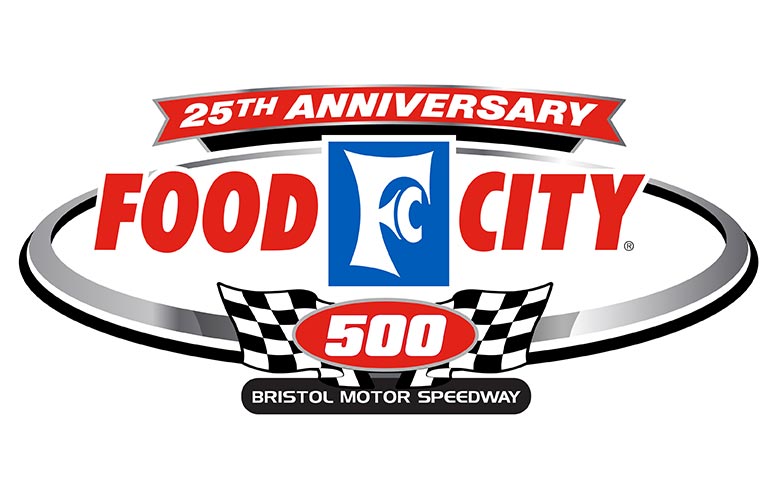 Bristol, TN Thursday, Feb 9, 2017.
Bristol Motor Speedway And Food City Highlight 25th Anniversary Of Race Entitlement With Special In-Store Ticket Offer
Food City commemorates race with special edition logo

Highlights:
• Food City 500 tickets will be available for sale for the first time at all Food City locations
• A block of tickets have been reserved for in-store sales and are $50 for adults, $10 for kids 12-and-under
• Seats are General Admission and located in a specific section of Kulwicki Grandstand near Banks & Brews between Turns 1 and 2
• Program launches today and runs through Tuesday, April 18
• Food City introduces 25th anniversary race logo
To honor Food City's 25th anniversary of sponsoring the April Monster Energy NASCAR Cup Series race, Bristol Motor Speedway and Food City are offering a special in-store ticket program and introducing a commemorative race logo.

Beginning today, all Food City locations will begin selling $50 tickets for April 23's Food City 500. Tickets will be located adjacent to Banks & Brews in a specific section of the Kulwicki Grandstand between Turns 1 and 2 and will be sold as General Admission seats, giving guests the opportunity to sit with friends and family. In-store kids tickets will be sold at the 2017 kids price: $10.

"Steve Smith and the entire Food City team have been unbelievable partners for the past 25 years and we can't thank them enough for their passion and service to BMS and our guests from around the world," said Jerry Caldwell, executive vice president and general manager for Bristol Motor Speedway. "The Food City 500 is a hometown gathering, so it's only natural to provide easier access for our loyal race fans to add race tickets during a visit to their neighborhood Food City."

The reserved block of tickets will be sold at the front office. The tickets will then be emailed a few days following the purchase. The final day to purchase race tickets in-store will be Tuesday, April 18.
To honor the anniversary, BMS has also unveiled a special edition race logo. Complete with a 25th anniversary ribbon, the logo continues the classic designs of the Food City 500 logo, a fan favorite. 25th anniversary branding will be located throughout the property on race weekend.

"We would like to thank our loyal customers and associates for their support in making the past 25 years possible," said Steven C. Smith, President and CEO of Food City. "Bristol Motor Speedway is a strong pillar of our community and we're proud to partner with them to make the Food City 500 weekend a highlight for our region."

For more information, see the front office at your neighborhood Food City or visit www.BristolMotorSpeedway.com.



About Food City
Food City is Bristol Motor Speedway's longest running sponsor and the second longest in NASCAR. Headquartered in Abingdon, Virginia, K-VA-T Food Stores (Food City's parent company) operates 135 retail outlets throughout southeast Kentucky, southwest Virginia, east Tennessee, Chattanooga and north Georgia.


About Bristol Motor Speedway
Forged amid the scenic mountains of Northeast Tennessee near the Virginia state line, Bristol Motor Speedway is The Last Great Colosseum, a versatile multi-use venue that hosts major auto races, football games, concerts and many other captivating events. The facility features a 0.533-mile concrete oval race track with 28-degree corner banking and 650-feet straightaways that offers racing in several NASCAR touring series, highlighted by two major Monster Energy NASCAR Cup Series weekends. While at the track, fans are offered a unique viewing experience courtesy of Colossus, the world's largest outdoor center-hung four-sided video screen with a 540,000-watt audio system. The adjacent quarter-mile dragstrip, Bristol Dragway, offers more than 70 events annually, including the marquee NHRA Thunder Valley Nationals. Three football games have kicked-off inside the oval, most notably the 2016 Pilot Flying J Battle at Bristol, where border rivals the University of Tennessee and Virginia Tech met before an NCAA-record crowd of 156,990. In existence since 1961, Bristol Motor Speedway was purchased in 1996 by Speedway Motorsports, Inc., a publicly traded company that is a leading marketer and promoter of motorsports entertainment in the United States. For more information, please visit www.bristolmotorspeedway.com.