Sherrell Lyon of Jonesborough, TN Wins Claude P. Varney Humanitarian Award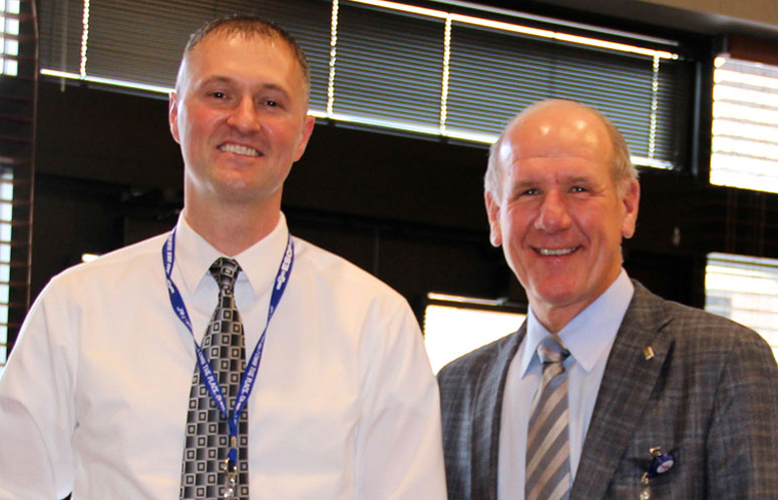 Abingdon, VA Tuesday, Feb 25, 2014.
Food City's retail supermarket chain annually recognizes outstanding volunteerism among their associates via their Claude P. Varney Volunteer Recognition Program. The creation of the program came in response to President Bush's call to boost volunteer efforts through corporate support. During a June 2002 White House meeting, President Bush met with corporate leaders from organizations across the nation and key White House staff members to discuss objectives for his Businesses Strengthening America volunteerism campaign. Steve Smith, Food City president and chief executive officer was among the select group.
"As a company, we strive to maintain a high level of dedication to service, quality, value and community involvement, while providing a work environment that enables our associates to grow both personally and professionally as successful members of the team," says Smith. "Many of our associates volunteer their time and talents to numerous organizations in support of their communities and we felt it needful to formally recognize their selfless contributions."
The program was entitled in memory of Food City's beloved former president and board vice-chairman of 47 years, Claude P. Varney. Varney was well-known for his tremendous compassion and humanitarian services. Each year, committees are established to review associate volunteer activities and select individual award recipients based on outstanding achievement in the areas of health, education, environment, cultural arts, recreational, heritage/history and public service. One winner is selected from each Food City location. The field is then narrowed to ten district level winners, followed by two divisional winners and finally the recipient of the highly esteemed Claude P. Varney Humanitarian Award.
After reviewing his exceptional commitment to serving others, it's not hard to see why Sherrell Lyon of Jonesborough, TN was selected as this year's Claude P. Varney Humanitarian Award recipient. Lyon, who has been employed with the company for twenty-five years, currently serves as the company's Corporate Trainer.
Lyon volunteers his time and talents to numerous organizations including Keep Jonesborough Beautiful, where he currently serves as Treasurer of the Advisory Board, attending monthly board meetings, decorating parade floats, planning and assisting with events and fundraising efforts. He also serves on the Governor's Advisory Council of Keep Tennessee Beautiful, attending council meetings and assisting in guiding efforts of the organization. He serves as Main Course Coordinator for Heritage Alliance's Progressive Dinner, assisting with event set-up, service and clean-up, as well as the Jonesborough Days Kick-Off Dinner and the Taste of Jonesborough. He is an avid fundraiser for the American Heart Association's annual Heart Walk, developing creative means of fundraising, serving as a Team Captain, and he was named Top Walker for having raised the most individual funds. He is a participant of the annual Jonesborough Garden Gala and also serves as a Bell Ringer through Jonesborough Presbyterian Church.
Lyon is also a long-time volunteer for a variety of Food City community events, including Food City Family Race Night, working volunteer registration, driver check-in and event set-up. He assists with the annual Miss Food City Pageant, as well as fundraising efforts and event participation for Mountain States Foundation's Dragon Boat Race and Food City's annual United Way Celebrity Bagging Event, welcoming and training guest baggers and rallying event involvement.
"I have been very blessed in life and thank God first and foremost for all that he has provided for me. Next, I would like thank Steve Smith and Food City for all that they do in the community and their continued support of the Claude P. Varney humanitarian award. Mr. Varney knew the importance of giving back to folks in the community. Thanks to his and others teachings, this is now engrained in our culture at Food City," says Lyon. "If you do not volunteer, there is no time like the present to get started. Thank you for the award and thank you to the judges for selecting me."
A corporate luncheon was recently held to publicly recognize Lyon for his outstanding service achievements. He was presented with an honorary plaque and Food City will make a $1,000 contribution (in addition to the district level contribution) on his behalf to the charity of his choice.
"We're extremely proud of the difference our associates make by devoting their time and talents to the service of others. Our company is committed to providing our associates the support they need to become the best corporate citizens possible," summarized Smith.
Headquartered in Abingdon, Virginia, K-VA-T operates 105 retail food outlets throughout the tri-state regions of Southeast Kentucky, Southwest Virginia and Northeast Tennessee.