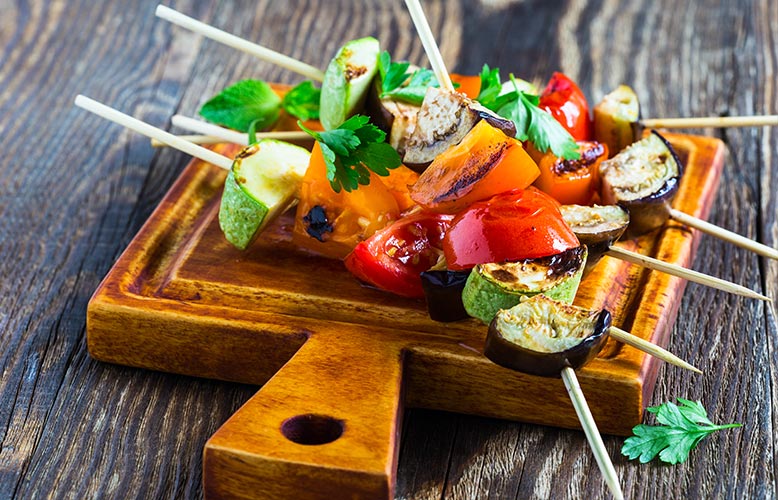 Wellness Club — Grilling Fruits and Vegetables
Abingdon, VA. - Friday, Jun 1, 2018.
by Elizabeth Hall, MS, RDN, LDN Registered Dietitian, K-VA-T Food Stores
The beginning of summer brings the unofficial start of grilling season and a delicious spread of seasonal produce. Spice up any cookout by adding fruits and vegetables to the menu. Beyond the benefits of adding color, variety and flavor, fruits and vegetables also provide a nutrient boost. Remember, MyPlate recommends filling half your plate with fruits and vegetables at each meal.
Main Dishes
Whether you're a vegetarian or meat lover, grilled portobello mushroom burgers add a tasty twist to summer cookouts. Marinate and grill the mushrooms, gill sides up, over medium-low heat with the grill covered for about 15 minutes or until softened. Flip the mushroom and grill for an additional 1 to 2 minutes or until cooked through. Serve on a whole wheat bun with a side of baked sweet potato fries.
Side Dishes
Marinated vegetable kabobs are a perfect side item for the outdoors – no utensils required! Add bell peppers, mushrooms, eggplant, cherry tomatoes and onions to a skewer. Simply brush the vegetables with olive oil along with your favorite spices and herbs. Grill over medium heat for about 8 to 12 minutes or until tender. Grilled corn on the cob is another traditional favorite. Wrap your corn cobs in foil before grilling to speed up cooking time.
Desserts
For a flavorful dessert, try fruit kabobs with pineapple slices or peach halves. Grill on low heat until the fruit is hot and slightly golden. The heat caramelizes the sugars in the fruit bringing out their natural sweetness. Serve them on top of low-fat frozen yogurt or with angel food cake. Another tasty option is grilled watermelon! Watermelon is primarily water, so when you put it on the grill some of the water evaporates. It only takes about 30 seconds on each side and you are left with an intense watermelon flavor sure to please all taste buds.