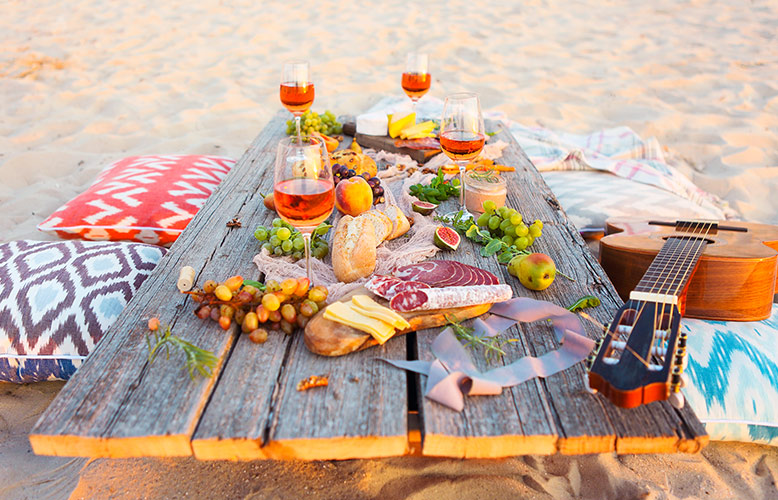 Wellness Club — Eating Smart on Summer Vacations
Abingdon, VA. - Sunday, Jul 1, 2018.
by Elizabeth Hall, MS, RDN, LDN, Food City Registered Dietitian

July is the time for summer vacations! It is a time to relax, get rejuvenated, and enjoy the sights, sounds and tastes of new places. When it comes to maintaining a healthful eating plan on vacation, you can still enjoy the new, fun and exciting foods that come with traveling without feeling bad about eating differently than normal. If a road trip is part of your vacation, packing meals and snacks is a great way to get much needed nutrients and energy that are often lacking during travel. Try these tips for healthy eating on the road.

Fruits and vegetables are often underrepresented at meals during vacation. To get your produce in, try packing a cooler with cut broccoli florets, carrot or celery sticks, and apple and orange slices for snacks. All forms of fruits and vegetables count, so if a cooler is inconvenient, try boxed 100-percent fruit juice, canned tomato juice, or boxes of raisins and other dried fruits. Don't forget about other food groups too, like high fiber carbohydrates and lean proteins. Pack nutrient-dense, shelf-stable options like whole grain cereal, trail mix, popcorn, single-serve applesauce, nuts, and seeds.

For healthier meals, stop by a supermarket for grab and go items from the Deli. Build your own salad at the fresh bar, or pick up deli meat, whole wheat bread, and sliced cheese for making sandwiches. Pick up a yogurt parfait or hummus cup for eating on the side. Preparing your own meals with these whole ingredients allows you to have more control over added sodium and fat, which is often much higher in fast food options. Stay hydrated too by keeping plenty of bottled water in the car and limiting sugary beverages.

If you do pack a cooler, be sure to keep your treats safe by not letting perishable food sit unrefrigerated for more than two hours. Keep your cooler at or below 40 degrees Fahrenheit. If it's hot outside, place coolers and lunch bags in the back seat instead of the trunk, since the environment tends to be cooler in the car with the air conditioning on.