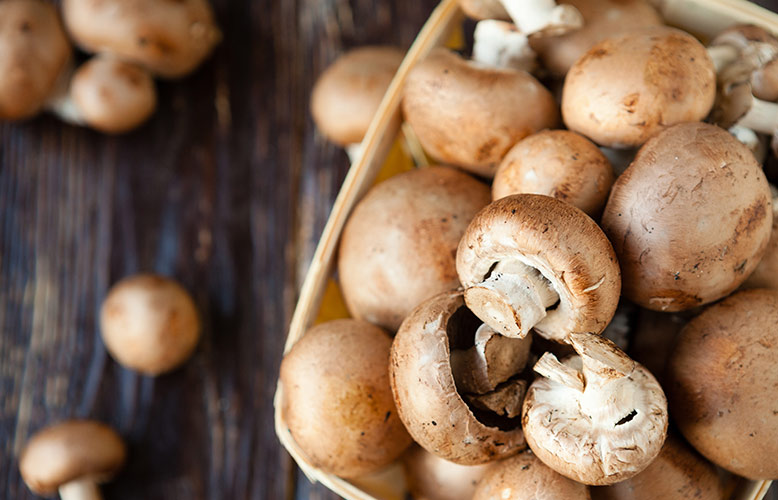 Wellness Club — Solving the Vitamin D Mystery with Mushrooms
Abingdon, VA. - Sunday, Jul 1, 2018.
by Elizabeth Hall, MS, RDN, LDN, Food City Registered Dietitian
Vitamin D is a growing nutrient of concern for many Americans. This vital nutrient helps our bodies absorb calcium, which is important for bone health, especially during the peak bone-building years of adolescence, but also in preserving bone mass later in life. There is also research to support vitamin D may play a role in mental health by reducing the risk of developing depression.

If you have looked for sources of vitamin D throughout the grocery store, you've probably never veered away from the dairy section. However, did you know that mushrooms can be a source of vitamin D as well? By exposing mushrooms to UV-B light for a very short period of time, mushrooms can produce vitamin D in a natural way. In fact, Monterey Mushrooms® grows a full line of mushrooms that are high in vitamin D. Mushrooms are the only source of vitamin D in the produce section and one of very few non-fortified food sources.

Not all mushrooms contain vitamin D. They have to exposed to light, such as sunlight, during their growth process. The mushrooms in Monterey Mushrooms®' high vitamin D product line have been exposed to light to provide 50 percent of the recommended daily value of vitamin D per serving. Eating adequate vitamin D in your diet and getting a small amount of sun exposure each day can help you meet your vitamin D needs.

Wondering how to eat mushrooms? The new trend is to blend! The "Blend" combines meat with mushrooms in traditional recipes like burgers, meatballs, and taco meat to create a healthier entrée without compromising flavor. Some satisfaction studies even show that combining meat with mushrooms actually improves the overall flavor. As an added bonus, mushrooms boost the nutrition as well. The "Blend" is easy to make. Just chop your mushrooms to the consistency of the ground meat required in the recipe. Then, cook and season the mushrooms the same way you cook and season the meat. Lastly, combine the meat and mushrooms and use this mix to complete your recipe.

With mushrooms, vitamin D is no longer a mystery! For more tips and recipes, visit montereymushrooms.com.