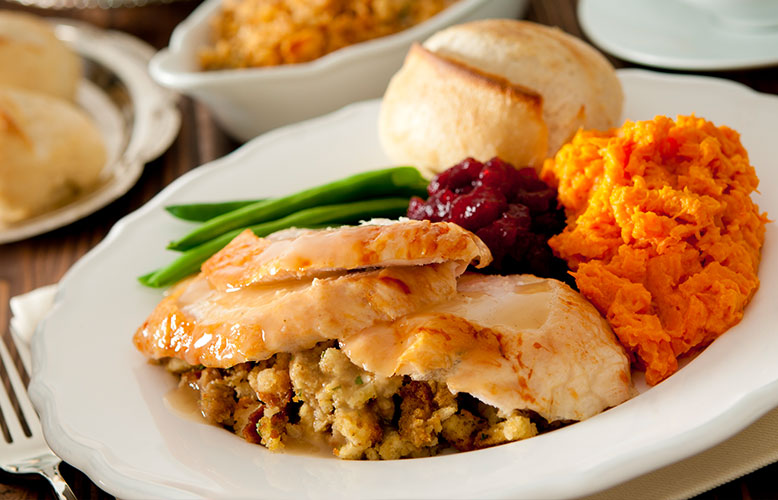 Wellness Club — Build a Festive Holiday Plate
Abingdon, VA. - Saturday, Dec 1, 2018.
by Elizabeth Hall, MS, RDN, LDN, Food City Registered Dietitian
The holiday season is in full swing! Bright red and green decorations adorn our homes and communities, but it's a good idea to use these colors to build a festive holiday plate as well.

From apples, berries, cherries, and pomegranates to peppers, tomatoes, beets, and rhubarb, red fruits and vegetables provide a pop of color to your holiday dish as well as some important nutrients. The phytochemicals found in red produce include lycopene and anthocyanins which are important antioxidants that fight chronic diseases like heart disease and certain types of cancers. Red fruits and vegetables are often packed with vitamins A and C which are also important to keep your immune system healthy.

The options for green fruits and vegetables seem almost endless! Fruits such as pears, green grapes, kiwi, limes, and avocados and vegetables like broccoli, Brussels sprouts, green beans, leafy greens, and zucchini are often in abundant on our plates for good reasons. Green produce contains the antioxidants lutein, beta-carotene, and kaempferol which are important for eye health and have anti-cancer and anti-aging properties. These foods are typically high in fiber, which plays a key role in digestive and heart health, as well as iron, which help our bodies make red blood cells.

Add this festive recipe to your holiday plate this year to celebrate red and green produce!

Roasted Pear and Cranberry Brussels Sprouts
Ingredients:
- 1 1/2 pounds Brussels sprouts
- 2 pears, cored and cut into 8 wedges each
- 1/2 cup finely chopped yellow onion
- 2 tablespoons extra-virgin olive oil
- Kosher salt
- Freshly ground black pepper
- 3 or 4 lemon wedges
- 1 tablespoon honey
- 1/4 cup dried cranberries

Instructions:
1. Preheat the oven to 450 degrees. Line a baking sheet with foil.
2. Combine the Brussels sprouts, pears, and onion. Toss with the olive oil. Season with salt and pepper.
3. Add to baking sheet and cook about 30 minutes, stirring once halfway through cooking.
4. Squeeze lemon wedges over the pan. Drizzle with the honey.
5. Add cranberries. Toss to combine. Add more lemon juice to taste.