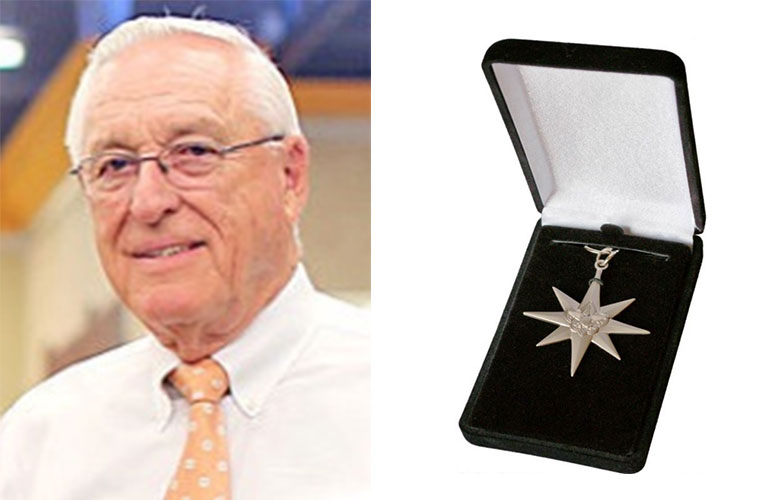 Emerson Breeden Receives North Star Award
Abingdon, VA. - Tuesday, Mar 12, 2019.
The Boy Scouts of America's National Court of Honor recently introduced a new award to join their prestigious Silver Beaver, the highest award presented on a council level for a registered Scouter. The North Star award recognizes private individuals for their significant contributions to Scouting, and is on par with the Silver Beaver award, which recognizes registered Scouters for their distinguished service.
The North Star award consists of a silver eight-pointed star with the fleur-de-lis in the center, suspended from a black ribbon. The Great Smoky Mountain Council Boy Scouts of America presented the North Star award to Emerson Breeden, Food City Director of Community Relations at their Annual Reception Banquet earlier this month in their first ever class of recipients.
Breeden and Food City have partnered with the Council for more than thirty years. He has served on the Bruce Atkins Golf Tournament Steering Committee, generating significant sponsorship funds and providing critical membership drive support and youth recruitment. Breeden and Food City are long-time partners of the annual Scouting for Food Drive, helping collect over 1.5 million cans of food, as well as providing sponsorship for Show Ticket, Camp Card and annual popcorn sales. Breeden helps promote the Boy Scouts of America through various community related events and has served on numerous Scouting committees and assisted with Scouting events and activities to promote the community and educational opportunities for area youth.
Breeden is extremely active within the entire community, serving as Chairman and Treasurer of The Tennessee Grocers & Convenience Store Association, where he was honored as Tennessee Grocer of the Year in 2007. He has served as president of the Optimist Club and Lions Club, is heavily involved with Emerald Youth Foundation and has served on committees and/or boards of directors for Juvenile Diabetes Foundation, Boys and Girls Clubs of the Tennessee Valley, Knoxville Tour National Golf Tournament, Children's Hospital, United Way Food Show, Second Harvest Food Bank and the Tim Erwin/Food City Bass Tournament. He is also very active within his local church.
Breeden and his lovely wife, Leslie currently reside in Knoxville, TN. They are the proud parents of five children and have three grandchildren.
Headquartered in Abingdon, Virginia, K-VA-T Food Stores (Food City's parent company) operates 131 retail outlets throughout southeast Kentucky, southwest Virginia, east Tennessee, Chattanooga and north Georgia.