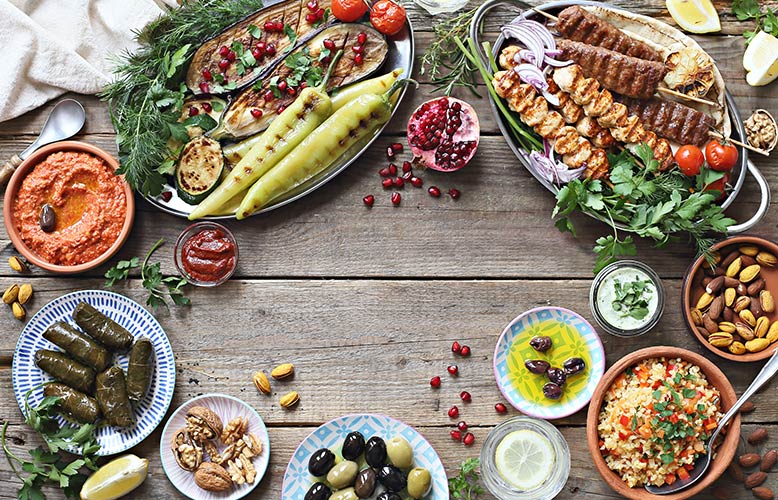 Wellness Club — Make it Mediterranean
Abingdon, VA. - Wednesday, May 1, 2019.
written by Elizabeth Hall, MS, RDN, LDN, Food City Registered Dietitian
The Mediterranean lifestyle is often synonymous with health and longevity. While we may not live near the coast of the Mediterranean sea, there are easy ways to include a Mediterranean flare to your meals on a daily basis.

1. Eat more vegetables. The Mediterranean lifestyle is rich in antioxidants, vitamins, minerals and fiber from fruits and vegetables. All forms count – fresh, frozen, canned, dried, or juiced. Get a variety of colors and forms each day.

2. Eat seafood twice a week. Even though we live in a land-locked state, it's important to eat fish and seafood. Fish is a lean protein source, but fatty fish like salmon or white albacore tuna also contain beneficial omega-3 fatty acids that are important for brain and heart health. Choose at least two servings of fatty fish each week to meet your omega-3 needs.

3. Switch to healthier fats. Unsaturated fats like olive oil are abundant in a Mediterranean meal pattern. These liquid fats in oils, nuts, seeds, avocados, and olives are less likely to clog arteries and in some cases, can increase the form of good cholesterol in your body.

4. Incorporate whole grains. Nontraditional grains like quinoa, barley, whole grain cous cous and farro can mix up the nutrient variety of your typical grain choices. Choose whole grains whenever possible to get the most nutrients including more fiber to support digestive health and promote satiety.



Mediterranean Edamame Quinoa Salad

Ingredients:
¼ cup white wine vinegar
1 clove fresh garlic, peeled
2 Tbsp fresh oregano
¼ cup extra virgin olive oil
¼ tsp salt
Freshly ground pepper
2 cups edamame
3 cups quinoa, cooked
2/3 cups sun dried tomatoes
½ cup red onion
½ cup Kalamata olives
½ cup feta cheese

Directions:
1. For the vinaigrette, combine vinegar, garlic, and oregano. Mix with a whisk or in a blender. Slowly add olive oil and mix well. Add salt and pepper.
2. For the salad, combine edamame, quinoa, tomatoes, onion, olives, feta, and the vinaigrette. Marinate for 30 minutes.