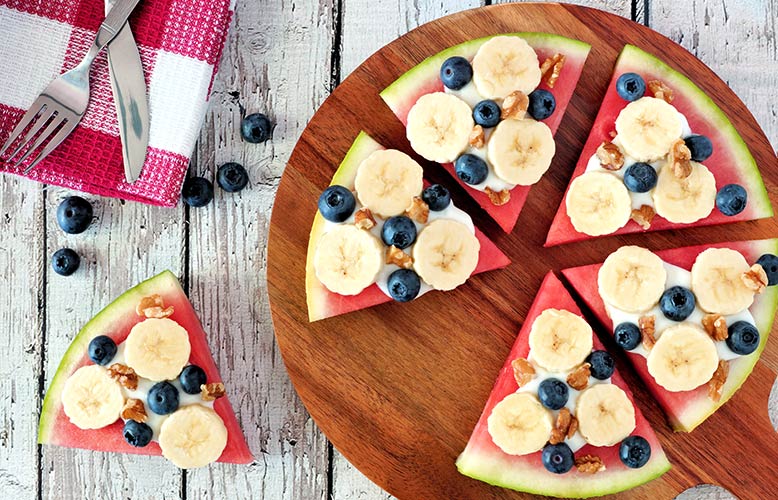 Wellness Club — Memorial Day Celebrations
Abingdon, VA. - Wednesday, May 1, 2019.
written by Elizabeth Hall, MS, RDN, LDN, Food City Registered Dietitian
Are you kicking off summer with a food-filled celebration this Memorial Day? While we often think about traditional fare like cheeseburgers or hot dogs, there are actually plenty of ways to enjoy delicious and nutritious foods at your cookout. Keep these ideas in mind when planning your outdoor spread:

If you are planning to grill, think outside the box! There are lots of options for grilling besides just meat, like grilled flatbread pizzas made with a whole wheat crust. Pizzas are a great way to get all the food groups into one dish. Top with fresh fruits and vegetables, lean proteins, and a sprinkling of cheese. We often think about grilling vegetables, but fruits can be grilled as well. Watermelon, pineapples, even peaches become deliciously sweet on the grill. Serve with a side of frozen yogurt or homemade whipped cream and mint.

Lean proteins can become deliciously tender by marinating! A simple marinade breaks down the proteins of lean meat providing a similar texture to fattier pieces of meat. Choose lean sirloin or tenderloin and marinade for at least 1 hour before grilling. Marinade ingredients typically include some kind of acid like lemon juice or vinegar, oil, and seasonings. It's easy to make your own marinade or pick one up at store. If you like sweet marinades, try to use fruit or fruit juices to add natural sweetness without added sugar.

Not willing to give up your burger or hot dog? You don't have to! Make your meal a little healthier without skimping on flavor.
• For your patty, choose lean ground beef or mix half beef with half ground turkey or chicken. For a vegetarian option, try grilled black bean burgers.
• Use a whole wheat bun for extra fiber and to keep you fuller longer.
• Choose lower fat condiments like mustard, light mayo, and no sugar added ketchup.
• Add nutrient-rich toppings like mashed avocado for healthier fats or fresh spinach and juicy tomato which add flavor without adding many calories.
• Watch your portions and munch on lighter sides to fill you up, so you don't go overboard on heavier stuff.