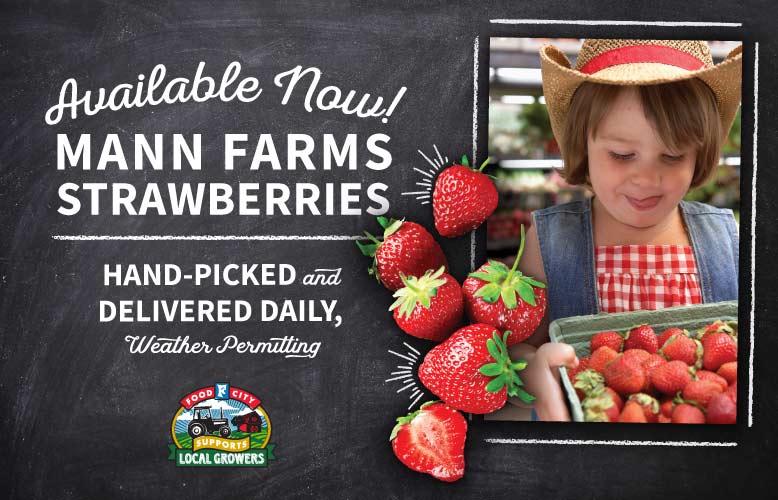 Locally Grown Mann Farms Strawberries Now Available in Select Food City Locations
Abingdon, VA. - Wednesday, May 8, 2019.
Food City is well-known for providing their customers with the best variety, highest quality, and friendliest service possible. And they do so in part by purchasing a great deal of their produce locally, providing additional support to the regions in which they operate.

"We have always prided ourselves in selecting the best products possible for our customers," says Steven C. Smith, Food City president and chief executive officer. "Our local farms are known for producing some of the finest products in the country. Buying locally is the logical choice. It provides our customers with the freshest produce possible, while lending additional support to our local economies," adds Smith.

Locally grown strawberries will be among the first crops available in participating Food City locations. To ensure the freshest product possible, these ripe, ready-to-eat strawberries are delivered directly to surrounding Food City locations daily, while supplies last.

Food City purchases produce from a number of local farms, including those in Grainger, Blount, Hawkins, Unicoi, Jefferson and Sullivan counties in Tennessee; Scott and Carroll counties and through Appalachian Harvest co-op in Abingdon, Virginia and is the exclusive outlet for a number of them.

"We enjoy a great partnership with a variety of local farms," comments Bucky Slagle, director of produce operations for Food City. "And we are proud to be the exclusive retail outlet for a number of them and of course our customers love the added convenience," says Slagle.

Look for great tasting locally grown Mann Farms strawberries at Food City locations in Clintwood, Coeburn, Big Stone Gap, Saint Paul, Weber City and Wise, Virginia.

Headquartered in Abingdon, Virginia, K-VA-T Food Stores (Food City's parent company) operates 131 retail outlets throughout southeast Kentucky, southwest Virginia, east Tennessee, Chattanooga and north Georgia.