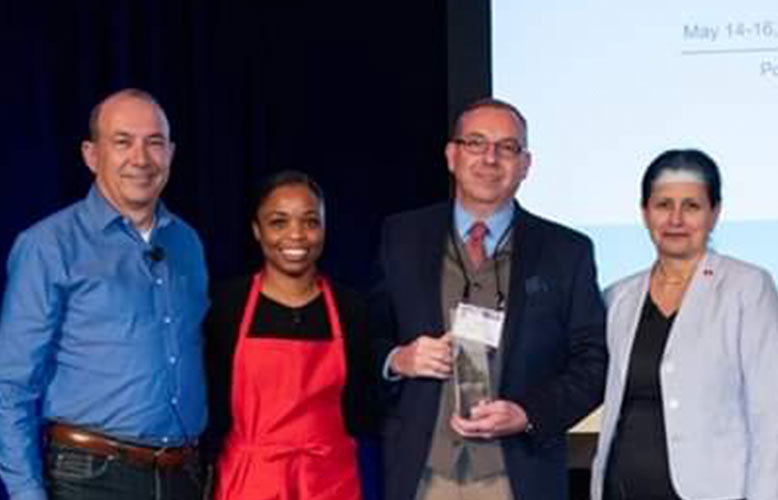 Tim Collins Named Store Manager of the Year
Abingdon, VA. - Wednesday, May 22, 2019.
Tim Collins, store manager for Food City's Pikeville, KY location was recently named Store Manager of the Year by Food Marketing Institute.

"Tim is passionate about serving our customers and his community. He is a tremendous asset to our company and certainly very deserving of this high honor," said Steven C. Smith, Food City president and chief executive officer.

FMI is the largest trade association of its kind, representing the interest of its membership and offering a broad range of services to independent grocers and wholesalers. Their annual awards program recognizes supermarket store managers from throughout the United States and abroad for their "exceptional service to customers, employees and the community using innovative initiatives that contribute to company success." The ten finalists were recognized at the industry's Future Connect leadership conference last week in St. Louis, Missouri, where Tim Collins was named Store Manager of the Year.

"I am very blessed to be privileged to work with such a great team," says Collins. Instead of being Store Manager of the Year, I tell everyone that I manage a store filled with Employees of the Year. They are a huge part of why I was considered for this award. I am very humbled by all of the support that I received from my co-workers and our customers."

With nearly 32 years of service, Collins is one of the company's most respected Store Managers, having worked his way through the ranks. He spends a great deal of time getting to know his associates, customers and community, and strives to bring about positive change in every aspect of his life. Collins has served as a mentor to many associates and managers throughout the company. He is extremely dedicated to serving his customers and works hard to exceed their expectations. He has implemented a number of innovative in-store programs and is an outstanding promoter and merchandiser.

Collins is also very active within his community, where he has served as a volunteer for more than 15 years. Driven to help those in need, he volunteers a great deal of his time and talents to assist numerous civic clubs, community organizations and events throughout the region. Collins currently serves as President of his local Kiwanis Club. He helps organize food drives for a local orphanage and partners with area school Backpack programs to provide much-needed food for under privileged students. Collins also served as a founder of his local YMCA's Safe Kids Halloween program, an event that provides a night of fun and games for children with disabilities. He has served on the board or volunteered for numerous organizations and events, including Coats for Kids, Grace Community Kitchen, Pikeville Area YMCA, Pikeville Chamber of Commerce, Habitat for Humanity, Tide Loads of Hope, The Rotary Club of Pikeville, Shriners Hillbilly Christmas in July, Friends of Coal, Pike County Tourism, and Pikeville Main Street Program. Collins has received numerous awards recognizing his outstanding community service, including the Rotary Community Service Award, Rotary Vocational Service Award, Honorary Alumni of the University of Pikeville, and he is a Paul Harris Fellow.

Headquartered in Abingdon, Virginia, K-VA-T Food Stores (Food City's parent company) operates 131 retail outlets throughout southeast Kentucky, southwest Virginia, east Tennessee, Chattanooga and north Georgia.