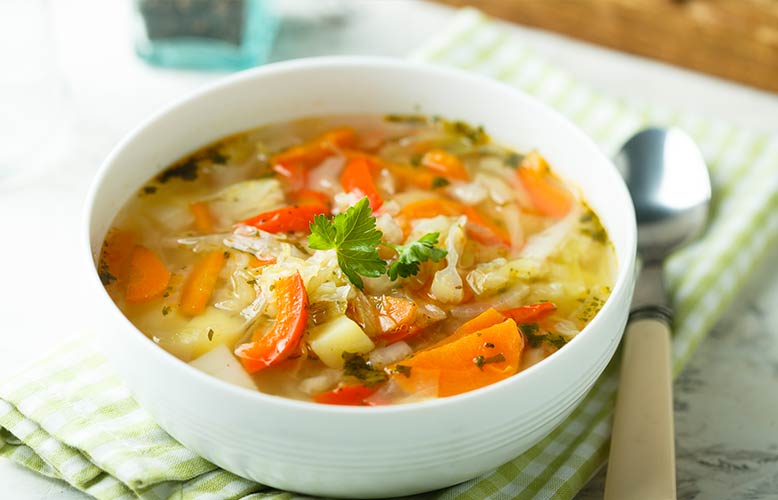 Wellness Club — Stay Warm with Soups
Abingdon, VA. - Wednesday, Jan 1, 2020.
Written by: Mary Byrd, ETSU Dietetic Intern

Even though the holiday season is wrapping up, the cold weather is going to stick around for a bit longer. Let's make the most of this cozy weather by celebrating National Soup Month this January! There is nothing quite like coming in from the cold and sitting down with the whole family to enjoy a steaming bowl of warm soup. Old favorites include tomato soup, beef stew, broccoli cheddar soup, and of course chicken noodle soup but the soup possibilities are endless. One can be as creative or as classic as they like, adding toppings and experimenting with different ingredients to make the perfect recipe.


There is endless potential for making a family favorite into a healthier version of itself. For example, the addition of vegetables into soups can be a delicious and healthy addition! Canned soup often has excessive salt in them so homemade soups can be a healthier option for those needing to watch their salt intake. You can also add extra nutrition by replacing the white rice or regular pasta with brown rice and whole-wheat pasta. Soups offer incredible cooking method versatility. Depending on how much time you have to prepare the dish, the stove top, an instant-pot, or a crockpot can all get the job done. Additionally, Food City offers variety of pre-cut vegetables and meats to streamline the process even further.


January is also a peak time for cold and flu season, and what is Grandma's secret cure for a cold? The classic favorite, chicken soup of course! It turns out Grandma was right all along. Scientists have studied the effect of a hot bowl of chicken soup and found that it really can ease the symptoms of a common cold like nasal congestion and can even have a mild anti-inflammatory effect. Scientists believe that the combination of heat and healthy ingredients like chicken and vegetables may be the secret to the soup's effective cold-fighting remedy.


Check out the Food City Meals & Recipe center for a variety of soup, stew, and chili recipes. These delicious and easy to follow recipes will have you loving this chilly weather all season long!