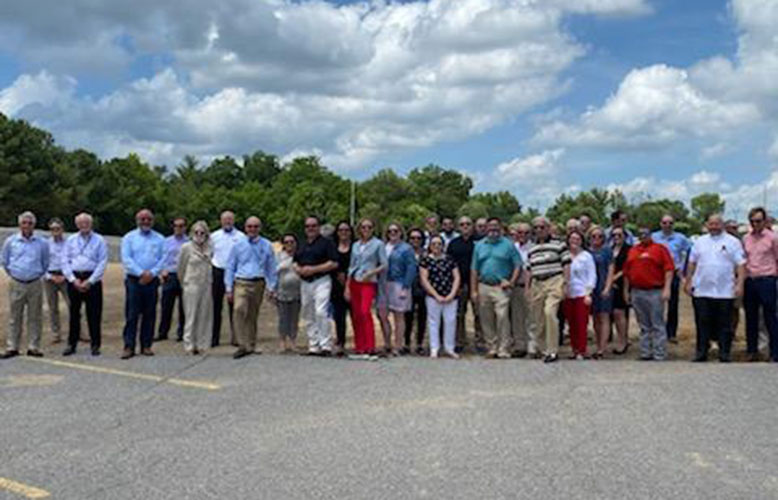 Food City Coming to Albertville, AL
Abingdon, VA. - Wednesday, Jun 10, 2020.

ABINGDON, VA (Wednesday, June 10, 2020) – Earlier today, Food City officials announced that they are expanding into Alabama to join the Albertville retail community. The company plans to construct a 54,000+ sq. ft. supermarket on U.S. Hwy. 431 in Albertville.

"We are thrilled to join forces with Food City as the grocery anchor of Albertville Marketplace. The location of this development provides an excellent opportunity to be a beacon in the community as well as assist our national tenants like Food City in growing their footprint to Alabama. This project is the result of a public-private collaboration with the City of Albertville and the Albertville community, and we're proud to be working with such wonderful partners to bring this development to life," said Karen Hutton, HUTTON President and CEO.

The family-owned chain currently operates 133 retail supermarkets across southeast Kentucky, southwest Virginia, east Tennessee, and north Georgia, including 108 pharmacies and 106 fuel/convenience stores. They also operate their own 1.2 million square-foot distribution center, located in Abingdon, VA.

"We're extremely excited to be opening our first store in Alabama. We look forward to serving the residents of Albertville and the surrounding areas and hope to have the opportunity to open additional stores in Alabama in the future," said Steven C. Smith, Food City president and chief executive officer.

The company was founded in 1955 upon the simple mission to "run the best store in town". They attribute their success to their team of over 17,000 hardworking associates who are dedicated to serving their customers and community. Nearly 12% of the company is owned by their associates through their employee stock ownership plan.

Food City locations offer a wide variety of services and conveniences, ranging from in-store bakery/delis, complete with hot food and café seating areas to Floral Boutiques, staffed with designers seven days a week. Full-service meat and seafood departments offer pre-marinated and seasoned products, plus a complete selection of top-quality meats that are all-natural, including Certified Angus Beef and fresh sushi. In-house meat cutters will hand cut steaks, chops and roasts to order. Expanded grocery, frozen food, produce and health & beauty care departments go well beyond the normal fare with a huge selection of gourmet, international and hard-to-find items. A number of their locations also include a Starbucks café, offering a wide assortment of blended hot and cold coffees and beverages, as well as an assortment of tasty breakfast sandwiches and pastries.

Through a partnership with local farmers, Food City is able to bring their customers fresh-from-the-field fruits and vegetables. Many items are delivered directly from the farm to the store on the same day they are picked. Each year, Food City buys approximately $5,000,000 in locally grown fresh produce.

Food City's convenient pharmacies are staffed with highly trained professionals whose primary concern is the well-being of their customers and their Gas N' Go fuel stations offer competitive prices on high quality gasoline. The company also offers the added convenience of GoCart curbside pick-up, which allows customers to shop on-line and pick-up their order when they arrive at the store.

Food City supports a number of community-based organizations and agencies throughout their market area. Their School Bucks Program has donated more than $19.3 million in much needed equipment to area schools. Food City's annual Charity Golf Outing has raised a combined total of over $6.35 million since its inception to benefit area charitable organizations and their annual Race Against Hunger campaign also provides over $500,000 in assistance to local hunger relief organizations each year. Their Mission:Able project has raised over $1.67 million in the last nine years to benefit Paralyzed Veterans of America. The company supports scores of other initiatives including United Way, Susan G. Komen, Relay for Life/The American Cancer Society, American Heart Association, Juvenile Diabetes, Second Harvest Food Bank, Feeding America and countless others.

The Food City name is also synonymous with NASCAR racing through the sponsorship of two of the sport's most popular events, the Food City 500 and Food City 300 at Bristol Motor Speedway in Bristol, TN. As the second longest running sponsor in NASCAR, the company has also contributed more than $565,000 in proceeds from their annual Food City Race Night events to local organizations throughout the area. Food City is also a major corporate partner of several local athletic programs, including the University of Tennessee, East Tennessee State University, University of Tennessee at Chattanooga and Emory and Henry.

"We're proud to be locally owned and operated," says Smith. "We're extremely passionate about what we do, and we're committed to providing our customers with top quality products at the lowest possible price and exceptional service, while continuing the mission our company was founded upon nearly 65 years ago, to "run the best store in town".



Headquartered in Abingdon, Virginia, K-VA-T Food Stores (Food City's parent company) operates 133 retail outlets throughout southeast Kentucky, southwest Virginia, east Tennessee, Chattanooga and north Georgia.



About HUTTON
HUTTON is a fully integrated commercial real estate, development and investment company primarily focused on developing, acquiring, managing and constructing single tenant, shopping center, multi-family and self-storage properties across the United States. In addition to acquiring and developing properties for its stabilized portfolio of over 200 assets, HUTTON also provides capital investments and asset management services to its third-party clients. Over the past 22 years, HUTTON has completed 1,100 projects for 100s of retailers across 40 states. For more information, please visit http://hutton.build/, LinkedIn, Facebook, Twitter and Instagram.