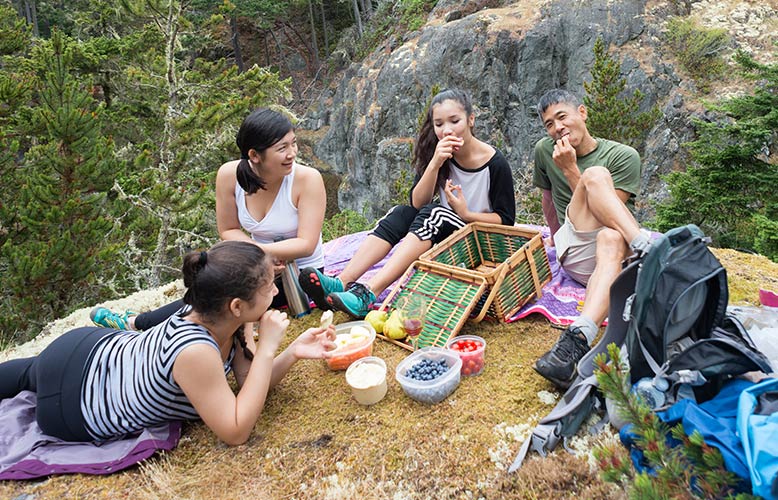 Wellness Club — Nutrition Tips for Hiking
Abingdon, VA. - Wednesday, Jul 1, 2020.
Written by: Elizabeth Hall, MS, RDN, LDN, Food City Registered Dietitian
During this season of social distancing, many of us are taking to the great outdoors to enjoy nature through a hike. Before you hit the trail, it is important to make sure you are fueling appropriately. Here are a few tips to help you pack smart hiking snacks and meals.


Should you take a snack?
Before you start packing food, think about length of time you might be gone on your hike. A common blunder is to pack too much or not enough. Map out your hike with scheduled snacks or meals so that you don't run out of food or weigh your backpack down by taking too much.


Be Balanced
Even when hiking, you should make sure that multiple food groups are represented in your meals and snacks. Pack fruits and vegetables, either fresh, dried, freeze-dried, or pureed as well as whole grains for energy and good sources of vitamins and minerals. Pair these high-fiber carbohydrates with a protein like nuts or nut butters, canned chicken or tuna, or a low sodium meat jerky.

Dry foods such as trail mixes and energy bars are not the only food choices for hiking. Perishable foods, such as sandwiches, can be packed for day trips as long as they are stored in a cold container below 40°F. Remember, do not keep perishable foods in mild weather for more than 2 hours.

For multi-day hikes, it is vital that you get enough calories from your meals. If you have the ability to boil water, bring whole-grain pasta, brown rice, oatmeal, dried soups, or dehydrated foods. If you are packing for overnight trips and bringing raw meats along with ready-to-eat foods, make sure to store them separately and use separate utensils for each. Bring disposable wipes or biodegradable soap to keep your hands clean and avoid cross-contamination.


Stay Hydrated
Adequate hydration should be a priority for hikers no matter the weather or intensity of the hike. Don't wait until you're thirsty! Drink plenty of water before, during, and after your hike. Bring powdered beverage mixes to put in your bottled water for added taste!