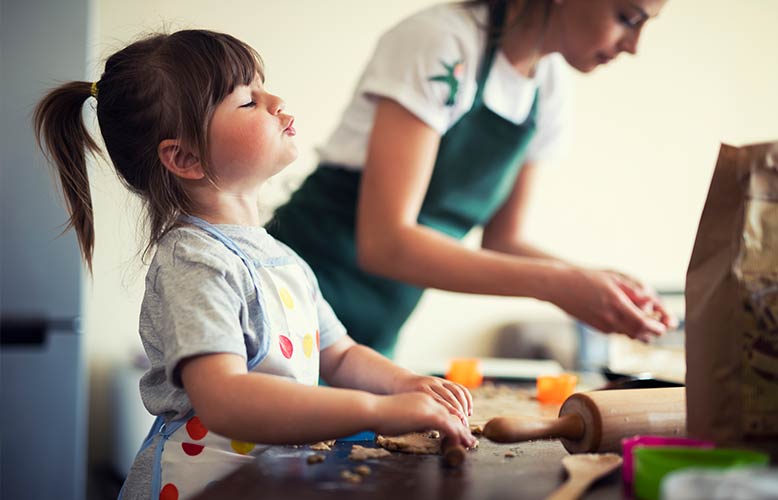 Wellness Club — Kids in the Kitchen
Abingdon, VA. - Saturday, Aug 1, 2020.
Written by: Elizabeth Hall, MS, RDN, LDN, Food City Registered Dietitian
Most of the time, if kids are involved in the preparation of the food, they will be more likely to eat it! It is important to get your kids in the kitchen at a young age and help them master simple cooking skills before they get older and practice more complex ones.

There are different ways you can engage your kids in the kitchen depending on their age and skill level. No matter how old, all children can help with menu planning and maybe even help you make a grocery list to shop in-store or online. Here are a few ideas to engage kids of all ages in the kitchen:


Younger Children
Younger children can still get involved in the kitchen by helping to pick out ingredients such as a new fruit or vegetable to try. They can also help you wash fruits and vegetables or rinse canned vegetables and beans. Kids this age can help you measure dried pasta or beans, add pre-measured ingredients to recipes, or lend a hand stirring or mixing ingredients. Allow them to help you mash potatoes, brush bread with olive oil, or assemble a sandwich, homemade pizza, or stuffed pita. Pull out the cookie cutters and allow your kids to cut cheese or bread into fun shapes and sizes. We eat with our eyes first, so try to make food fun!


Older Children
When children get older, they can help peel or slice carrots, cucumbers, or potatoes. Buy some blunt scissors or kitchen shears and allow kids to cut green onions or herbs to add as flavor to recipes. Older kids can crack eggs into a bowl, use a food thermometer, pour batter onto a griddle for waffles or pancakes and even flip them too. They can help you coat chicken strips in egg and whole grain bread crumbs for baking, form meatballs for cooking, or put food on a skewer for grilling. Depending on their age and skill, some older kids may be able to make a side dish or meal by themselves!