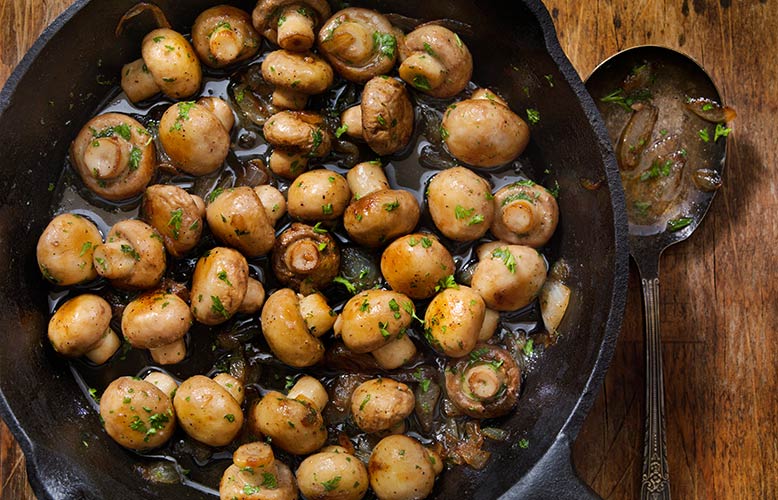 Wellness Club — Mushrooms & Vitamin D
Abingdon, VA. - Tuesday, Jun 1, 2021.
Written by: Elizabeth Hall, PhD, RDN, LDN, Food City Registered Dietitian
Vitamin D has gotten a lot of buzz lately! In addition to being critical for overall health and a major contributor to the immune system, vitamin D is essential for absorption of calcium, phosphorus and magnesium, which helps to maintain bone strength.
While vitamin D is available in certain seafood and fortified foods, fresh fungi, like mushrooms, that have been exposed to "sunshine" are the only natural source of this enriching nutrient found in your produce department.
Monterey Mushrooms®, a brand of mushrooms you can find at Food City, has a whole line of products that are high in vitamin D including sliced white and baby bella mushrooms in 8-ounce and 16-ounce packages and packages of 8-ounce portabellas. These delicious and versatile options provide 400 IU's of vitamin D per 3 ounce serving, which is 50% of the Daily Value. Look for "high in vitamin D" or "excellent source of vitamin D" on the label to find this added mushroom benefit.
How can you enjoy Monterey Mushrooms®? The possibilities are endless! Try them raw, cooked, or chopped and blended with ground meats in your favorite recipes like burgers, tacos, or meatballs. Or, if you are looking for a simple way to take your steak, scrambled eggs, avocado toast, or salad to the next level, try slicing and sautéing mushrooms. This simple recipe makes it easy to incorporate mushrooms into any meal.
Sautéed Mushrooms
INGREDIENTS
2 Tbsp. butter
1 Tbsp. olive oil
8 oz. Monterey Mushrooms®, sliced (Whites or Baby Bellas)*
1/2 tsp. dried thyme
1 shallot or onion, diced
2 garlic cloves, minced
Salt and pepper, to taste
INSTRUCTIONS
Add butter and olive oil to a medium pan. Pour in mushrooms without over-crowding the pan to keep them from getting soggy. Stir and cook for 5 minutes. Add in the thyme and diced onion. Stir and let it cook for 5 more minutes. Add in the garlic and salt and pepper to taste. Cook for about 5 more minutes, then add to your dish!
Hungry for more information about vitamin D and mushrooms? Download the FREE Monterey Mushrooms® e-book: https://www.montereymushrooms.com/vitamin-d-ebook