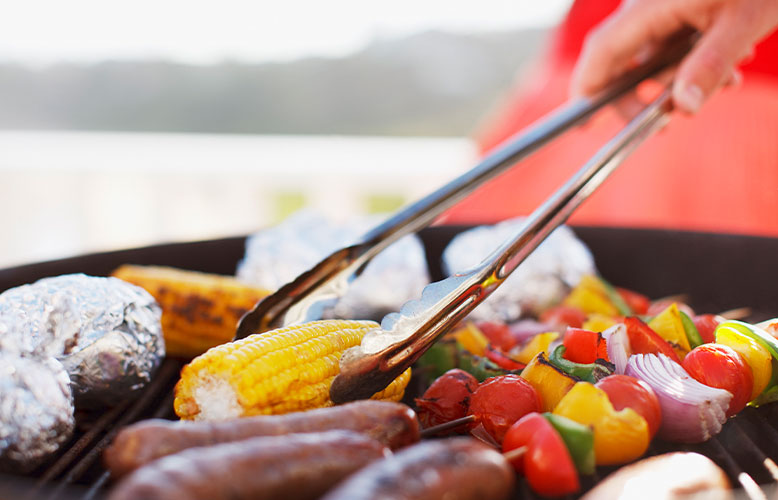 Wellness Club — Tailgate the Healthy Way
Abingdon, VA. - Sunday, Aug 1, 2021.
Written by: Elizabeth Hall, PhD, RDN, LDN, Food City Registered Dietitian
Every good tailgating party involves delicious foods. Typical tailgating foods are high in calories, fat, and sodium. You can still have a great time with good eats and feel good about the food choices you make. Eating healthy is all about moderation; so choose your favorite dishes but pair them with healthier sides, sauces, and beverages to create a balanced meal.
Proteins & Marinades
First of all, when choosing a protein for the main dish, try leaner cuts of meat such as 80/20 or 90/10 instead of 70/30 and add flavor with a longer marinade time.
Side Dishes
If you don't want to skimp on your meat, try changing up your sides. Consider lighter sides such as a tossed salad, baked chips or homemade tortilla chips with dip instead of the fried alternative. If available, load your plate up with fruits and vegetables which are mostly water and will fill you up while providing nutrients without a significant amount of calories.
Sauces and Condiments
When adding sauces and condiments like dressing, watch portion sizes or try cutting them with water. Better yet, make your own dressings, sauces, or dips at home using Greek yogurt as a substitute for sour cream. Add fresh pico de gallo or salsa for extra flavor or use other lower calorie or nutrient-rich options like mustard, avocado, hummus, or low-fat mayonnaise made with olive oil.
Beverages
Making changes to your choice of drink may be the easiest, but hardest switch to make on a daily basis. Many say water tastes too plain or they don't like the "taste." Try infusing your water with a fruit, vegetable, herb, or a combination of each. Some tasty options include strawberry-kiwi, lemon, blueberry and mint, apple cinnamon, or lemon, raspberry and rosemary. If you are drinking a caffeinated or sugar-sweetened beverage, another tip is to drink a bottle of water for every caffeinated beverage consumed.
Say it with me, Moderation!
Remember all foods have a place, but in moderation! Don't feel like you have to give up your game day favorites. Instead, practice mindfulness, savor the flavor, and stay balanced!