Food City Supports Juvenile Diabetes Research Foundation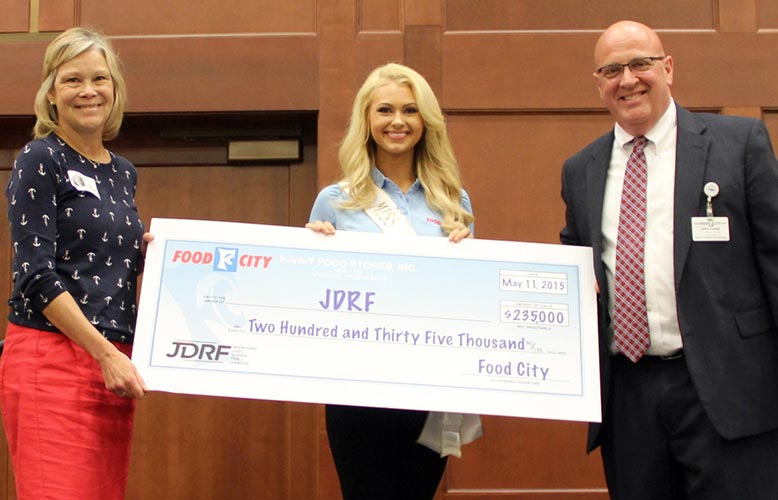 Abingdon, VA Thursday, May 14, 2015.
Food City officials recently presented a check in the amount of $235,000 to Juvenile Diabetes Research Foundation.

The funds derived from Food City's company-wide annual fundraising campaign, which began March 28 and concluded on May 3, 2015. During the promotion, Food City shoppers were given an opportunity to make a contribution through the purchase of a JDRF "sneaker" at the checkout. 100% of the funds collected benefit Juvenile Diabetes Research Foundation.

"Diabetes is a serious issue facing many of our associates, our loyal customers and their family members and we are proud to be able to partner with JDRF to help find a cure for Juvenile Diabetes," says Steven C. Smith, Food City's president and chief executive officer. "Thanks to the generosity of our loyal customers and associates, over the last five years, Food City and its generous customers have contributed over $900,000 to benefit this great organization."
Picutred Above (left to right):Mary Moreland (JDRF Executive Director), Kassie Perkins (Miss Food City 2015), John Jones (Food City Executive Vice President/Director of Store Operations)

Headquartered in Abingdon, Virginia, K-VA-T Food Stores, Inc. currently operates 105 retail food outlets in the tri-state regions of Southeast Kentucky, Southwest Virginia and Northeast Tennessee.