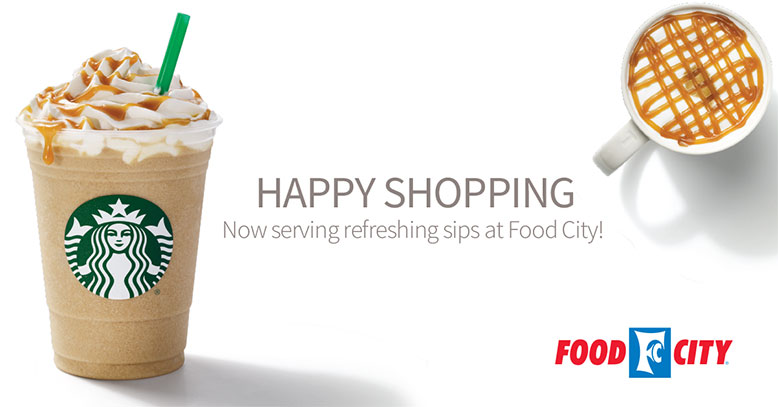 Sip while you shop
Your favorite coffee, now at your favorite store.
Food City is proud to partner with Starbucks Coffee Company to offer delicious made to order drinks, treats and more in our stores.
Starbucks will offer an assortment of blended hot and cold beverages, including seasonal favorites, as well as breakfast sandwiches and pastries. Starbucks will also feature bags of coffee to take home and brew, great selections of the chain's hot and cold beverage containers, gift sets and more.
Full service Starbucks now at select Food City locations.
225 Lovers Lane Calhoun, GA
Sunday-Saturday 7am-9pm
110 North 11th Street Middlesboro, KY
Sunday-Saturday 6am-9pm
50 Morton Boulevard Hazard, KY
Sunday 8am-8pm
Monday-Saturday 7am-9pm
215 Cassidy Boulevard Pikeville, KY
Sunday 8am-8pm
Monday-Saturday 7am-9pm
920 North State of Franklin Road Johnson City, TN
Sunday-Saturday 7am-9pm
123 West Highway 25-70 Dandridge, TN
Sunday-Saturday 7am-9pm
1715 West Broadway Maryville, TN
Sunday-Saturday 7am-9pm
1180 West Avenue Crossville, TN
Sunday-Saturday 7am-9pm
125 Judge Gresham Road Gray, TN
Sunday-Saturday 7am-9pm
105 South Hill Street Athens, TN
Sunday-Saturday 7am-9pm
7202 Maynardville Highway Knoxville, TN
Sunday-Saturday 7am-9pm
284 Morrell Road Knoxville, TN
Sunday 8am-8pm
Monday-Saturday 7am-9pm
5604 Hixson Pike Hixson, TN
Sunday-Saturday 7am-9pm
1320 Euclid Avenue Bristol, VA
Sunday-Saturday 7am-9pm
151 Cook Street Abingdon, VA
Sunday-Saturday 7am-9pm