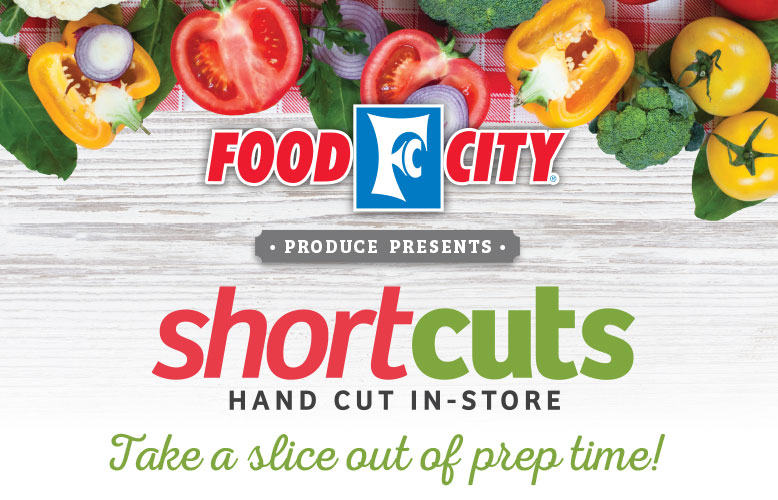 ShortCuts Meal Solutions
take a slice out of prep time!
Delicious meals are just moments away with a little help from ShorCuts! Food City's ShortCuts Meal Solutions are designed to save you time, making eating healthier, easier and more convenient. We offer a wide variety of meal solutions from fresh cut, ready to use vegetables and fruits to grab-and-go prepared meal kits featuring the freshest pre-seasoned and pre-portioned ingredients that are ready in a matter of minutes. Save time and eat better with ShortCuts fresh prepared meal solutions.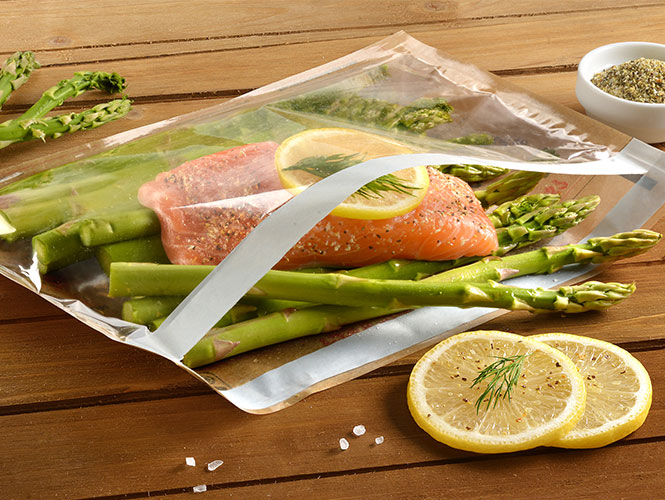 ShortCuts Meals in Minutes consider dinner done!
Make dinner in minutes with ShortCuts Meals in Minutes microwave and oven safe cooking bags. These convenient and tasty meal solutions make it easy to eat well every day, even with the busiest schedule. We do all of the prep work for you, combining the freshest ingredients from our meat, seafood and produce departments into a ready to cook, delicious meal. Just cook, then serve. Our specially designed bags can be microwaved or baked in the oven, your choice. Pick them up today in our Meat Department.
• Locks in flavors & juices
• Effortlessly steam cook seafood or meat in minutes
• No dirty dishes: makes clean-up a breeze
• Always fresh ingredients for a healthy meal solution
• Made in-store for your convenience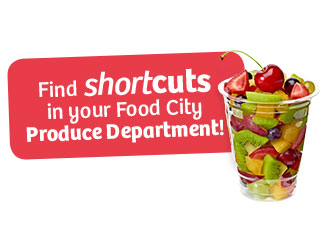 ShortCuts Fruits and Vegetables
available in the produce department
Our professionals cut, slice, dice, and chop fruits and vegetables just for you! Packaged fruits and veggies are cut fresh in-store throughout the day. Pick from an assortment of mixes to add to your favorite recipes and go. Take a slice out of your prep time in the kitchen and enjoy a little more quality time with your family!
•Fresh Cut Daily
•Pre-Washed
•No Preservatives
•Ready to Cook
•All Natural
•Convenient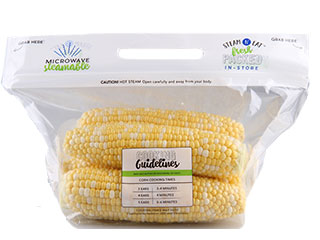 ShortCuts Steamable Bags
fast, easy and fresh sides
Make your favorite vegetables, in minutes! Washed, trimmed and ready to microwave in their own steamable bags. Get all the nutrition and great taste of FRESH produce without the hassle. No mess, no cleanup. Available in several varieties in the Produce Department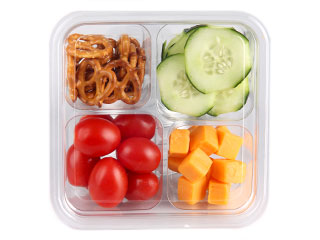 ShortCuts Snack Packs
a quick and healthy choice
ShortCuts Snack Packs are a healthy on-the-go snack! Perfect for lunches or anytime you need a healthier snack choice. Cut in-store and pre-washed for your convenience. A good source of protein. Approved by our Dietitian and available in several varieties in the Produce Department.
ShortCuts Chef Recipes
Delicious, healthy home cooked meals are just moments away with a little help from ShortCuts!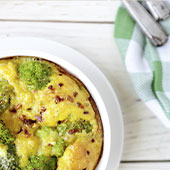 Easy Cheesy Chicken and Broccoli
Short on time? Shortcuts fresh broccoli florets and Food City Fresh chicken to the rescue.
---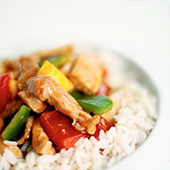 Easy Hawaiian Pork BBQ
Come home to a taste of the islands with this Easy Hawaiian Pork BBQ recipe.
---
Easy Chicken Tender Fajitas
Easy and delicious chicken fajitas in less than 30 minutes.
---