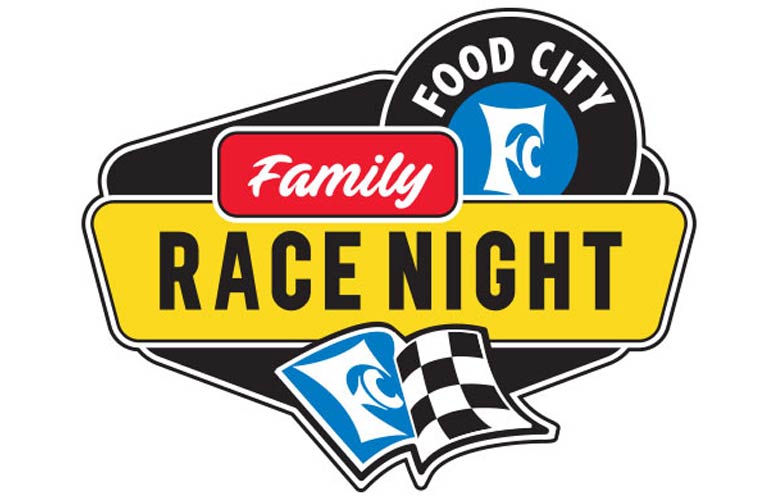 Food City Race Night
Bristol Motor Speedway, Bristol, TN. - Friday, April 5, 2019, 4:00 pm - 9:00 pm
Join us Friday, April 5 at the Bristol Motor Speedway in the Hospitality Area outside of turn 4 for Food City Family Race Night.

Food City Race Night features entertainment, free food sampling, show cars, racing simulators and special appearances by numerous NASCAR celebrities. Admission is FREE. Sponsored by WJHL and Bristol Herald Courier.

EVENT SCHEDULE — View Map

Appearances and Autographs
*Drivers' autographs are limited to the time available. Drivers' schedules are subject to change.
Kyle Busch (4pm) – driver of #18 Skittles {100 wristbands will be given out at the wristbands distribution tent in front of Hospitality Village at 1pm}
Ryan Newman (7:30pm) – driver of #6 Wyndham Rewards Ford {150 wristbands will be given out at the wristbands distribution tent in front of Hospitality Village at 1pm}
Justin Allgaier (6:45pm-7:30 pm) – driver of #7 Armour Chevrolet {Wristbands will be given out at the wristbands distribution tent in front of Hospitality Village at 1pm}
Ricky Stenhouse, Jr. (4pm) – driver of #17 Sunny D {150 wristbands will be given out at the wristbands distribution tent in front of Hospitality Village at 1pm}
Richard Petty (6:30pm) – King of NASCAR and 7 Time Champion {50 wristbands will be given out at the wristbands distribution tent in front of Hospitality Village at 1pm}
Aric Almirola (4:30pm-5:15pm) – driver of #10 Smithfield Ford
Austin Cindric – driver of #22 NXS Mustang
Chad Finchum (6:30-8:30) – driver of #13 and #40 Toyota Xfinity
Corey LaJoie (7pm-8pm) – driver of #32 Go Fas Racing Ford Mustang
Joey Gase (7pm) – driver of #35 & #66 Toyota
Ross Chastain (7:30pm - 9pm) – driver of #4 JD Motorsports
Garrett Smithley (7:30pm-9pm) – driver of #0 JD Motorsports
Stephen Leicht (7:30pm-9pm) – driver of #01 JD Motorsports
Noah Gragson (6:45pm-7:30pm) – driver of #9 Chevrolet for JR Motorsports {Wristbands will be given out at the wristbands distribution tent in front of Hospitality Village at 1pm}
Zane Smith (6:45-7:30 pm) – driver of #8 Chevrolet for JR Motorsports {Wristbands will be given out at the wristbands distribution tent in front of Hospitality Village at 1pm}
Tyler Reddick (7pm-7:30pm) – driver of #2 and #31 Chevrolet Camaro for RCR Racing
Landon Cassill – driver of #00 StarCom
Jimmy Johnson – Racers Reunion
Blake Jones – Tennessee Shine Company/XXX Monster Series
David Ragan (4pm-5pm) – driver of #38 Ford Mustang for Front Row Motorports
Justin Haley (7pm-9pm) – driver of #1 Leaf Filter Gutter Protection Chevy
Josh 'TKO' Turner (5pm-7pm) – Actor/Wrestler (Walking Dead, Tattooed Savior, Under the Dome, Nashville, Banshee, Leverage, Antman)
Kaylie Turner (5pm-7pm) – Actress (Walking Dead, Stranger Things, Term Life, Red Road, 2016 Kids NASCAR Spokes Model, Goosebumps 2)
Thomas Doutt – Actor (Walking Dead, The Originals, MacGyver (New Show), Homicide Hunter)
Moonshiners (6pm-8pm) – Digger & Mark
Bringing Up Bates Family (19 members) – Reality Stars on Up TV
Lawson Bates – Nashville Recording Artist and family member of Bringing Up Bates
Chase Dixon – #07 NASCAR Whelen
Megan Stanley – 2019 Miss Food City
Maddie Noe – 2019 Miss Kingsport
Savannah Phillips – 2019 Miss Sullivan County
Josh Collins – #77 Pure 4
William Hale – #47 Pure 4
Josh Trinkle – #68 Pure 4
Stephen Daniel – #4 Pure 4
Jay Swecker – #77 Pure Street
Ryan Hyatt – #24 Pure Street
Jessica Spangler – #07 Pure Street
Ernie Atwell – #01 Super Street
Tony Parks – #29 Super Street
Bobby Helton – #03 Super Street
Hannah Seal – #55 Super Truck
Kevin Wolfe – #17 Late Model
Nik Williams – #32 Late Model
Kres VanDyke – #15 Late Model
Dillon Hodge – #5 Late Model
Maisen Leonard – #38 Kart
Braxton Surber – #80B UCAR
Amber Dawn Huffman – #94 UCAR
Tim Widener – #5 Modified
Morgan Widener – #15 Modified
Roger Surber – #3B Mod 4
Brownie King (5pm-7pm) – NASCAR Legend
Haskell McKee (5pm-7pm)- NASCAR Legend
John A. Utsman (5pm- 7pm) NASCAR Legend
Larry Utsman (5pm-7pm) – NASCAR Legend
Paul Lewis (5pm-7pm) – NASCAR Legend
Mike Potter – NASCAR Legend
Travis Tiller (5pm-7pm) – NASCAR Legend
Terry Anderson (5pm-7pm) – NASCAR Legend
Bob Hissom – North Carolina Racing Hall of Fame Historian
Joe Tennis – Local Author
Linda Hudson Hoagland – Local Author
Eddie Price – Artist
Michael Smith – Michael Smith Originals
John Earnhardt (4pm-9pm) – Race to Victory and Micro Midget Race Car & Trike
Karen Tunnell – Kingsport Speedway Pace Car
Paul Gose and James Long – Longs Car Shop & #32 Vintage Dirt Car
Danny Casteel – #41 Vintage 1966 Chevrolet
Gary & Linda Potter – 1958 Chevrolet Vintage
Harold Crook – 1957 Chevrolet
John McCloud – 1986 Thunderbird owned by Marion Cox
Mike Blevins – 1992 Lumina
Julie Bowers – Big Dog Chopper & Harley Fat Boy
Timothy Hensley – Car
Tim Lopata – Stangstampede
George Lopata Sr. – Stangstampede
Jim Fritz – Stangstampede
Larry & Austin Payne – Stangstampede
Mike Verbonitz – Bobby Allison Tribute Car






Entertainment – Coke Stage
4:00–4:45pm Wanted Stranger
4:45-5:00pm Q&A Session with Joey Logano
5:00-5:15pm Q&A Session with Bubba Wallace
5:20pm Appalachia Service Project
5:30–6:30pm Entertainment
6:30pm Dash 4 Cash Drivers
6:45pm Q&A Session with Corey Lajoie
7:00pm Dugger Band
7:05pm Welcome Ceremonies:
Master of Ceremonies — Doug Rice and Mike Helton, Vice Chairman of NASCAR
National Anthem — Christina Druen
Honoree — Ryan Newman
PVA & Food City Partnership with Richard Petty
7:45pm Storytime with Darrell Waltrip and friends Steve Smith (Food City), Kevin Stafford (Food City) and Jerry Caldwell (Bristol Motor Speedway)
8:15-9:00pm Dugger Band
9:00pm Fireworks



Food Sampling While supplies last beginning at Noon
Airborne, Armour Treet, Blue Bell Ice Cream, Certified Angus Beef Burgers served on Flowers Buns, Calbee/Snapeas Crisps, Cheez-it Products, Coke, Colavita Pizza, Cousin Willie's Popcorn, Dietz & Watson Hot Dogs served on Sara Lee Buns, Frito Lay, Gwaltney Hotdogs served on Sara Lee Buns, Jack Links Beef Jerky, Kellogg's Poptarts, Lance Cape Cod Chips and Snyders Pretzels, M&M's, Mariani Dried Fruit, Mayfield Ice Cream Novelties, McCormick Seasoning Packets, Misty Mountain Water, Mrs. Cubbisons Taco Bell Tortilla Chips, Mrs. Grissoms Salads, Muso Olives, Nabisco Oreos, Planters Peanuts sampled from NUTmobile, Snack Factory Pretzel Chips, Snyders of Berlin, Vietti Chili/Hotdog Sauce and Baked Beans, Gordos Cheese, Tweaker Energy Shots


Booths and Displays
American Home, American Red Cross, Appalachia Service Project, Auto Racing Outreach, Beltone, Bristol Herald Courier, Bubba Fest, Dolly Parton Stampede, East Tennessee Street Rods, ESGR (Employers Support for Guard/Reserve), Food City Exclusive Brands, Holly Help Spay & Neuter, JDRF, March of Dimes, Muscle Car Ministries, Northeast Tennessee Mustang Club, Ober Gatlinburg, Pinnacle Home Improvements Child Fingerprinting, Raceway Ministries, Ripley's Aquarium of the Smokies, SBK Animal Shelter, Sound Revue Speaker, Speedway Children's Charity, Susan G. Komen, Teleperformance, TN Valley Mustang Club, Tri-City F Body Association, Victory Junction, WJHL



Show Vehicles & Other Attractions
#6 Oscar Mayer, #13 Geico, #3 Auto Racing Outreach, #17 Sunny D, #43 Smithfield, (10) East Tennessee Street Rods, (15) Old Glade Springs Antique Tractors, (20) Muscle Car Ministries, (20) Tri-Cities F Body Association, (25) Tennessee Valley Mustangs , (20) Tri State Antique Tractors , (40) Northeast Tennessee Mustangs, Armour Display, BMS Pace Car, Blue Bell Truck, Coke sampled from Home Gaming Trailer featuring the simulator/TV, Colavita Mobile Kitchen, Dolly Parton Stampede Van, Food City Big Cart w/a 550 HP Motor & Racing Tractor, Food City Cold Air Balloon , Great Big Famous Idaho Potato, M&M Mars Display - #18 M&M's Show Car, Sim POD/Trophy/Souvenir Trailer, John Earnhardt Micro Midget Car & Trike, Pinty's Trailer and Show Car, Planters NUTmobile, Ripley's Aquarium Display, Tub Mater Tow Truck, Extreme Energy Solution Simulator, Gordos Food Truck



Commercial Characters
Bob the Builder, Bump & Run, Idaho Potato - Spuddy, Keebler Elf Ernie, Kingsport Speedway Tiger, Mr. Peanut, Ober Gatlinburg Yeti, Ripley's Aquarium Sharky, T.J. Clown, WXBQ Rabbit