Food City Continues to Expand Curbside Pick-Up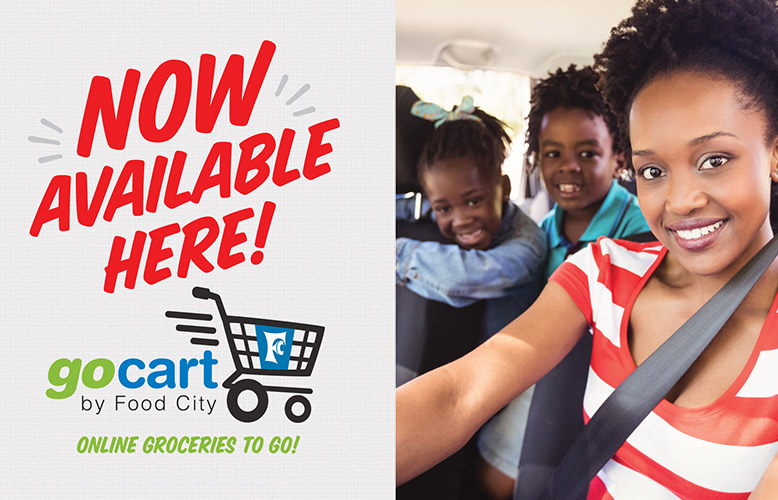 Abingdon, VA Wednesday, Dec 6, 2017.
Since August of 2015, Food City has offered an innovative new program that has revolutionized traditional grocery shopping. Their GoCart curbside pick-up is currently available at select locations throughout their market area, with plans to continue expanding the program to additional locations.

"At Food City, we're always looking for ways to bring added value and convenience to our shoppers," says Steven C. Smith, Food City president and chief executive officer. "Our GoCart program is literally changing grocery shopping as we know it."

The program allows customers to select their purchases on-line and the order is filled by a professional shopper and loaded into their vehicle when they arrive at the store. Customers can pay on-line or by credit or debit card at the time of pick-up. Food City charges a minimal service fee of only $4.99, regardless of the order size.

"GoCart combines the added convenience of drive-thru service with the personalization of on-line shopping. It's truly the best of both worlds," says Smith.

Customers wishing to take advantage of this convenient service, simply need to visit Food City's website to create an account or log into their existing foodcity.com account. Once they select the nearest GoCart store as their home store, they can shop from thousands of items, including weekly specials or search departments to add items to their cart. The Quick Cart feature also allows shoppers to view previously purchased products, which can be added by item, category or an entire list in a single click. Customers also have the option to add digital coupons to their cart. They can select a pick-up time that fits their schedule, ranging from as little as three hours after the order is placed to several days in advance. Once they review their list, making changes as needed and submit their order, special requests can be added for their professional shopper on the cart summary page. Purchases can be paid for by debit or credit card either online or at curbside. Upon arrival at the store, they simply pull up to the curb and their professional shopper will load their groceries for them and they are on their way in minutes.

"Our Food City professional shoppers are trained to carefully review the notes and requests submitted with each order to ensure our valued customers receive the correct items in the quickest, most convenient manner possible," Smith adds.



Food City GoCart is currently available at the following locations:

NEW LOCATIONS – beginning December 6th
Food City #428 – 110 North 11th Street, Middlesboro, KY 40965

EXISTING LOCATIONS
Food City #458 – 215 Cassidy Blvd., Pikeville, KY 41502
Food City #471 – 429 University Dr., Prestonsburg, KY 41653
Food City #605 – 1205 N Eastman Road, Kingsport, TN 37664
Food City #607 – 2310 Sandstone Drive, Morristown, TN 37814
Food City #616 – 11501 Hardin Valley Road, Knoxville, TN 37932
Food City #629 – 920 N State of Franklin Rd., Johnson City, TN 37604
Food City #641 – 4307 N Roan Street, Johnson City, TN 37615
Food City #650 – 300 Market Drive, Lenoir City, TN 37771
Food City #651 – 1610 W. Broadway Ave., Maryville, TN 37801
Food City #657 – 300 Clinchfield St., Kingsport, TN 37660
Food City #667 – 741 Dolly Parton Pkwy., Sevierville, TN 37862
Food City #670 – 125 Judge Gresham Rd., Gray, TN 37615
Food City #674 – 5941 Kingston Pike, Knoxville, TN 37919
Food City #679 – 7350 Clinton Highway, Powell, TN 37849
Food City #681 – 1199 Oak Ridge Turnpike, Oak Ridge, TN 37830
Food City #685 – 4805 N. Broadway St., Knoxville, TN 37918
Food City #686 – 105 S. Hill Street, Athens, TN 37303
Food City #687 – 2712 Loves Creek Road, Knoxville, TN 37924
Food City #688 – 7202 Maynardville Highway, Knoxville, TN 37918
Food City #694 – 284 Morrell Road, Knoxville, TN 37919
Food City #701 – 7804 East Brainerd Rd., Chattanooga, TN 37421
Food City #703 – 5604 Hixson Pike, Hixson, TN 37343
Food City #712 – 255 Ocoee Crossing North, Cleveland, TN 37312
Food City #715 – 703 Signal Mountain Road, Chattanooga, TN 37405
Food City #716 – 3801 Tennessee Avenue, Chattanooga, TN 37409
Food City #717 – 8634 Highway 58, Harrison, TN 37341
Food City #821 – 1320 Euclid Avenue, Bristol, VA 24201
Food City #823 – 396 Towne Centre Drive., Abingdon, VA 24210
Food City #898 – 207 Woodland Drive SW, Wise, VA 24293

Visit Food City's GoCart page for more details or to view a short "get started" GoCart tutorial video.


Headquartered in Abingdon, Virginia, K-VA-T Food Stores (Food City's parent company) operates 132 retail outlets throughout southeast Kentucky, southwest Virginia, east Tennessee, Chattanooga and north Georgia.