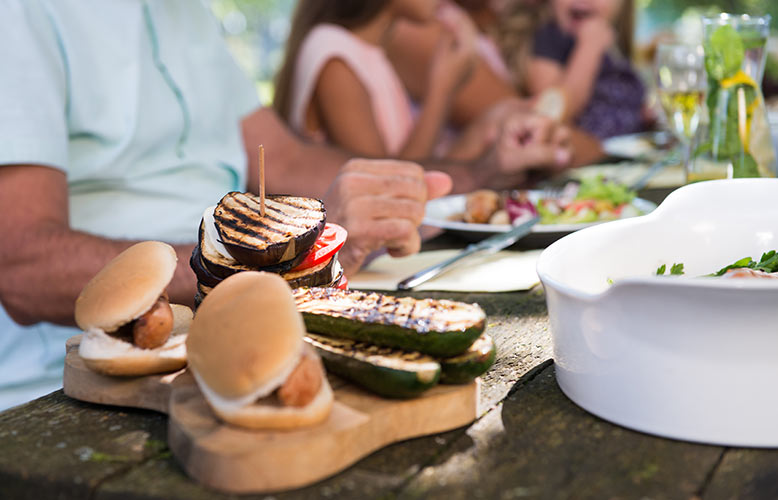 Wellness Club – Healthier Tailgating
Abingdon, VA. - Saturday, Sep 1, 2018.
by Elizabeth Hall, MS, RDN, LDN, Food City Registered Dietitian
Every good tailgating party always involves delicious foods that are typically high in calories, fat and sodium. You can still have a great time and good eats without feeling guilty about the food choices you make before the big game. Eating healthy is all about moderation. Choose one of your favorite entrees and pair it with healthier sides, sauces, and beverages to create a balanced meal. Consider some of the following tips when preparing for your tailgate this football season!

Mains
Many times, tailgaters are not willing to part with juicy hamburgers or famous hot wings. You don't have to give up your favorite main dish, but you can make a few small changes to lighten it up such as choosing a lower fat hamburger meat, like 90/10 or 97/3. Marinating leaner cuts of meat like sirloin or tenderloin to break down the proteins, creates a tender, juicy texture similar to higher fat meats but without the extra calories. Try a whole wheat bun instead of a white bun for extra fiber or choose a lower-sodium sauce for wings.

Sides
Consider pairing your mains with lighter sides such as a tossed salad, mixed fruit or veggie skewers. Try lightly salted pretzels or baked chips versus regular chips. If available, load your plate with fruits and vegetables instead of heavier items. Fruits and vegetables contain water and fiber to fill you up without all the calories. Not only are they lower in calories, but they have the added benefits of several vitamins and minerals that are needed for optimal health. Make healthy dishes fun by serving the specific colors of your favorite sports' teams!

Beverages
Making changes to your choice of drink may be the easiest, but hardest switch for us to make on a daily basis. A good rule of thumb is to drink 8 ounces of water for every 1 caffeinated or alcoholic beverage. For a low-calorie, hydrating beverage, try fruit-infused water. Add your favorite cut fruit to water and let sit overnight. The water soluble vitamins leach out into the water providing added electrolytes and a delicious flavor!