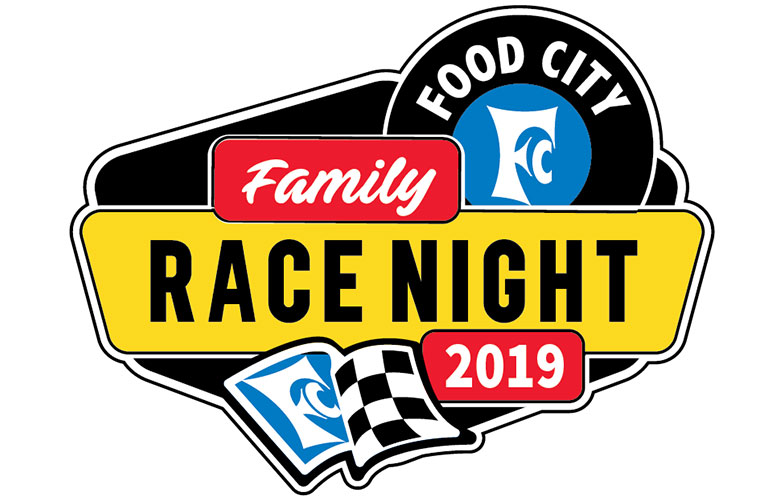 Food City Family Race Night Returns to Bristol Motor Speedway
Abingdon , VA. - Wednesday, Mar 27, 2019.
Food City Family Race Night is one of the premier pre-race events on the NASCAR circuit. The popular fan-based event will return to Bristol Motor Speedway on Friday, April 5th.

Fans can expect an exciting line-up of Xfinity, Monster Energy, Truck and K&N Series drivers, interactive sessions, show cars, simulators, souvenir trailers and entertainment, combined with free food samples (while supplies last). Festivities will get underway at 4 p.m. and continue until 9 p.m., and admission is free of charge.

Food City has already received confirmations from several popular drivers and attractions. Among those already confirmed are:

Kyle Busch (4pm) - driver of #18 Skittles
Justin Allgaier (6:45pm-7:30 pm) - driver of #7 Armour Chevrolet**
Noah Gragson (6:45-7:30 pm) - driver of #9 Chevrolet for JR Motorsports**
Ryan Newman (4pm) - driver of the #6 Wyndam Reward Ford**
Ricky Stenhouse, Jr. (4 pm) – driver of #17 Sunny D**
Zane Smith (6:45-7:30 pm) - driver of #8 Chevrolet for JR Motorsports**
Aric Almirola (4:30pm-5:15pm) - driver of #10 Smithfield Ford
Austin Cindric (Time TBD) - driver of #22 NXS Mustang
Chad Finchum (Time TBD) - driver of #13 and #40 Toyota Xfinity Series
Chase Dixon and #07 NASCAR Whelen
Corey LaJoie (7pm-8pm) – driver of #32 Go Fas Racing Ford Mustang
Garrett Smithley (7:30pm - 9pm) - driver of #0 JD Motorsports
Joey Gase (7:00 pm) – driver of #35 & #66 Toyota
Justin Haley (Time TBD) - driver of #1 Leaf Filter Gutter Protection Chevy
Landon Cassill (Time TBD) - driver of #00 StarCom
Ross Chastain (7:30pm - 9pm) - driver of #4 JD Motorsports
Stephen Leicht (7:30pm-9pm) - driver of #01 JD Motorsports
Tyler Reddick (7:00pm-7:30pm) – driver of #02 & #31 Chevy Camaro for RCR
Please note that scheduling and driver appearances are subject to change and autographs are limited to time availability.
**Wristbands will be given out at 1 p.m. at tent in front of Hospitality Village (outside turn 4)

Entertainment kicks off at 4:00 p.m., with Wanted Stranger performing live in concert. Question and answer sessions will follow beginning at 4:45 p.m., featuring Joey Logano, 5:00 p.m. Bubba Wallace and 6:45 Corey LaJoie. Appalachia Service Project will make a special presentation at 5:20 p.m. Dash for Cash drivers will take the stage at 6:30 p.m. Welcome ceremonies will begin at 7:05 p.m., with Mike Joy serving as MC. Also participating will be Mike Helton, Vice Chairman of NASCAR. Food City will honor Ryan Newman during on-stage ceremonies and make a special presentation to seven-time NASCAR Champion, Richard Petty at 7:35, followed by Storytime with Darrell Waltrip and friends Steve Smith (Food City), Kevin Stafford (Food City) and Jerry Caldwell (Bristol Motor Speedway). The Dugger Band will take the stage from 8:00-8:45 p.m. and the event will close with a special fireworks display (weather permitting) at 8:45 p.m.

Food City would like to thank this year's media partners, Bristol Herald Courier and News Channel 11 in your corner.

Food City will also host a Family Race Night event in Sevierville, TN on Thursday, April 4th at the Sevierville Convention Center from 4 p.m. until 8 p.m. Event proceeds benefit the Sevier County Partners in Progress Education Program.

For a complete listing of Food City Family Race Night attractions and events, visit the event page, where updates will be posted periodically, or follow Food City on Twitter @FoodCity#FoodCity500 #FCRaceNight.