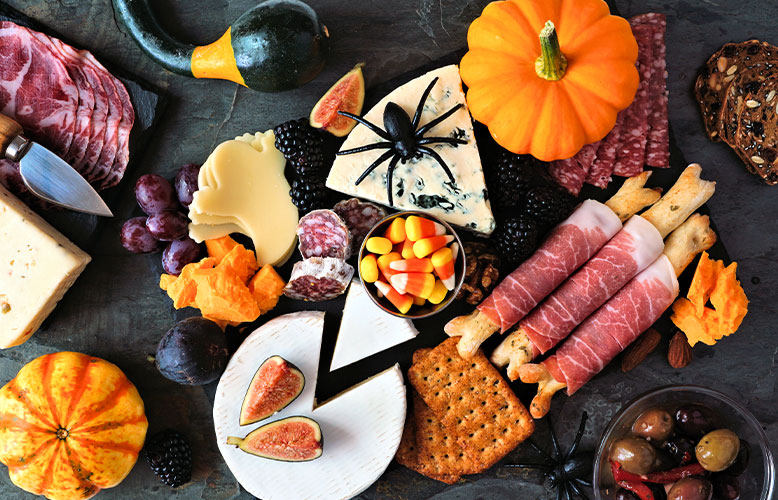 Wellness Club — Hauntingly Healthy Halloween with Nutritious Dairy
Abingdon, VA. - Friday, Oct 1, 2021.
Written by: Elizabeth Hall, PhD, RDN, LDN, Food City Registered Dietitian
Halloween is just around the corner, a holiday with tricks, and most importantly, treats! While Halloween is a great opportunity to teach kids to enjoy treats in moderation as a part of a healthful eating plan, there are also ways to healthify your Halloween festivities by including nutritious dairy.
On average, most people don't meet their daily recommended intake of dairy. The recommendation is two to three servings each day to meet vitamin D and calcium needs. While these nutrients are essential for bone health, there are many roles they play in the body including promoting mental health as well. Dairy foods can be found in abundance in the grocery store, so it's easy to find hauntingly delicious ways to enjoy it this Halloween!
Boo Berry Smoothie
This fruit smoothie made with nutrient-rich milk is fab-boo-lous! Combine your favorite berries pureed with a refreshing cup of low-fat milk along with your sweetener of choice. Real milk offers a unique combination of 13 essential nutrients including vitamin A, vitamin D, zinc, selenium and protein – all of which are vital to a healthy immune system. During the fall and winter months especially, some of us may struggle to get adequate vitamin D. Milk is one of the only foods in which you can get a good amount of vitamin D to avoid those winter "boos."
Pumpkin Parfaits
Combine layers of 100% pumpkin puree with your favorite spices and layer with low-fat Greek yogurt and crumbled graham crackers. Yogurt is high in calcium and protein as well, and also contains probiotics, which are beneficial bacteria that promote gut health. Yogurt also contains less lactose than milk and the presence of live cultures can help a person with lactose intolerance enjoy these products with less gastrointestinal symptoms.
Halloween Charcuterie Board
Who doesn't love cheese? Select your favorites from smoky gouda to a sharp cheddar and serve alongside fruits, vegetables, and whole grain crackers in a killer charcuterie board that everyone will die for. Cheese contains similar nutrients to those found in milk, such as protein, calcium, phosphorus, zinc, vitamin A, riboflavin and vitamin B12.