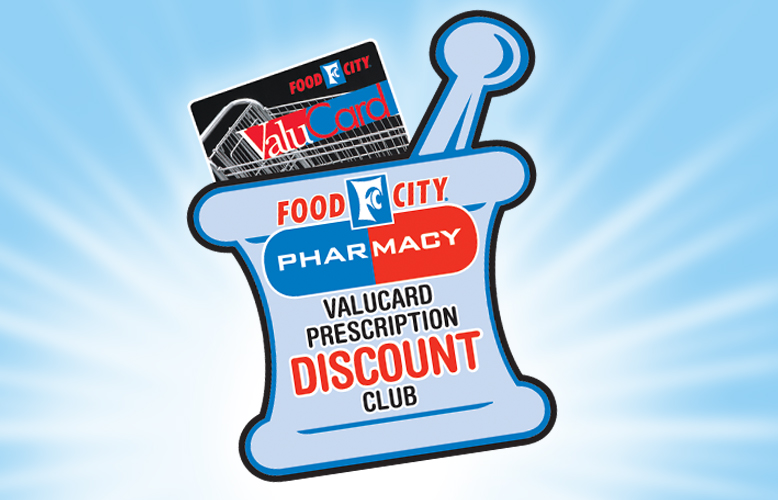 Pharmacy Discount Club
A Food City Pharmacy Prescription Discount Club membership is all you need to receive greater benefits than all those other pharmacy discount cards. With a one time sign-up and annual fee of just $10.00 per family, you can start enjoying the savings on many of your prescriptions, flavorings, flu shots and diabetic supplies.
We'll even give you $10.00 on your next grocery order just for signing up! Restrictions apply. See pharmacist to join!
PAY LESS FOR GENERIC PRESCRIPTIONS
• Hundreds of generic drugs only $4.00. $9.99 and $15.00 on select quantities.

PAY LESS FOR BRAND NAMES
• Over 5,000 brand and generic drugs discounted every day.

PAY LESS FOR ANNUAL FLU SHOTS
• 20% discount on flu shots

PAY LESS FOR GOOD HEALTH
• Select men's and women's health medications for just $9.99
• $15.00 oral contraceptives.
• Select smoking cessation products for discounted price.

PAY LESS FOR GOOD TASTE
• FlavoRx flavoring for FREE.

PAY LESS FOR HEALTH & BEAUTY CARE
• Discounts on select diabetic supplies, syringes, and pen needles.

FREE REWARDS
• Family Pharmacist Dozen Program - for each 12 eligible prescriptions you family fills, you earn $10.00 in TopCare health and beauty care items