Fuel Bucks
All day, every day, earn one Fuel Bucks ValuPoint for every dollar spent at Food City. Here are ways to earn even more ValuPoints!
Some restrictions apply. See Store for details.
Ways to Earn & Ways to Redeem
Gift Card Bonus ValuPoints
Earn Bonus ValuPoints with the purchase of gift cards. Earn 100 ValuPoints when you purchase $50 in gift cards in a single transaction.
Excludes Food City prepaid/reloadable and Visa variable-load gift cards.
---
Pharmacy Bonus ValuPoints
Earn 50 Bonus ValuPoints instantly when you fill any qualifying prescriptions.
Applies to new, transferred or refilled prescriptions. Excludes federally funded prescriptions and $4 generics. See pharmacist for details.
---
Bonus ValuPoints
Earn Bonus ValuPoints when you purchase select items from our weekly ad!
Limited time only, see store for details.
---
You've earned your fill-ups. Now what? Redeem your Fuel Bucks ValuPoints!!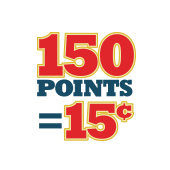 150 ValuPoints = 15 Cents
Redeem 150 Fuel Bucks ValuPoints and recieve 15¢ off per gallon on your next fill-up.
Up to 20 gallons. Limited time offer.
---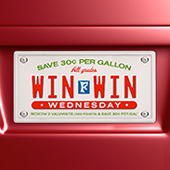 Win-Win Wednesdays!
Redeem 2 Fuel Bucks ValuVisits (300 points) on Wednesdays and receive 30¢ off per gallon on ALL fuel grades!
Up to 20 gallons. Limited time offer.
---
Discount Days
For a limited time, redeem 2 Fuel Bucks ValuVisits (300 points) and save 5% on your total grocery order of up to $100.
Limit one 5% discount per VaulCard, per day. Offer subject to change without notice. Excludes Pharmacy, Alcohol, Tobacco, Lottery, Services, Taxes and Gift Cards.
---
Restrictions
Points earned will expire at the end of the next month or during the promotional period. Oldest points are automatically redeemed first. There is no limit on the number of points you can redeem. Food City ValuCard must be scanned at pump or presented to attendant. Points earned will be visible on register receipt or online in your dashboard.
Excludes: tobacco, alcohol, lottery tickets, videos, fuel, stamps, money orders and sales tax.